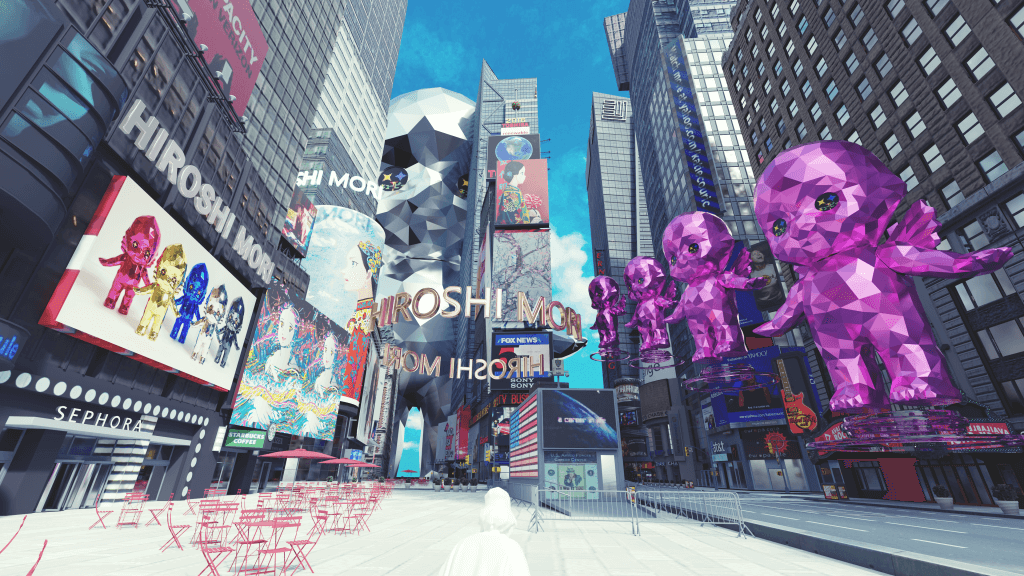 – STYLY enables XR art to be overlaid in real space creating immersive experiences with a smartphone and selling digital XR art as NFT-
On June 20 – 23, Psychic VR Lab, Co. Ltd. (Tokyo), developer of the real-metaverse platform called STYLY (https://styly.cc), Animoca Brands KK Corporation (Tokyo), UCOLLEX INTERNATIONAL LIMITED (Singapore), and MADWORLD HONG KONG LIMITED (Hong Kong) will host an XR NFT art exhibition at NFT NYC, one of the world's most prominent NFT events. We will hold an urban-linked XR NFT art exhibition showcasing Japanese artists that will decorate Times Square, a landmark destination in the heart of New York City.
This project is presented on the real metaverse platform called "STYLY." Using STYLY, a variety of XR content can be superimposed on top of real urban spaces and experienced using smartphones and AR glasses. New in August 2022, XR content can be converted into NFT and sold.
During World's Largest NFT Event "NFT NYC", XR Art Adorns Times Square
At NFT NYC, one of the world's largest NFT events, held from June 20 to 23, an urban-linked XR NFT art exhibition will decorate Times Square, a landmark in New York City, showcasing several Japanese artists.
Movie:https://youtu.be/PV-mYs0BJNc
WEB:https://styly.cc/nft-nyc/
Seven artists will be exhibited.
Hiroshi Mori

KOJO MASAYUKI

KENICHI ASANO

Crazy Chocolate

Minori Murata

Ryo Takegawa

Kenta Nakano
During the exhibition, visitors will be able to experience the artworks of these artists through the "STYLY" smartphone application in Times Square. VR content will be available online for those who cannot visit Times Square.
The XR artworks displayed at NFT NYC will be made into dioramas and sold as NFTs. It will be available after NFT NYC.
The NFT campaigns are in collaboration with Animoca Brands KK' partners, UCOLLEX INTERNATIONAL LIMITED (Singapore), and MADWORLD HONG KONG LIMITED (Hong Kong). As a collective, we will broaden XR NFT artworks from Japan on a global scale. In collaboration with artists and creators, we will promote original artwork creation and urban development.
Additionally, AR filter content featuring the work of Noh mask artist KENICHI ASANO will be available.  This AR filter will overlay a Japanese Noh mask over a user's face.
Details will be announced as they become available about the NFT NYC's exhibits.
NFT Airdrop Project
All XR content displayed in this project will be eligible for the NFT Airdrop. Artists and creators will have the opportunity to sell their work in numerous popular urban spaces.
Psychic VR Lab, Animoca Brands KK, UCOLLEX, and MADWORLD will collaborate to NFT the XR layers that overlay urban spaces around the world. Our goal is not just to create a new urban context that is decorated with XR art, but also to create an artist/creator economy through the use of NFT in conjunction with the NEWVIEW Project, a community built for XR creators from 15 countries, operated by Psychic VR Lab.
—————————————————————————————————————————————
Animoca Brands KK, Inc.
Animoca Brands KK was established to support the global Web 3.0 strategies of Japanese intellectual property and content (IP) holders, including major publishers, brands, educational and athletic organizations, athletes, artists, and game companies. It is a strategic subsidiary in Japan of Animoca Brands Corporation Limited, a leading global Web3 company based in Hong Kong.
Official website: https://www.animocabrands.co.jp/
UCOLLEX INTERNATIONAL LIMITED
UCOLLEX is a next generation NFT platform based on the concept that anyone can purchase and use. Through UCOLLEX, creators will be able to build a unique fan-based economy and engage fans in the metaverse that those creators build. UCOLLEX offers exclusive content, artist interviews, 3D art of the highest quality, and innovative VR experiences to enable collectors to relax and indulge their passion for collecting.
Official website: https://ucollex.io/
MADWORLD HONG KONG LIMITED
Madworld Hong Kong Limited (MADworld) aims to introduce an artist's artwork, and creator's content into a multiverse that no one has ever encountered using blockchain technology to conduct an NFT platform and marketplace. The artwork, collections, products, and original content resulting from live concerts, sports events, art battles, and other creative methods are verified by NFTs. MADworld gives creators full control over their own NFT strategies, allowing them to maximize the income and public reach of their IP.
Official website: https://madworld.io/
NEWVIEW
This project was launched in January 2018 as an experimental platform for creative expression and 3D experience design. We will design next-generation cultural and lifestyle experiences that cross the barrier between real and imaginary by collaborating with creators who embody culture in urban space, such as fashion, music, video, graphics, and illustration. Through lectures and meetups in Japan and abroad, we discover, nurture, and develop exchanges with the next generation of XR creators.
https://www.instagram.com/newview_official/
STYLY, The Real Metaverse Platform
STYLY is the real metaverse platform that gives artists a space to express their creativity, and provides an intuitive tool for creating VR, AR, and MR content easily using a web browser. XR content can be distributed to a variety of devices such as VR HMDs, web browsers, smartphones, and AR glasses. Furthermore, the software is compatible with Mac and Windows and can be operated on popular PCs, not only VR-compatible PCs. STYLY is compatible with 3D software like MAYA and Blender, as well as with services like YouTube and SoundCloud, so you can easily import different digital media and use them to build your own unique 3D environment and experience.
In 2022, an additional function will enable the distribution of AR/MR content in urban spaces. We will create a platform where creators from around the world can create and distribute AR/MR content on an urban scale.
STYLY Official Site:https://styly.cc/
STYLY GALLERY:https://gallery.styly.cc/
VIVEPORT:https://www.viveport.com/c6682fba-9f3c-4519-abd9-4d799665a372
STYLY Mobile:
Google Play | https://play.google.com/store/apps/details?id=com.psychicvrlab.stylymr
App Store | https://itunes.apple.com/jp/app/id1477168256?mt=8
STYLY for Nreal:
GooglePlay:https://play.google.com/store/apps/details?id=com.psychicvrlab.styly.Nreal
Psychic VR Lab
Office: 2F MORIAURA, 1-34-2 Shinjuku, Shinjuku-ku, Tokyo
CEO: Masahiro Yamaguchi
As a creative platform in the XR era, we are developing "STYLY," which allows users to build and distribute XR spaces using just a web browser. We aim to promote the XRization of fashion, art, and lifestyle interfaces in order to create a world where all artists can create XR spaces.
https://psychic-vr-lab.com/en/