(Oct,13th, 2022 – TOKYO) – The real metaverse platform STYLY (https://styly.cc) provider of Psychic VR Lab Co., Ltd. (HQ: Shinjuku-ku, Tokyo) As part of the Real Metaverse Project, which uses STYLY to extend urban spaces around the world with XR, has launched the space "METADIMENSIONS", the world's first* project to make spaces tradable with NFT. Together with 9 partners, we will officially open the "Shibuya Scramble Layer," an XR-ized version of the landmark Shibuya Scramble Crossing in Shibuya, a center of Japanese culture, on October 15th, 2022.

The first collaboration will be with NFT brand BŌSŌ TOKYO and globally renowned Web3 company MADworld, as well as various other companies/artists. From October 15th (Sat.) to November 13th (Sun.) (*Only October 31th will not be available), an AR experience will be held at the Shibuya Scramble Crossing, where you can experience AR with your smartphone and purchase NFT.

*Source: Metaverse Japan (official website): https://metaverse-japan.org/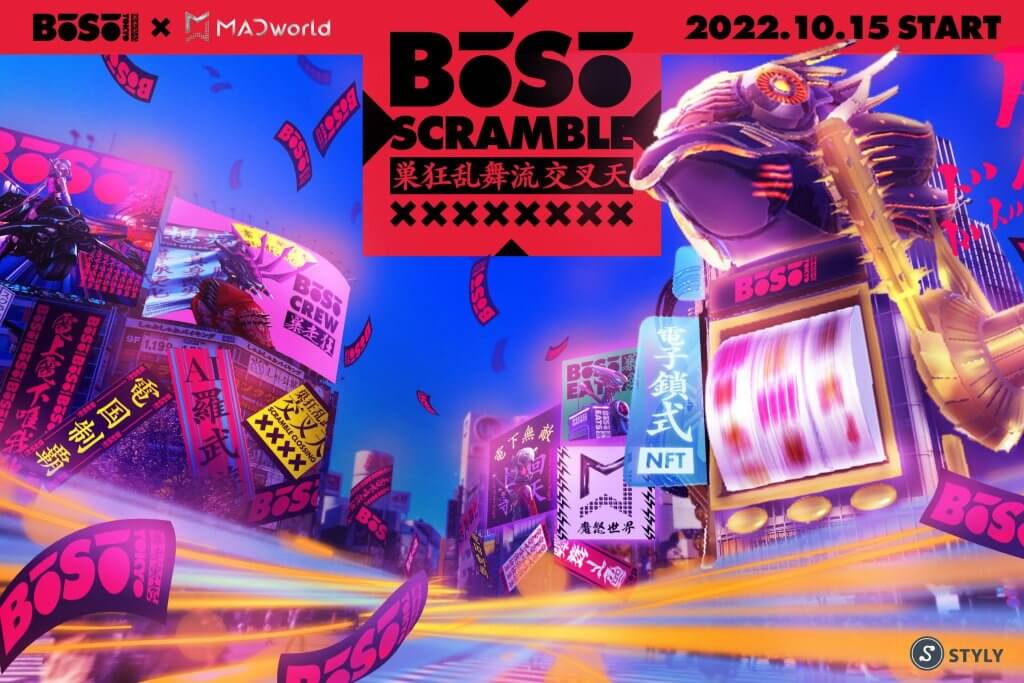 Experience video: https://vimeo.com/758951801 
Official website: https://metadimensions.zone/
METADIMENSIONS BOSO TOKYO from STYLY on Vimeo.

The pandemic has brought forth impactful changes from a realistic-oriented environment to a non-contact oriented online environment. While the buzzword "metaverse" has become popular as a substitute for real space, many people have realized the high value of the experience in the real world. We believe that real spaces are not replaceable, but will overtime evolve into a new lifestyle that fuses the real and virtual world by opening the metaverse to the city and enhancing the experience value of the city itself. We will further create a flow for people in the city in a way that has never been seen before, and contribute to the future development of the city. We plan to expand the project not only to Shibuya, but also to various other urban spaces, both domestically and internationally in the future.
■ Shibuya Scramble Layer Overview
Shibuya Scramble Layer is a digital layer that overlays the landmark "Shibuya Scramble Crossing" in Shibuya, the center of Japanese culture.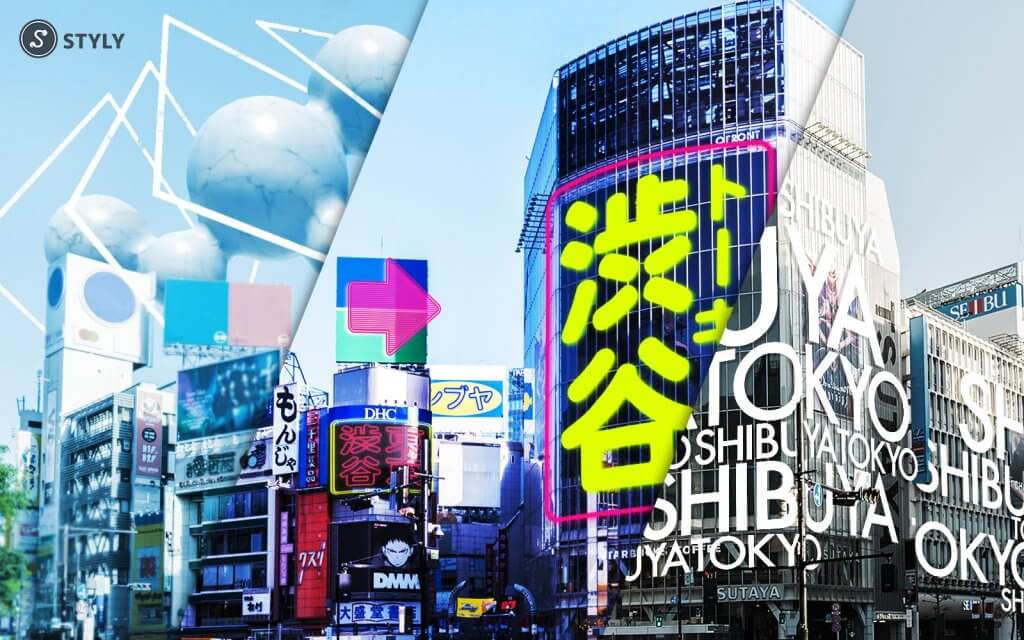 A new layer that fuses the real and virtual world, where it can be fully visualized via a smartphone and the "STYLY" app.
Composed in multiple layers, some of which are collaborations with NFT brands and artists, others with different IPs, and many more other entertainment layers. When users visit the physical Shibuya Scramble Crossing, they can switch to the layer according to their 
preferences in order to enjoy a different Shibuya experience!

The first collaboration of  "BŌSŌ MAD SCRAMBLE" set at Shibuya Scramble Crossing with NFT brand "BŌSŌ TOKYO".
For our first collaboration, BŌSŌ TOKYO and MADworld, an NFT/metaverse project depicting the world of biker gang culture x cyber science-fiction, have joined forces to create BŌSŌ MAD SCRAMBLE, a digital layer that overlaps the Shibuya Scramble Crossing, from October 15 (Sat.) to November 13th (Sun.) (*Only October 31th will not be available).

– Experience the "BŌSŌ SLOT" that turns Shibuya Scramble Crossing into a slot with smartphone AR!
By launching the STYLY app installed on your smartphone at the site, the Shibuya Scramble Crossing will be transformed into a slot! Play the slot to win amazing prizes. (There will be giveaways in collaboration with the NFT Art Project.) Other hidden elements will also be included, so please experience them on site.  
*NFT will be available for sale in early November 2022.
Since this is our very first collaboration, other future collaborations with various other NFT brands and artists are also being worked upon. The second collaboration will be with "NEO TOKYO PUNKS", an NFT collection from Japan based on the concept of cyberpunk x 
Tokyo. Details will be released as they become available. For more information on the other collaborating artists, please visit the URL below.

In the future, the digital layer overlaying the real Shibuya Scramble Crossing will be accessible via smartphones' (AR glasses are planned for the future) STYLY app in providing users with an unprecedented urban XR entertainment experience.
This year's event will also be linked with the "Virtual Shibuya au 5G Halloween Fest 2022," a virtual event now in its third year, to enliven Shibuya both in real and virtual life.
 – Event Outline
Event name: "BŌSŌ MAD SCRAMBLE
Date: Saturday, October 15th – Sunday, November 13th 
(*Only October 31th will not be available)
Location: "Shibuya Scramble Layer," a digital layer overlaying the Shibuya Scramble 
Crossing
Organizer: Psychic VR Lab Co., Ltd.
Official website: https://metadimensions.zone/
*Scheduled to open on Saturday, October 15th
About BŌSŌ MAD SCRAMBLE: https://www.bosotokyo.com/BOSOscramble/
*Scheduled to open on Thursday, October 13th
■ XR NFT art exhibition will be held by artists at Shibuya PARCO at the same time.
XR NFT art exhibition by Japanese artists will also be held at Shibuya PARCO for three days from October 15th (Sat.) to 17th (Mon.). A booth will be set up on Shibuya PARCO's 1F "Nakashima-dori". There will also be a hands-on tour of the exhibited works, so please stop by during the exhibition period.
For more information, click here: https://metadimensions.zone/d/shibuya_parco_2022_10
*NFT can also be purchased from the above.
■ New STYLY features to XR-ize urban spaces are also unveiled! Allow anyone to XR-ize your city!
With the release of this project, new features have been added to enable anyone to decorate urban spaces with XR, including support for Google's ARCore Geospatial API, Niantic's Lightship ARDK (segmentation function), and Immersal (official release of Immersal to come). Immersal will be officially released at a later date), and the ability to XR indoor and outdoor spaces.
A city template that enables XR content production and distribution for six Japanese cities (Tokyo, Osaka, Nagoya, Sapporo, Fukuoka, and Kyoto) will be released first. Please see below for details on how to use the system. If you wish to use this service for business, please contact us from below.
For more information on how to use the city's XR-ization feature, click here:
https://styly.cc/manual/xr-urban-spaces-starter-guide
*Scheduled to open on Saturday, October 15th.
■ List of Partners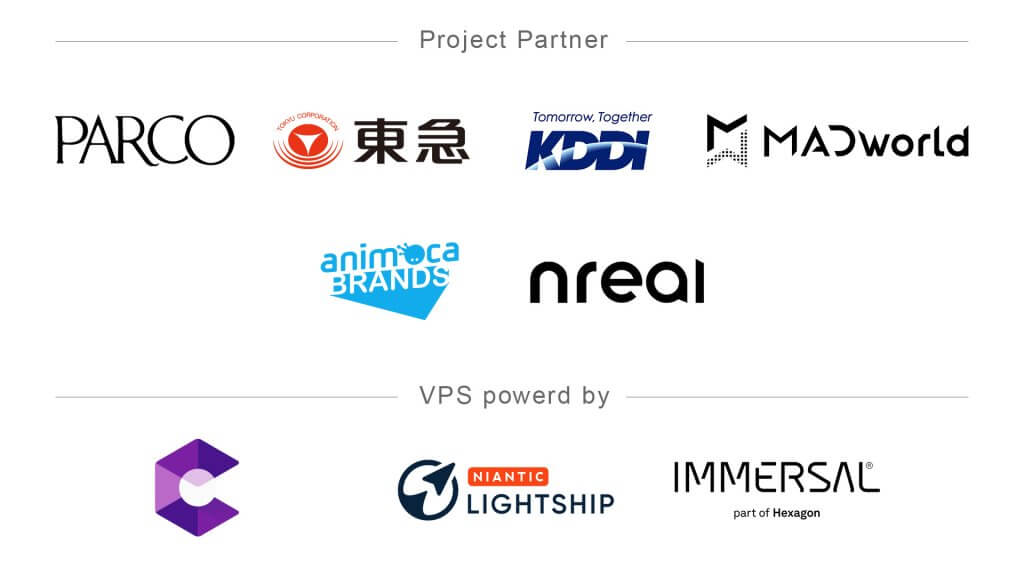 Project Partners
PARCO Co., Ltd., Tokyu Corporation, KDDI Corporation, MADWORLD HONG KONG LIMITED, 
Animoca Brands KK, Nreal Ltd. 
VPS powered by: ARCore by Google、Niantic Lightship ARDK、Immersal
In the future, together with various partners, we will not only promote new urban development that creates human flow in cities by suppressing the overlapping XR layer in urban spaces around the world, but also aim to create an artist/creator economy through the use of NFT.
—————————————————————————————————————————————

【About BŌSŌ TOKYO】
BŌSŌ TOKYO -BŌSŌ  TOKYO- is a project to create an identity brand for the metaverse age, depicted in the world of BŌSŌ ZOKU (biker culture) x cyber science-fiction by one of Japan's leading illustrators "Hideki Tenjin". The creative director of the project is "Afromance", a representative of "Afro&Co.", a creative company that creates new experiences.

BŌSŌ TOKYO believes that when the era of multiple metaverses arrives in the future, it will be important to build an identity that individuals can recognize the same way across different metaverses through their avatars.
The image of a BŌSŌ ZOKU (biker gang) riding a motorcycle in search of freedom is a "symbol of freedom. Their slogan, "Tenjo Tenge Yuiga doku son 天上天下唯我独尊," expresses their belief that they are the only one in the world, and that they are precious. Inspired by the budding independence of these young people and their drive for a new world of freedom, BŌSŌ TOKYO will fly the banner of "Denjo Denge Yuiga doku son 電上電下唯我独尊" as it runs through the metaverse in search of freedom in a WEB3 world free from various restrictions.
BŌSŌ TOKYO, a Tokyo-based original avatar brand, offers a variety of added value (utility) to NFT holders. We will provide unique artwork, and not only profile pictures (PFP), but also high quality 3D data distribution and avatars that can be brought into the metaverse space. It will also provide unrestricted commercial use rights and access to exclusive communities and events.
As the various utilities described above indicate, Runaway Tokyo hopes to provide solid value to community members as a brand.

BŌSŌ TOKYO OFFICIAL WEB:https://www.BOSOtokyo.com/
TWITTER: https://twitter.com/BOSOTokyo
DISCORD: https://discord.gg/BOSO-tokyo
OpenSea: https://opensea.io/collection/bosotokyo-official
【About MADworld】
MADworld offers an NFT Origination Platform and an NFT Marketplace that use blockchain technology to defend the artists, artwork, creators, and content that enter the untraversed multiverse. MADworld supports NFT minting to validate ownership and provenance of physical art, collectibles, and products and original content developed from live concerts, sporting events, artist battles, and other modes of creative expression. 
MADworld is designed to give creators complete control over their NFT strategy, supporting them by maximizing the income and impact from their intellectual property in perpetuity.
Official website: https://madworld.io/
【About STYLY, a real metaverse platform】
STYLY is a real metaverse platform that provides artists with a place for spatial expression. It can also be distributed to a variety of devices such as VR HMDs, web browsers, smartphones, AR glasses, etc. The software is Mac and Windows compatible, and can be run on popular PCs other than VR-compatible PCs. In addition, the software is linked to 3D software such as MAYA and Blender, as well as services such as YouTube and SoundCloud, allowing users to import various materials and utilize them in spatial production without complicated operations.
With the October update, the XR-ization of urban space function, which allows AR/MR content to be distributed in urban spaces, was released for six Tokyo cities (Tokyo, Osaka, Nagoya, Sapporo, Fukuoka, and Kyoto). In the future, we will continue to develop an environment where artists and creators around the world can create and distribute AR/MR content on an urban scale.
STYLY Official Site:https://styly.cc/
STYLY GALLERY:https://gallery.styly.cc/
VIVEPORT:https://www.viveport.com/c6682fba-9f3c-4519-abd9-4d799665a372
STYLY Mobile:
Google Play | https://play.google.com/store/apps/details?id=com.psychicvrlab.stylymr
App Store | https://itunes.apple.com/jp/app/id1477168256?mt=8
STYLY for Nreal:
GooglePlay:https://play.google.com/store/apps/details?id=com.psychicvrlab.styly.Nreal

【About"Psychic VR Lab"】
As a creative platform in the XR era, we have developed "STYLY," a cloud service that allows users to build and distribute XR spaces using only a browser, and are promoting the xRization of interfaces related to art, fashion, and lifestyle with the mission of creating a world where all artists can create XR spaces.
HP:https://psychic-vr-lab.com/