Ars Electronica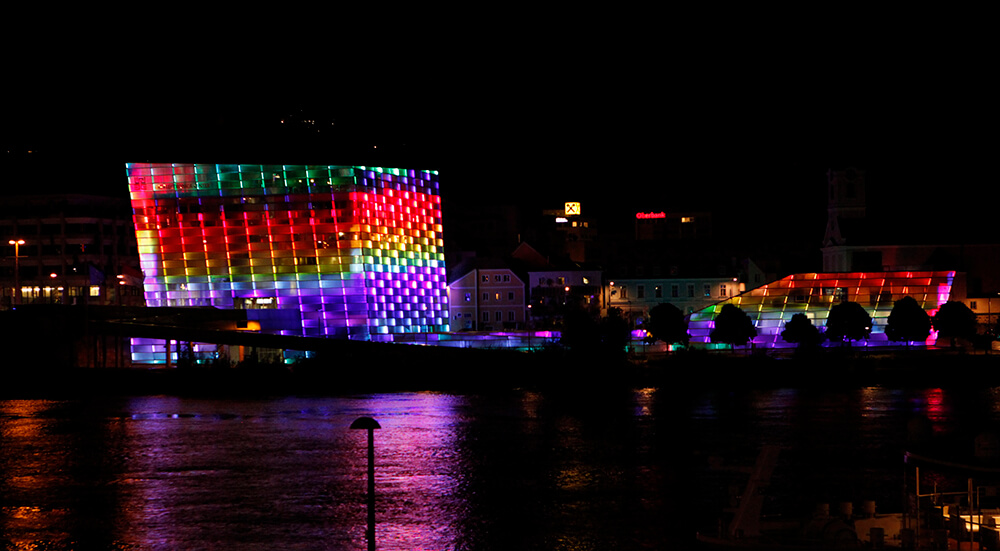 Ars Electronica is one of the largest media art festivals in Europe, held in Linz, Austria. Numerous media artworks, from all over the world, are gathered and exhibits and events are held throughout the city of Linz. Moreover, from an educational perspective, Ars Electronica is involved in research on STEAM education and workshops for children.
Ars Electronica is held every year in early September and is enjoyed by everyone from children to adults. For five days, once a year, the city of Linz, Austria's third largest city, is packed with visitors and artists from all over the world, and locals.
XR works exhibited at Ars Electronica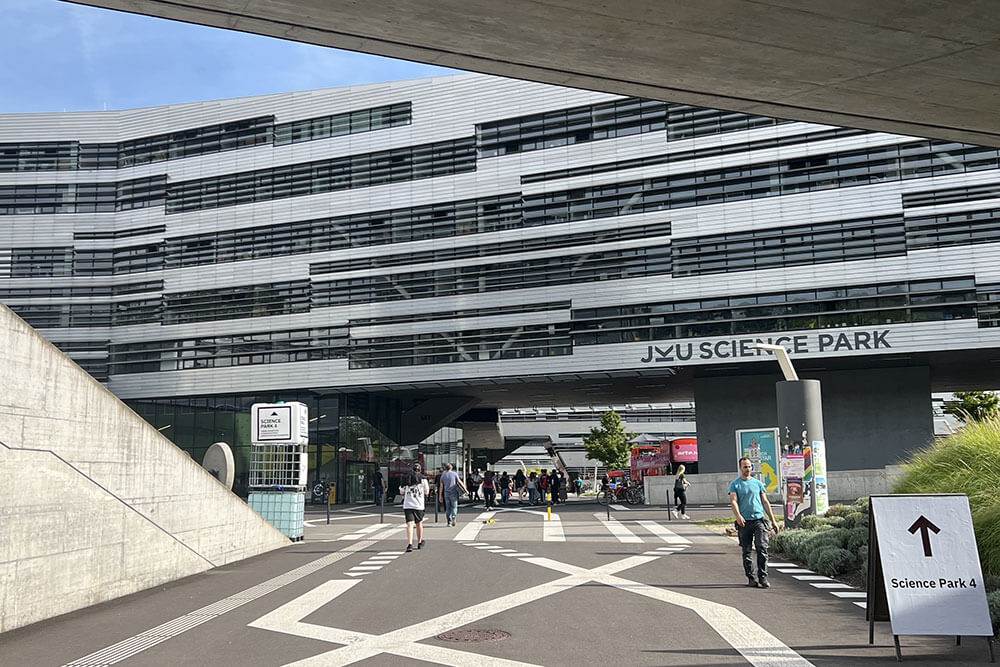 The theme of this year's Ars Electronica, "Welcome to Planet B -A different life is possible! But how?" is a challenge to find answers to the contradictions of our time.
Neither naive escapism into virtual worlds, nor the technological ultra-topia of space colonization will save us from facing the big, uncomfortable questions. How will our life on this planet have to look to prevent ecological super disaster? What actions must we take and what consequences must we accept?

… (omitted) …

we are afraid of the consequences of climate change, but even more, of the many imponderables and unknowns of the necessary change. So, can we change not only the world we live in, but also ourselves?

… (omitted) …

We will need every bit of technology, every organizational, logistical optimization that can help us reduce emissions and filter them back out of the atmosphere. But the biggest innovation project in human history this time has to be ourselves, our ability to rise to the challenge as a global community — a reinvention of humanity!
Ars Electronica exhibits a wide variety of works. The exhibition includes Prix ArsElectronica, a collection of award-winning works from the annual competition; Gardens, exhibited by countries and institutions around the world; an animation section; curator-selected works; and collaborative projects with the local community. The festival also includes research-based and experimental works and works in a variety of media and themes ranging from materials to software, net art, XR, and AI, all of which are on display throughout the city.
So, how is XR discussed at the Media Arts Festival? Among the many works, we will focus on XR works and introduce some of them.
The Romance of Human Technology in XR "Maihime"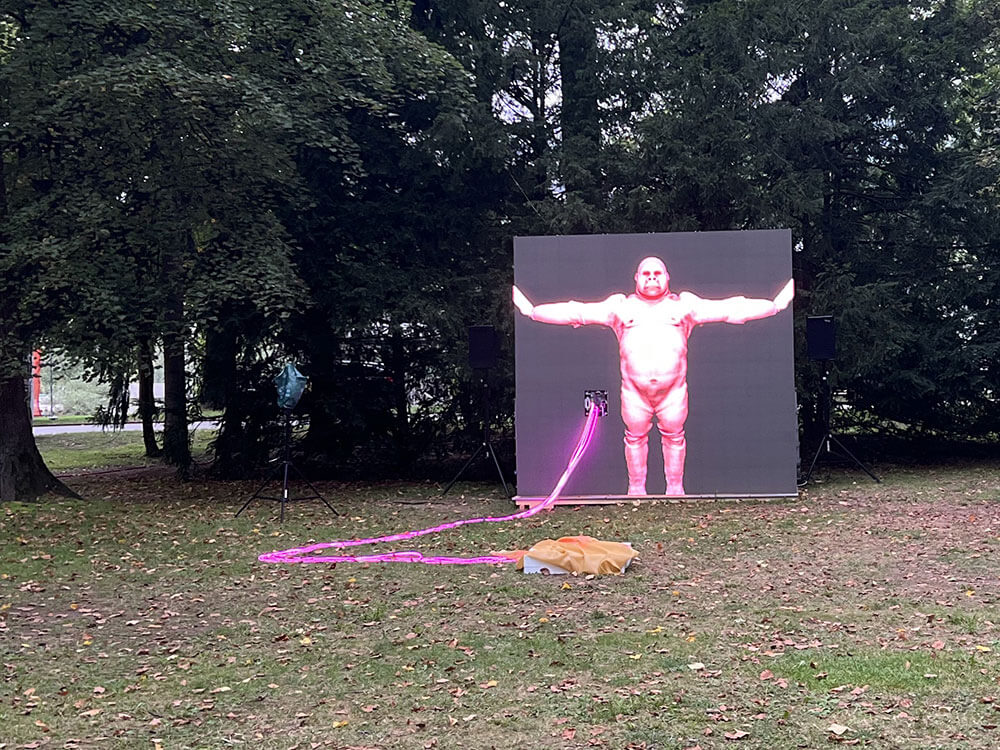 The Japanese Agency of Cultural Affairs Media Arts Festival sponsored Garden Tokyo, which featured an XR performance by the artist Shota Yamauchi.
A large screen in the center of the park shows a light-colored gorilla. The dancers are dressed in rubber clothing connected to pink cables, wearing VR headsets and motion trackers, and begin their performance.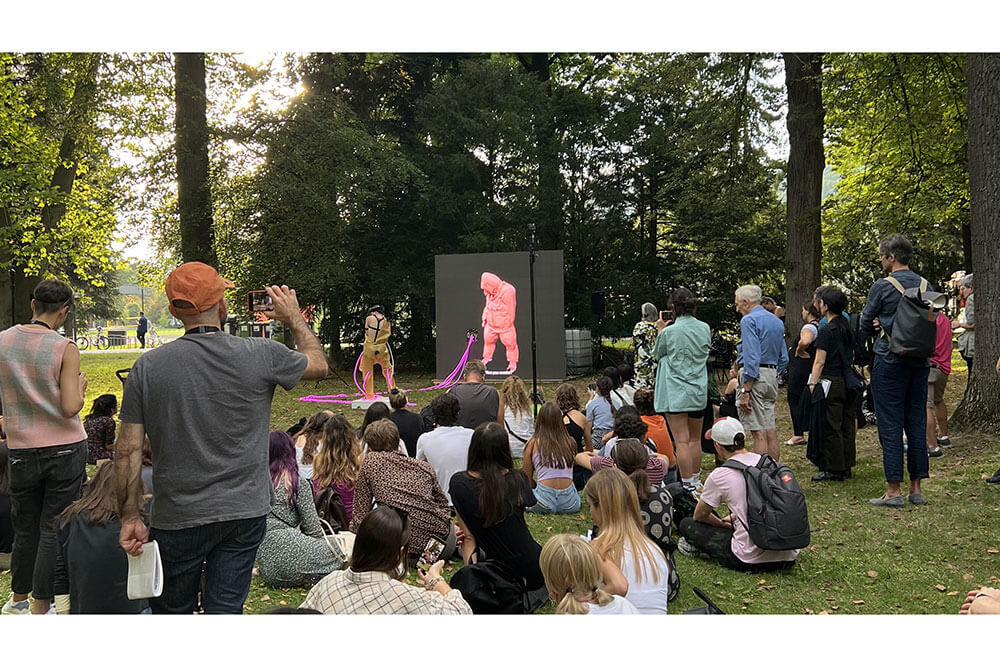 The dancer slowly takes off his clothes. The light-colored gorilla also removes light-colored clothing in time with the dancer's movements. The gorilla copies the movements of a physical human being through technology, but the relationship between the two is told poetically through the performance.
A human-technology romance expressed as a performance installation. The human and technology try to become one through a garment made of skin. Technology longs for the limited twilight of human life, and humans for the infinite galaxy that technology holds. Whether they are embracing, or restraining each other, the two drown in the sea of personal distance. Humans are addicted to technology. Technology, too, is addicted to humans. How can one love technology, while loving humans? I want to discover an intermediate place between pleasure and despair, and project it onto the sexuality of we humans who live in today's world.
"BT2XXX" A New Form of Sneaker by XR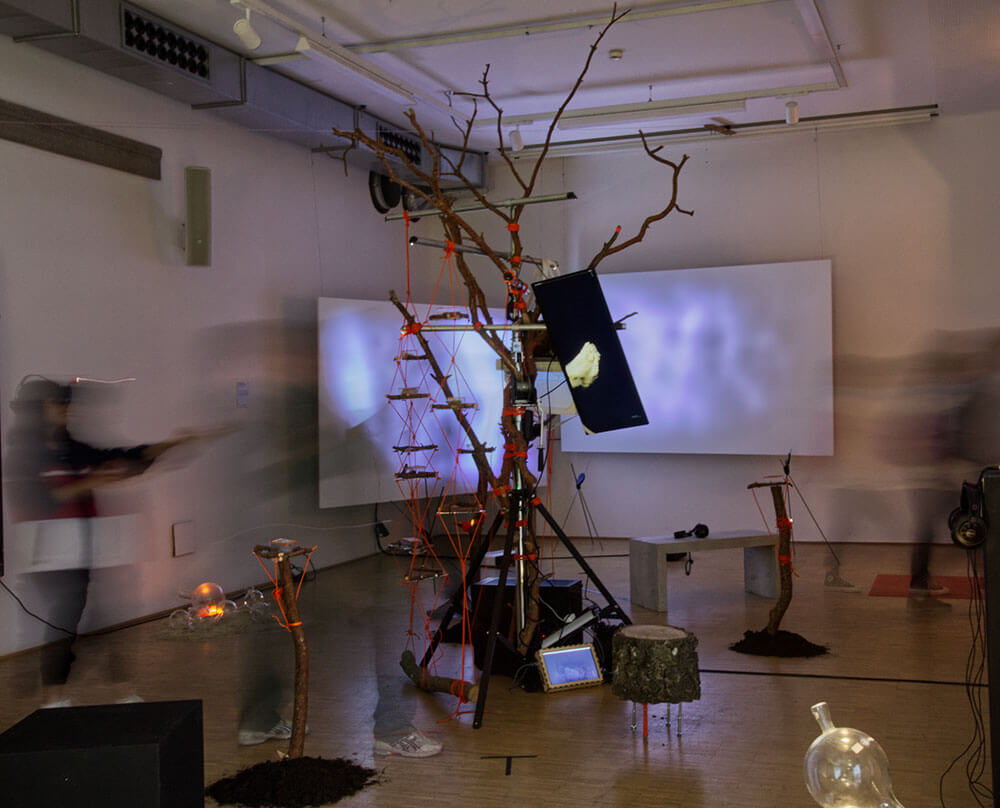 The work, "BT2XXX" (Boutique 2XXX), allows users to modify a virtual shoe model through Microsoft HoloLens to their liking.
"Mixed Media Experiences" by the research team of Jonny-Bix Bongers, Jonathan Möller, and Florian Porada of the Berlin University of the Arts is an ongoing research project within the Master's program in Design & Computation. It explores how new technologies can help us discuss social issues more intuitively.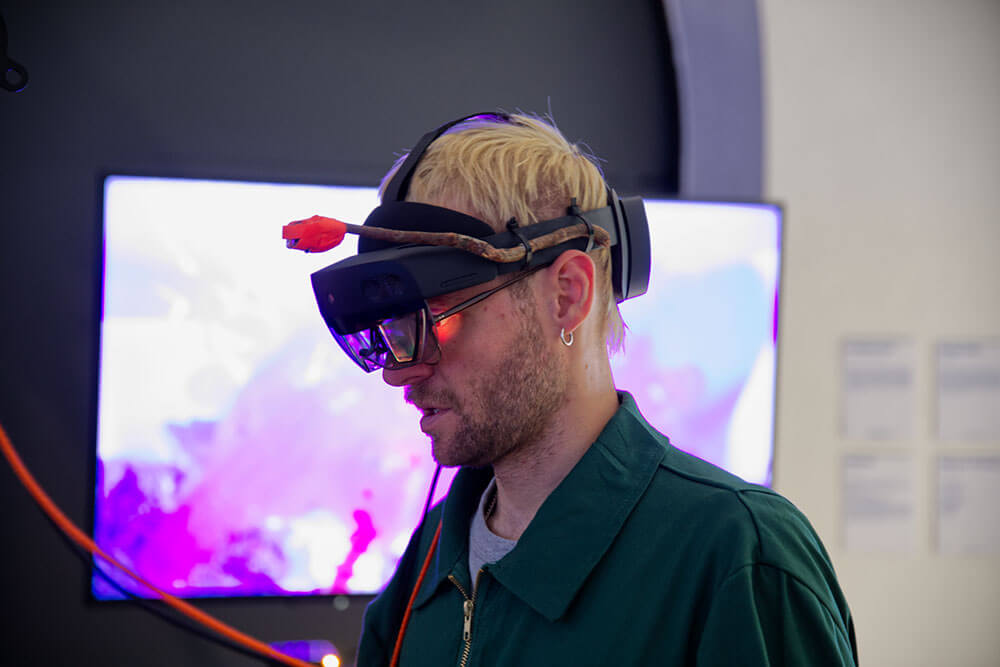 In this work, the fictional future organization ORTFRIED guides you through the creation of a sneaker. First, ORTFRIED employees scan their sneakers and give them a low rating. This is to bring about an opportunity to think about the materials and manufacturing process behind the product.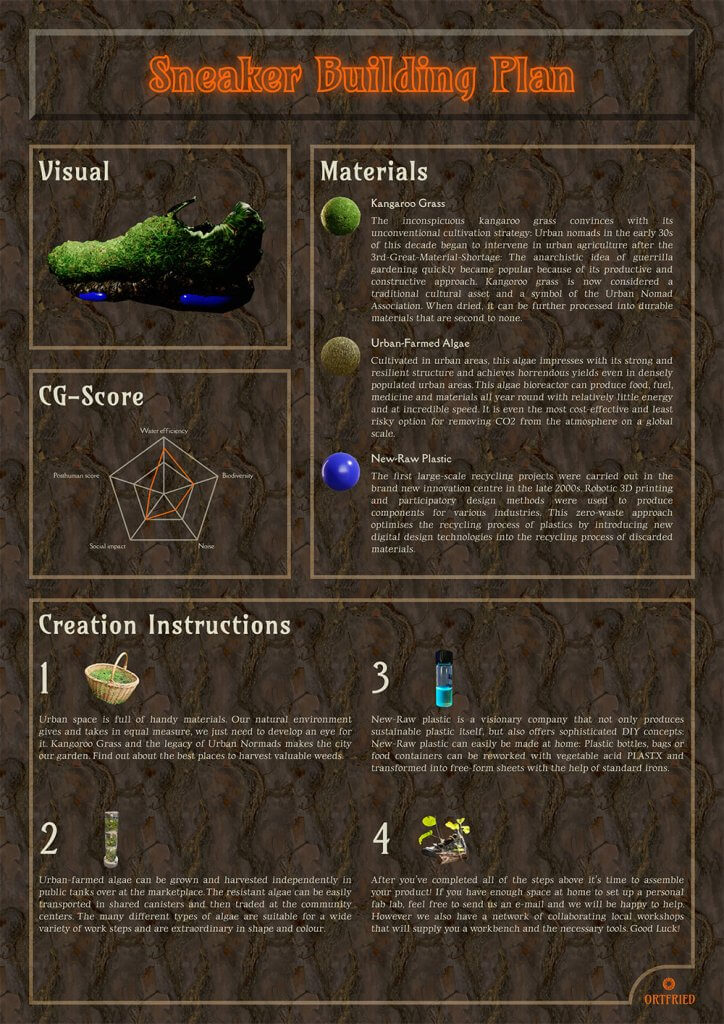 Next, the viewer can see the various materials of the sneaker in an augmented reality world through HoloLens.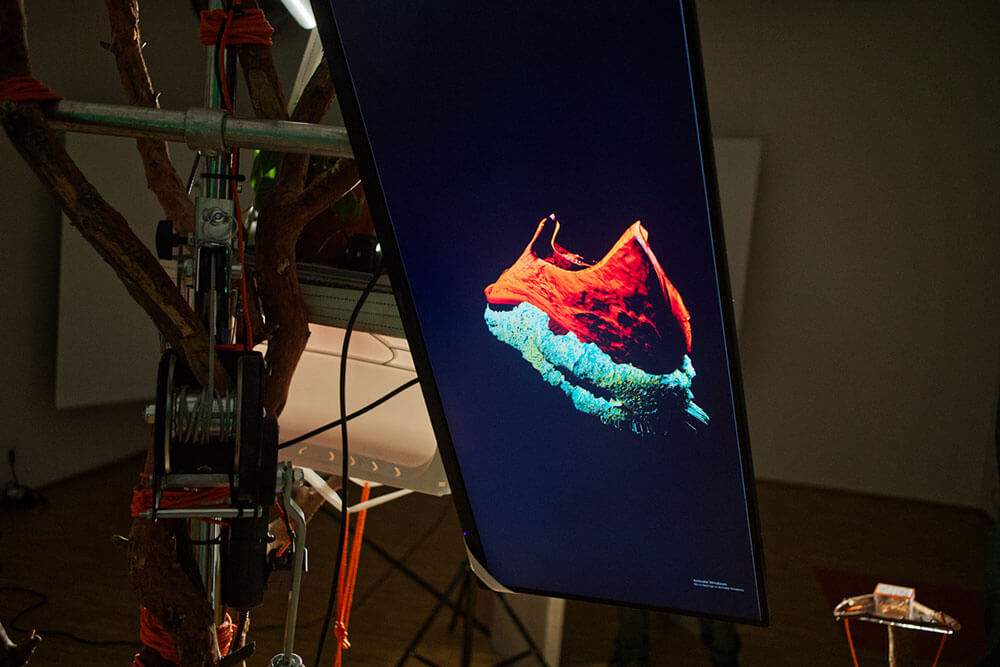 Finally, the material is sent to a generator where it is processed into a virtual shoe, visible through an AR device.
You will receive an email with instructions on how to manufacture these futuristic shoes so that you can make them at home.
This work is a virtual shoe model that visitors can modify to their liking. The subject of fashion sneakers is used as a metaphor for consumption in the luxury and hype sector, but at the same time is common enough to be relevant to a wide audience. The choice of sneakers is not taken too seriously and provides an accessible entry point for designing a different future, but throughout the installation it is clear that the topic that the sneakers represent is trivial. Thus, the installation oscillates between irony and sincerity, conveying its meaning in a playful way. Ultimately, the work investigates the extent to which another narrative of abundant living can be realized through a playful design process that utilizes MR.

(Author's comment)
Experiencing the Loop of Reincarnation in VR "Samsara"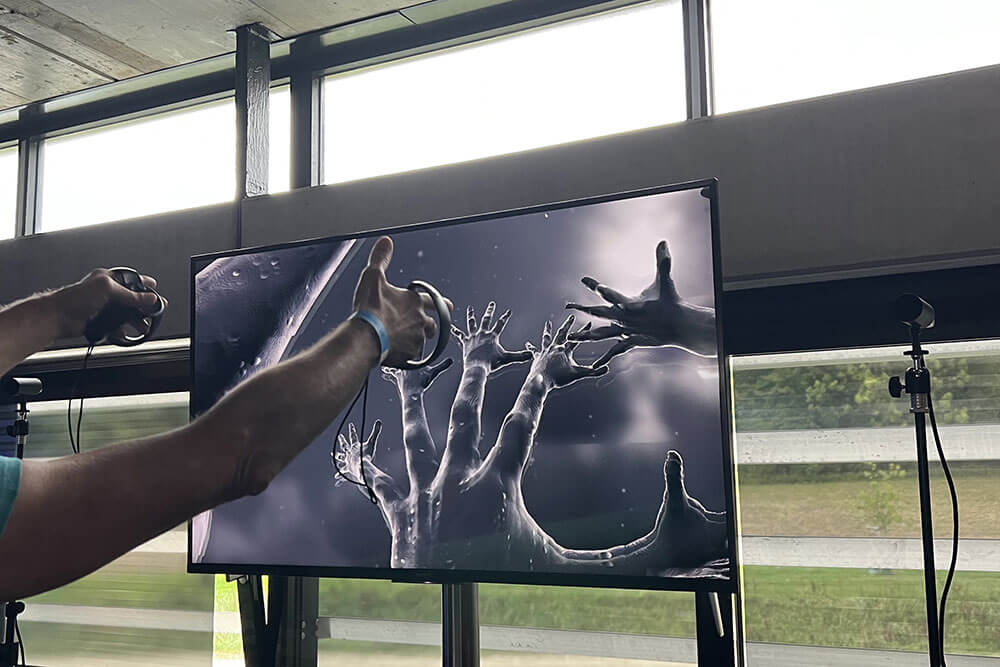 "Samsara" is a VR work by Taiwanese artist and director Hsin-Chien Huang, who has previously served as artistic director for SEGA and Sony. Once you put the headset on, you begin a journey of reincarnation. The theme of the work is the understanding and empathy for others that is created when one becomes a soul and experiences various bodies.
The story begins in a dystopian world, warping through space and time, and the strong visual images invite you to immerse yourself headfirst in this unique world.
When you remove the headset after viewing the film, you may feel that this real world is an extension of the loop of Samsara (Hinduism and Buddhism word for "reincarnation".)
Samsara VR teleports the audience on a journey that spans millions of years. Like the Six Realms of Existence in Buddhism, the audience reincarnates into different persons and creatures and experiences the universe in their new bodies to find the ultimate transcendence spiritually.

The story of Samsara happens in the near future. The resources on Earth have been depleted due to the greed of mankind. Catastrophic wars to fight for resources result in global destruction. The remaining humans were forced to leave Earth and find a new home. Nevertheless, will this long quest for a new home be a loop in space and time? The constant evolution as well as progress, without spiritual advancement, is nothing more than a Möbius strip that leads nowhere, perhaps…

Samsara is an experiment based on the concept of Embodied Cognition. Through interactivity and VR, the audience can live in the bodies of different persons and creatures. It is when we feel this world in different bodies that we may truly appreciate the thoughts of others, empathize with them, and comprehend our existence in full and in harmony.
Virtual Structure and the Real World "Dom_Ino"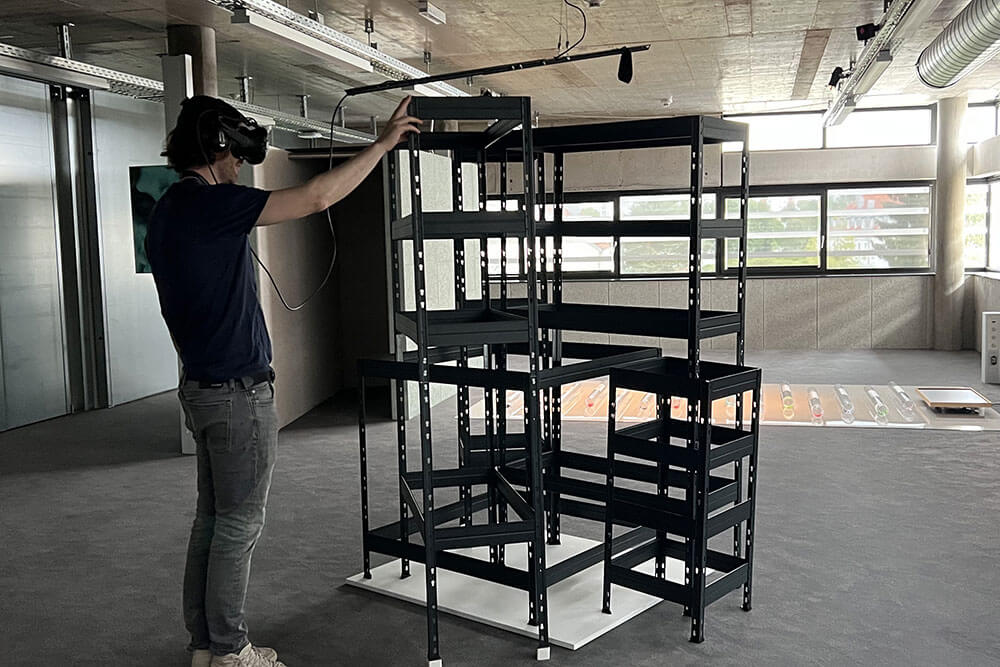 Shelves are haphazardly arranged in the center of a room. At first glance, they look like ordinary shelves, but when viewed through VR, you will realize that they are important objects that connect the virtual world and the real world.
"Dom_Ino" is an XR installation by Shahab Nedaei and Rafael Ludescher.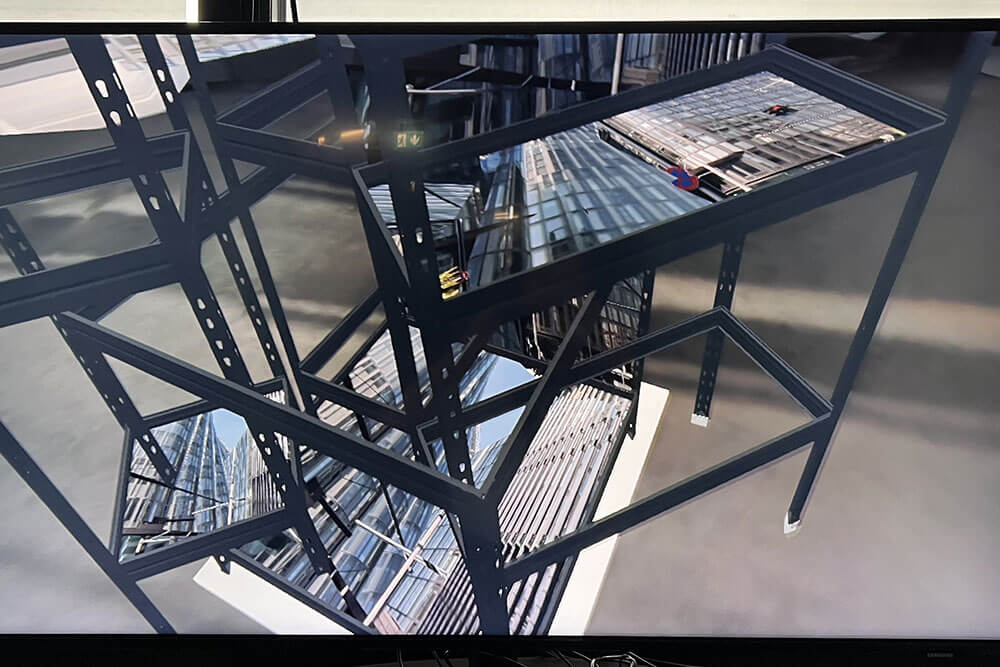 When you put the headset on, you will see a room that looks exactly like reality. When you touch the shelves there, you will feel the shelves in reality. Virtual space and real space are linked at the same size.
What is projected on the shelves is an everyday urban landscape. The scenery is gradually cut into smaller and smaller pieces, and the room itself collapses and is sucked into some faraway place.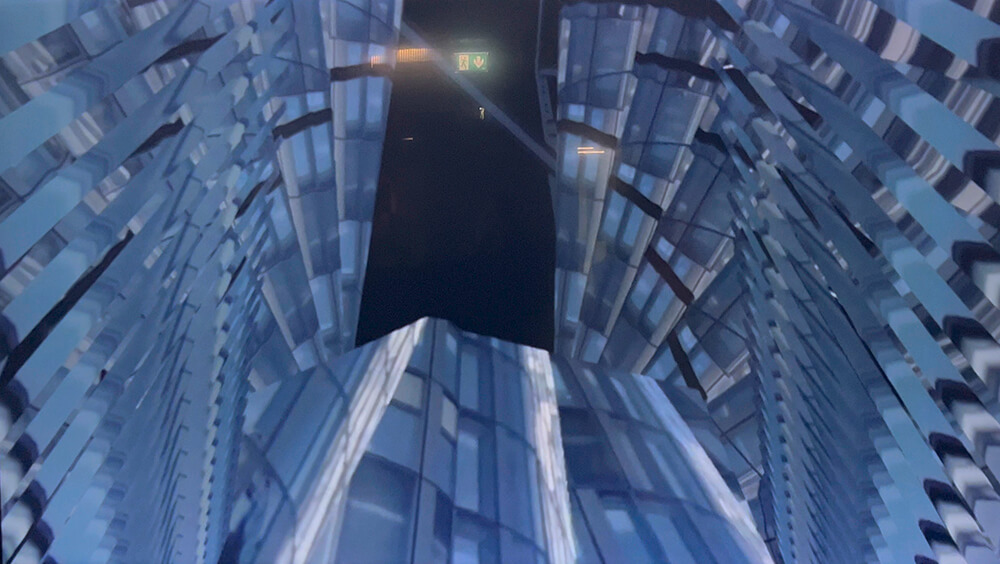 In a virtual space that does not reflect the physical laws of the real world, huge buildings begin to line up in place of demolished rooms. These structures, with their continuity, repeatedly duplicate themselves to create an environment that is completely different from reality but gradually shrinks back to reality.
It's ironic that one can be more at peace in the virtual world than in the real one. How concepts, thoughts, time and space bend only to the personal perception of fiction. Well, Buddha clearly didn't think that we took his teachings that we establish our own reality quite literally and shape a world that only bends to will and ambitions.

But it happened and naturally the question occurs how far this virtual construct of experiences and feelings affects our perception of the representation of reality. In a fictional environment, de-materialized and formless, does it make sense to measure with the established concept of the natural world?
Conclusion
I felt that the XR, discussed at the largest media arts festival in Europe, challenged us to find answers to the questions of our time from completely different perspectives, such as humans and technology and how to deal with them, how to experience and perceive the virtual world, etc. Each work presented a completely different perspective.
XR, as a key to deciphering the present and its potential, will continue to drive us to new challenges in the future.
Edited by SASAnishiki
Translated by passerby1