In this article, I will introduce artworks applied for the VR content award 'STYLY Photogrammetry Awards 2019'.
The theme is, 'Create art with Photogrammetry'.
What is STYLY Photogrammetry Awards 2019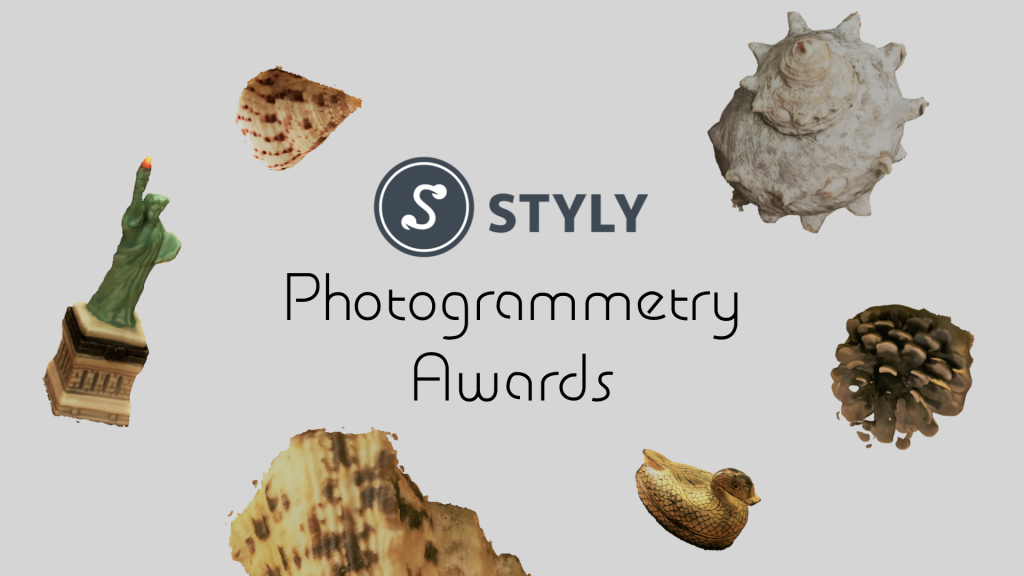 Create art with Photogrammetry. STYLY Photogrammetry Awards 2019 is a VR content award for STYLY, a platform where anybody can create and publish their very own VR artworks. This contest is a spinoff award of NEWVIEW AWARDS 2019 which is held by the companies STYLY/PARCO/Loftwork, and applied works can also apply to the NEWVIEW AWARDS 2019 too.
Judges are, the media artist TANIGUCHI Atuhiko, Taki-san who is famous for fully scanning Zentai Benten, and LookingGlass Factory, who develops a naked eye stereoscopic display.
Applications are due 7/21(Sun) 24:00 JPT.
There are even luxury prizes such as Oculus Quest, LOOKING GLASS standard, chloma hoodies too. For details, please refer to AWARD details page from here.
《Photogrammetry Museum Yokohama》by iriya_akigawa
This is a photogrammetry museum of Yokohama, my favorite city.
The 'Graffiti' drawn at the underpass of Toyoko line
It is drawn again, and dissapears again.
Where the main gate of Yokohama senkyo company existed previously.
Past the railroad crossing, you can see the remains of the second Yokohama station which burnt down during the great Kanto earthquake.
The platform of old Yokohama station, which was a key to overseas routes during the reconstruction period.
The remains of the former customs office(Right jetty central office) still remain as a flower bed.
The fragility of the old city, strength that supported the reconstruction period, and constructions that gained new purpose.
The large anchor still shows off it's strong existence even after it has finished serving it's purpose.
The cute shape of the hue dock drainage pump covers.
A strong black compressor.
The precious things that supported the sea of Yokohama.
All of it. I will never forget. And I will store my precious memories in this art.
《Himeji Sculptures》by Bangai
I want to introduce the sculptures on the road.
Himeji City, Hyogo. There are many sculptures displayed around Otemae street that leads up to Himeji castle.
I used photogrammetry to capture these sculptures, and edited the size of them so it becomes easier to see the attractiveness of them.
It is also easy to take pictures of the sculptures because they are all displayed outside. They will be perfect models for showing the advantages and recommending photogrammetry to others.
《SEKINI SUWATTE OTABE KUDASAI》by noria901
You don't need to taste to recognize good food, you can look at it and tell.
But can we use our senses even if the food is digital?
I wanted to break common sense with this work.
《#ARCHIVETATEISHI》by Kenichiro Hirai
This is a middle report of the project to create a 3D archive of the townscape of Tateishi, Katsushika City, which begun last year by volunteers.
The area around Drunkard's alleys of the north exit of Keiseiishi station is assigned as redevelopment area of Katsushika. Currently in 2019, demolition of old buildings is in progress, and a 13 floor New city hall is planned to be constructed on the ruins of Drunkard's alley in 2024.
The theme of this work is 'What if there is an archive exhibition of old Tateishi in the New city hall of 2024', and created an actual size Drunkard's alley photogrammetry model in the Katsushika city office new government building, created from about 3200 pictures gathered from SNS.
《The beginning of the planets of the succulents》by DJPlugmatics
I thought that I could create a Sci-Fi like world by using VR.
Sci-Fi movies and VR are similar in how they show us possibilities of a fiction world as if it is.
A Sci-Fi movie has to seem real (If there is no reality, to it, the audience will feel very dissapointed). But at the same time, it cannot be too real (If it is too real, it is not Sci-Fi anymore).
Maybe it is because the reproducibility of photogrammetry is not perfect, but photogrammetry has the same ambiguous aspect. Photogrammetry basically creates a copy of reality. But the reproduction is slightly, or rather, unreal. That is another attractive point of photogrammetry. The little off feeling makes people unsure, but it is what makes it fascinating.
In this artwork, I used strengths of photogrammetry to create a Sci-Fi world in VR.
《Mansion of 12 people》by melt_out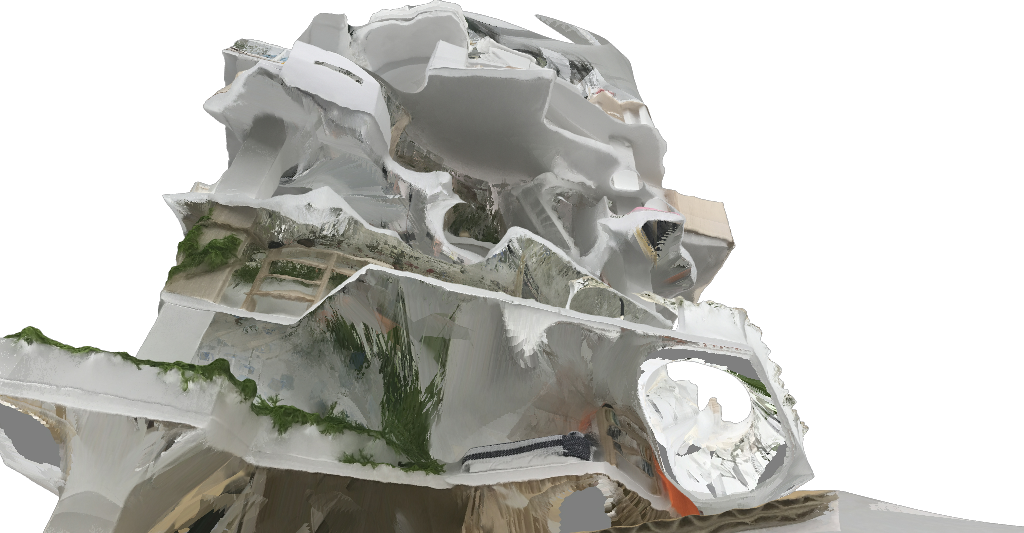 A photogrammetry created from miniatures created by my junior's at university.
The reproduction is still immature, but you can feel the passion of my juniors.
《Daydream》by Me/You
What will it be like if I jump into the world of Mika Ninagawa, a Japanese flower photographer? Captured 5 flowers by photogrammetry and used them over and over. Using VR HMD and RTX 2070+ is highly recommended.
With VR and photogrammetry, I didn't need to kill or purchase many flowers for this flower arrangement. Using as many flowers as possible has been my daydream for 20 years since I started learning Ikebana, a Japanese-style of flower arrangement.
《Lullaby with Doll》by bibinba
《Deeper blue memory》by akaninn0722
I think that the merit of using photogrammetry to reproduce a real world space in VR is that viewers can experience the view and atmosphere of the area as if they really are in there.
In addition, I tried to combine the memories of people who lived there, and their view of the world in order to create a somewhat memory world of those people.
Someday, they may forget their memories, but they may be able to remember fragments of it from here.
Decades ago, as the camera was introduced to humankind, we became able to save and pursuit past experiences as photos, but are we going to become able to store whole spaces with photogrammetry and VR, and pursue our memories in the near future?
Conclusion
The application for the AWARD is due 7/21(Sun). I hope many more creators apply for the award.
Result announcements, exhibition, and the award ceremony is planned to take place at the beginning of August.