Tokyo's Digital Creative Hub: Artists from around the Globe Participate in First Open-Call Program
Last year in 2022, Psychic VR Lab employees were selected as the first partners for Civic Creative Base Tokyo's (CCBT) Open-Call Program. CCBT is a creative hub for digital creativity organized by the Tokyo Metropolitan Government and the Tokyo Metropolitan Foundation for History and Culture.
Japanese press release: https://prtimes.jp/main/html/rd/p/000000407.000038211.html
The team has announced their first urban XR* exhibition — "AUGMENTED SITUATION D," which will be held in Shibuya Ward from March 10. This will be one of CCBT's core programs, the Art Incubation program.
An XR exhibition in a real city setting is an progressive approach with only a few examples worldwide. Moreover, by using the creative platform "STYLY" as the platform for XR works, we will provide an environment where the audience can also challenge themselves to create XR works even after the exhibition ends.
*XR: Collective name for MR (Mixed Reality,) AR (Augmented Reality) and VR (Virtual Reality.)
About the Exhibition
The exhibition is open to everyone free of charge — please feel free to visit!
Exhibition Period: March 10 – 21, 2023
Venue: Civic Creative Base Tokyo (CCBT), shibuya-san (Shibuya Fukuras 1F) and other locations in Shibuya
Opening hours: CCBT: 1pm – 7pm, shibuya-san: 10am – 8pm
Closed: Mondays (March 13 and 20), due to maintenance of the works.
Admission: Free
CCBT Official Website: https://ccbt.rekibun.or.jp/en/
AUGMENTED SITUATION D Official Website: https://augmented-situation-d.org/en
How to View the Works
1. Get the Leaflet
Pick up a leaflet with the QR codes at the CCBT venue.
Address: B2F Shibuya Tobu Hotel, 3-1 Udagawa-cho, Shibuya-ku, Tokyo 150-0042

2. Download the STYLY Mobile App
Install the STYLY app on your smartphone or tablet device.
* Communication fees for downloading the app and viewing the AR work are to be paid at the customer's expense.
3. Go to the Locations in Shibuya and Experience the Scenes!
Now you are ready to visit the locations in Shibuya Ward listed in the leaflet! After you arrive at one of the nine locations, open the STYLY app, scan the QR code on the leaflet, and AR works will appear in the urban landscape.
*For the exact exhibition locations, please refer to the QR code on the back of the leaflet or from this Google Maps list.
About the Works
This is an international urban exhibition set in Shibuya, using XR(Cross Reality) technology, the generic term for AR and VR. "AUGMENTED SITUATION D" is a hybrid and expandable exhibition that combines not only XR technology but also conventional sculptures and other works. This exhibition is not limited to only collaborating with visual artists, but with architects, fashion designers and musicians to envision the augmented Shibuya.
We hope you enjoy the first multidisciplinary urban XR exhibition in Japan.
About CCBT
CCBT is a digital creative center operated by the Tokyo Metropolitan Government and the Tokyo Metropolitan Foundation for History and Culture, where the public can explore their creative imaginations in society through the use of digital technology.
Equipped with a variety of labs and studios, CCBT also hosts many programs on the themes of art, technology, and design. The programs center on four core programs: CCBT Meetup, Art Incubation, Future Ideations Camp and Art x Tech Lab. CCBT aims to create opportunities for artists, creators, and all other people to exercise their "civic creativity" and to expand the possibilities of expression to the global art scene.
Official Website: https://ccbt.rekibun.or.jp/en/

About the CCBT ART Incubation Program
The Art Incubation Program, one of CCBT's core programs, is one of the largest artist fellowships in Japan, that focuses on the research and development of new artistic expression to inspire the world. CCBT Artist Fellows will receive financial support, access to space and equipment, and expert advice at CCBT to develop and showcase their artwork and projects. In addition, the Fellows will hold workshops and lectures at CCBT, open their creative process to the public, and act as partners in the co-creation of CCBT.
First Fellowship Partners
In 2018, Asami Kazuhiko was involved in launching and running NEWVIEW Project, a joint venture by Psychic VR Lab, PARCO, and Loftwork. In 2021, he joined Psychic VR Lab as a producer. His wide-ranging duties include everything from STYLY-based project design to project management. Major credits include NEWVIEW Project, ULTRA TOUR by STYLY, Shibuya Fantasy Aquarium powerd by XRscape, and MONDO GROSSO XR DJ LIVE.
A founder of Psychic VR Lab, God Scorpion's work explores magic, extended reality technology, and cognitive frame changes. His major works for urban and lifestyle spaces include Stricker (selected for the Agency of Cultural Affairs' Project to Support Emerging Media Arts Creators in 2014), Spatial Jockey (a VR space DJ), and Nowhere Temple Beta (2015), a virtual reality "ritual work" made in collaboration with Bangi V. Abdul (Tokyo Ritual). Other credits include ISLANDS (part of the Cobayashi Kenta and Nakazato Noriko exhibition ISLAND IS ISLANDS at TOLOT / heuristic SHINONOME, Tokyo, 2015), You & Here (part of the exhibition UTOPIA!! by artist Odajima Hitoshi and manga artist Hirano Ryo at HIGURE 17-15 ca, Tokyo, 2016), and chloma 2016-17 A/W Visual Art (VR). God Scorpion was also VR director for Shinoda Chiharu's zoo (Kyoto Experiment, 2016) and serves as director of the VR consulting service HIKALY.
yoshidayamar (Art Amplifier / Curator)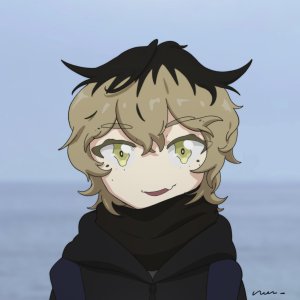 Hailing from Toyama Prefecture and raised in the Alps, YOSHIDAYAMAR's neighborhood fieldwork–based output encompasses launching art spaces, producing artworks, curating, directing, and consulting for exhibitions, and writing. His recent major projects include installments (mail art, unknown locations, 2020), Art Competitions and Opening Ceremony (FLESH, Tokyo, 2020), Outcast (3331 Arts Chiyoda, Tokyo, 2021), The eyes of the wind (Tbilisi, Georgia; obscura, Tokyo, 2022), and MALOU A-F (Block House, Tokyo, 2022). 
About the Artists
This project will not be limited to visual artists, but will have collaborations with internationally renowned architects, fashion designers, and musicians, to create an expansion of Shibuya, Tokyo.
Participating Artists
ALTEMY (Tokyo), ANY (New York), God Scorpion (Tokyo), GROUP (Tokyo), KODAMATACHI (Tokyo), Markus Selg (Berlin), Simon Weckert (Berlin), and suzuko yamada architects (Tokyo.)
Markus Selg (Multimedia Artist)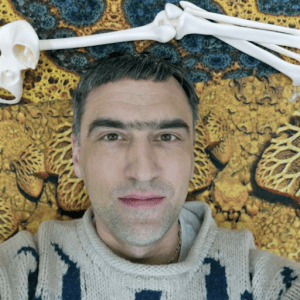 Markus Selg (b. Germany) is a multimedia artist exploring the dynamics between archaic myth and computer technology in forms of digital painting, sculpture, immersive installations, theater, and VR. His collaborative work with Susanne Kennedy, ULTRAWORLD (2020) received the Faust Award 2020 for Best Stage Design. He has been active across a variety of genres, including performing arts, feature films, and opera productions.
Simon Weckert (Digital Artist)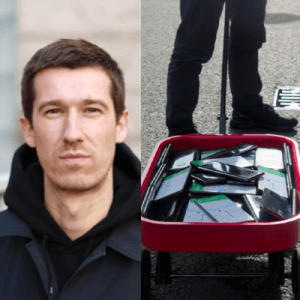 Simon Weckert (b. Germany) is a digital artist who likes to share knowledge on a wide range of fields from generative design to physical computing.
You may know about his "Google Maps Hacks," which used 99 second hand smartphones transported in a handcart to generate virtual traffic jams in Google Maps. He uses technology in the digital space to cleverly impact the physical space, all the while creating some playful mischief.
STYLY is a real metaverse platform that provides artists with a place for spatial expression. By using STYLY, not only can you easily create VR, AR and MR content in your browser, but your scenes can be distributed to a variety of devices such as VR HMDs, web browsers, mobile devices, and AR glasses.
STYLY Official Website: https://styly.cc/en/
STYLY GALLERY: https://gallery.styly.cc/en/
STYLY Mobile:
Google Play | https://play.google.com/store/apps/details?id=com.psychicvrlab.stylymr
App Store | https://itunes.apple.com/jp/app/id1477168256?mt=8
STYLY for Nreal:
GooglePlay: https://play.google.com/store/apps/details?id=com.psychicvrlab.styly.Nreal
About Psychic VR Lab
Psychic VR Lab develops real metaverse platform "STYLY" with the aim of creating a world where everyone will "wear a space". We drive the XRization of interfaces from art to fashion to lifestyle, while supporting artists and providing space for their creations.
Head Office: 2F MORIAURA, 1-34-2 Shinjuku, Shinjuku-ku, Tokyo
Representative: Masahiro Yamaguchi, Chief Executive Officer
Official Website: https://psychic-vr-lab.com/en
Contact:
Psychic VR Lab Co., Ltd.
PIC: Asami