This article introduces artist/tattooist Keiichi Yamada's VR work "GENJU."
We introduce Keiichi Yamada's career and explain how to appreciate his work using VR.
Having read this article, you will be able to enjoy his work even more.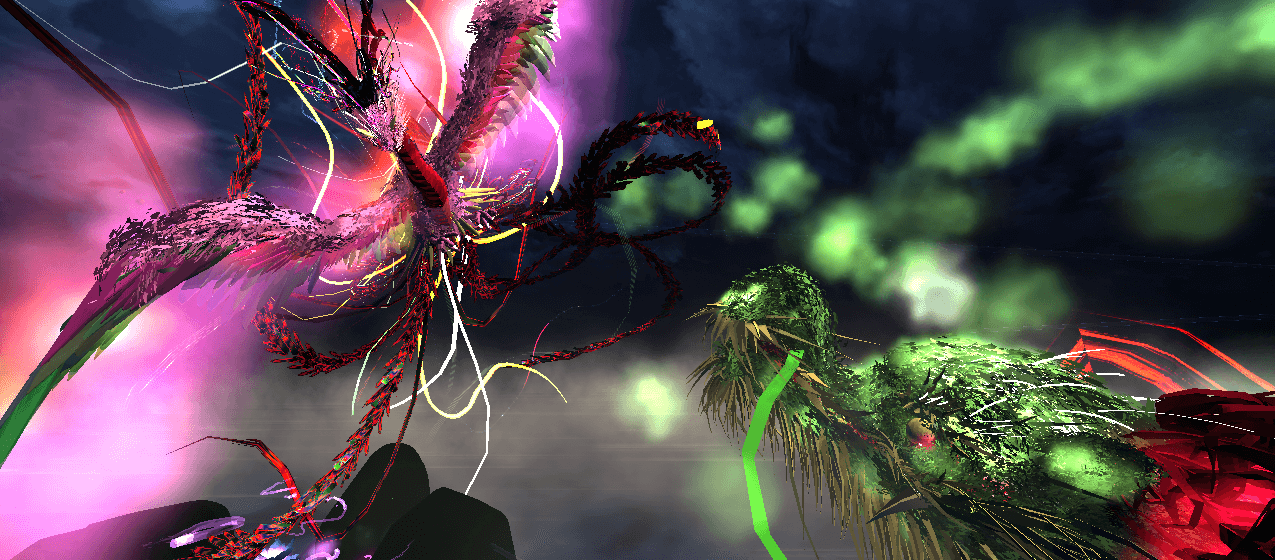 Artist Profile: Keiichi Yamada
Keiichi Yamada is an artist/tattooist based in Miyazaki, Japan.
His style is based on Japanese-style paintings and depicts creatures and landscapes through the technique of "bleachart": painting with bleach on dark-colored cloth.
Using brush strokes, materials, compositions, motifs and perspectives taken from and inspired by the world of Japanese paintings, he is now trying his hand at VR/NFT art.
In this article, we introduce "GENJU," which is presented as a VR work.
GENJU
The focal elements of this work are the three animals. These animals have the characteristics of a "Chinese dragon" and a "Chinese phoenix." These animals are the "Genju" (phantom beasts).
These Genju are represented in 3D computer graphics (3DCG) created using OpenBrush, a VR painting software.
Each line was drawn by the artist and then assembled to form a single shape and image.
OpenBrush's signature lines, with their particles and animations, give a dynamic impression.
This scene is characterized by the Japanese painting-like composition in which the OpenBrush-created Genju are arranged.
When the three beasts are viewed in a single composition, they seem to be glaring at and talking to each other. The composition creates a story for the Genju.
These vibrant creatures are recreated with modern technology and given new life through a Japanese painting idiom.
Enjoy the appreciation of each life form.
How to Experience a VR Scene
If you are accessing this page from a smartphone, please click on the "Try Now" button (*If you are experiencing the scene on a smartphone for the first time, please also refer to the following instructions).


After clicking, the following screen will be displayed.
If you have already downloaded the STYLY Mobile app, please select "Activate in STYLY app".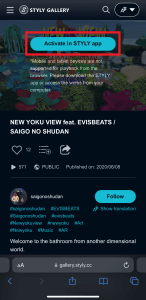 If you have a HMD device, please select "Experience in VR" from your PC (web browser).

Download the STYLY Mobile app
Download the Steam version of STYLY app
https://store.steampowered.com/app/693990/STYLYVR_PLATFORM_FOR_ULTRA_EXPERIENCE/
Download the Oculus Quest version of STYLY app
https://www.oculus.com/experiences/quest/3982198145147898/
For those who want to know more about how to experience the scene
For more information on how to experience VR scenes, please refer to the following article.

Edited by SASAnishiki
Translated by passerby1