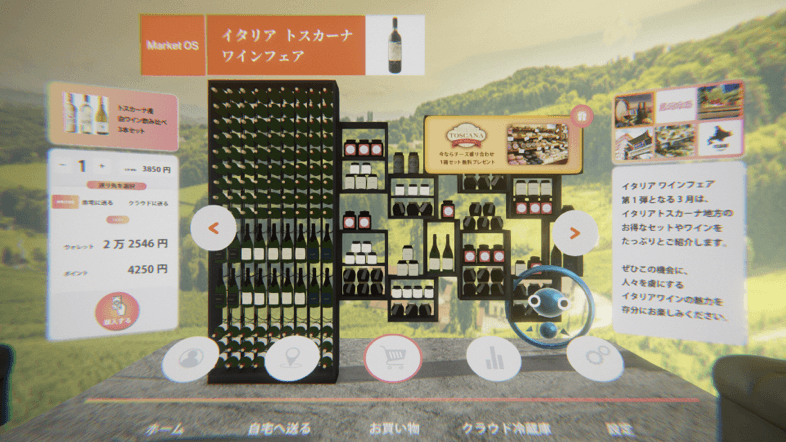 How will the act of buying things change in the near future?
For a long time, the retail industry has been facing issues such as a shortage of human resources and the problem of shopping refugees in depopulated areas, which has become more serious due to the new coronavirus. In response to these social issues, a variety of ideas and demonstration experiments are being conducted, such as using 3D printers to prepare meals and drones to deliver products to your home.
In the field of XR as well, various solutions are being explored, such as how AR can be used to improve the buying experience in real stores, what kind of UI can be used to provide the buying experience in a VR space, and what kind of changes will these bring to the customer experience?
To answer these questions, we held a workshop with Panasonic Corporation's Business Solutions Division and the Innovation Center of Connected Solutions, Inc. to think about the purchasing experience in supermarkets 5 to 10 years from now using XR.
The process
Desktop research > Workshop > UI creation > Video production
1. Desktop research
The first step was to conduct desktop research. Since the time frame was set at 5 to 10 years from now, the desktop research covered not only supermarkets, but also various technological changes and social changes, and we picked up about 10 examples as reference cases.
2. Workshop
Workshop participants wrote down what they think and do before, during, and after shopping from the perspective of a user.
Using what they had written down, the workshop participants applied the Value Proposition Canvas to sort out the Gain (happy things) and Pain (unpleasant things), and came up with ideas on how to deal with the Gain and Pain.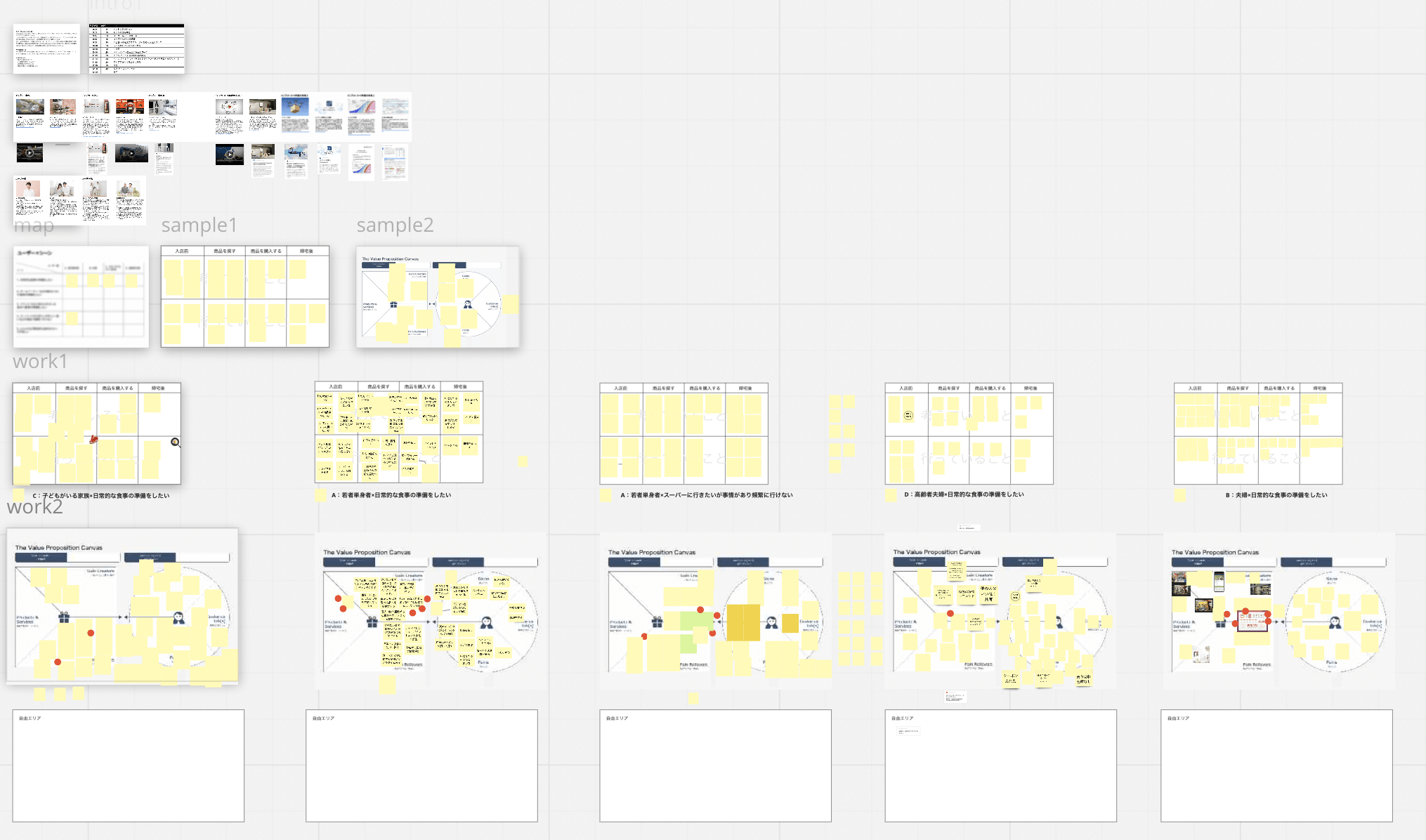 3. UI creation
One of the suggestions from the workshop was that, considering the spread of head-mounted displays, the linkage with systems such as inventory information, and the fact that different consumers have different literacy levels, it is necessary to design services seamlessly across multiple devices, including smartphones, in a way that corresponds to consumers' uses and opportunities, rather than separating real stores from AR and VR.
As a result of the workshop, ideas that were utilized in the creation of AR and VR UIs included the ability to visualize what is stored in the refrigerator and how much is used by linking it to the refrigerator, and the ability to match the ingredients in the refrigerator to the dish you want to cook and suggest the ingredients that are missing.
4. Video production
We created a story based on the purchasing experience derived from the workshop and shot a video with the UI we created.
The story is about a group of friends having a home party, where the man buys wine at a VR store and the woman buys food at a real store with the help of an AR guide.
For the filming, Inageya cooperated with us and we filmed in their actual store. The images of entering the store and the salmon section are not synthesized, but are the actual screens seen on STYLY.
Comment from Mr. Ohtsubo, Innovation Center, Connected Solutions Company, Panasonic Corporation
Our company is promoting the realization of on-site process innovation to solve social issues by staying close to the diverse workplaces of our customers. This time, we received cooperation from Psychic VR Lab in order to extract on-site issues in the distribution industry through backcasting from the future. Initially, we assumed a future vision based on VR devices, but thanks to Psychic VR Lab's facilitation, we were able to derive a future use case that could actually happen, where not only VR devices but also smartphones and AR devices are used in combination, and services are seamlessly connected in the cloud. We were able to derive a use case that could actually happen.
We will strive to realize advanced solutions based on the knowledge gained this time.
Comment from Mr. Kubo, Business Solutions Division, Panasonic Corporation
The wonderful members of the Psychic VR Lab provided us with a great deal of stimulation, including ideas and solutions that we would not have been able to experience on our own.
Also, through this project, we were able to imagine the next generation of UI for new VR and AR.
Based on this experience, we will continue our efforts to create advanced experience value in the XR space.
Conclusion
The ideas and videos that we worked on with Panasonic Corporation's Business Solutions Division and Connected Solutions Company's Innovation Center are not meant to be packaged as-is, but rather as an idea. Based on the output of this project, we will continue to experiment with what the purchasing experience using XR is and what possibilities are possible, so please feel free to contact us if you are in charge of a company that would like to think together.
Project Members
Producer: Kazuhiko Asami (Psychic VR Lab)
Creative Director/God Scorpion (Psychic VR Lab)
Director/Yuki Matsuoka (Psychic VR Lab)
Project Member/Shoji Ohtsubo (Panasonic)
Project Member/Takashi Horinouchi (Panasonic)
Project Member/Kunihiro Kato (Panasonic)
Project Member/Takuya Kubo(Panasonic)
Director of Photography/Shoyo Miyao (ZONVOX)
Production/Yusuke Sekiguchi (GROUNDRIDDIM)
Music Production/RayK.(CitrusBlueRecords/SonyMusicPublishing(Japan),Inc.
Hair/Makeup/ Chiaki Hino
Assistant hair/makeup/ Kyoko Koshino
Styling/Nukeme
Cast/zaqi
Cast/Eisuke SATO
Cast/Jun Kawasaki
Cast/R
Photography cooperation/Inageya Co.