Introduction
In this article, I'll show you how to use Blender, make a simple model, and upload it to STYLY for those who have never done modeling before.  
In the previous article
In the previous article, I wrote about the basic modeling and basic operations of Blender.
The previous article is here↓
In that article, I explained how to add color to a model with materials.    
What we will do in this article
In the previous article, I explained how to use materials to add color to a model. This is where textures come in handy. In this article, I will explain how to apply textures. The finished example is as follows.
Let's learn how to apply a texture to a basic cube.
How to create
How to do UV expansion
In order to apply a texture to a model, it is necessary to expand the model and make it flat. This is like drawing a picture on a development drawing and pasting it on the model. This is called "UV development".  
Once the cube is out, switch to edit mode and then to edge selection mode. Switch the display to Wireframe to make it easier to work with.
The first step is to cut into the edges. While imagining the development, select the edge you want to cut.
Once you have selected the edges, press [Ctrl]+[E] and select Mark Seam. (Note that this is similar to Mark Sharp.) The edge you just selected will now turn red.
Once you have done Mark Seam, you can still add additional cuts by selecting the edge you want to cut and doing Mark Seam again. After adding the cut, select the entire mesh with the [A] key, and then select [U]→Unwrap. Nothing will happen at first glance, but if you switch to the UV Editor by clicking the red button on the upper left, you will see the development diagram.
You can change the shape of this development view and move it around to make it easier to draw. In this case, it is just a cube, so we will continue as before.  
It is easier to work with the 3D Viewport and UV Editor split into two screens as shown below.
Draw a picture on the development drawing and reflect it
Let's save an image of this development. Select UV > Export UV Layout from the menu above and save the image as a png file.
Once you have saved the image, you can edit it in Illustrator or Photoshop. 
If you export the image as shown above, the UV development lines will also be visible when you paste the image into the model, so export the image as a jpg/png file without that layer visible. (If you want to upload the model to STYLY in obj format later, it needs to be a jpg. Basically, png is fine.
Back to Blender. First, let's add a material. Please refer to the previous article for how to add a material. After adding the material, select all the vertices of the Cube, and select "Image" -> "Open" from the upper bar of the UV Editor.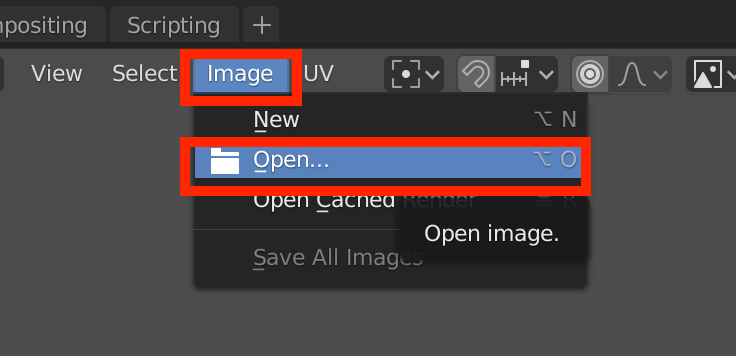 Select the image you have just drawn.
At this point, the texture is not reflected in the Cube on the left. To apply the texture, click on the circle button of the "Base Color" item in the Material tab and select "Image Texture".

Then, a button for selecting a texture will appear, and select the file you just created from the button to the left of "+ New.

Switch the 3D Viewport display to Rendered or Material Preview, and you will see that the texture is reflected.
If by any chance the texture does not paste properly, check that the other items in Base Color are as shown below.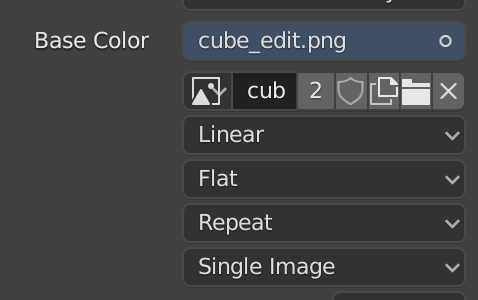 Now you are done. If you have modified the picture in another software, just overwrite the image and "Reload" to bring it up to date.
I hope you now understand how to apply textures in a basic way. That's all for now.
This time, we have practiced with a simple cube, but it will be more difficult to develop a more complex shape. In the case of a humanoid model, you need to add a face, a body, hands, and so on. For a human model, it would be easier to separate the face, body, hands, etc. into different parts when adding seams. UV development is difficult, but you need to get used to it because you will use it almost every time you model. Let's practice UV development by modeling various things.
How to upload your model to STYLY
Export your model
Now let's export our model and upload it into STYLY! With the finished cube selected, select File > Export > glTF 2.0 (.glb/.gltf) from the top menu.
Uploading to STYLY
Let's upload your 3D model to STYLY.
Create a STYLY account
How to create an account

How to upload to STYLY

How to upload from Unity to STYLY

This space can be viewed here.
Next article is here
Terms and shortcuts that came up in this article
Terms
UV Extraction: Extracting an object to texture it, or something that has been done.

UV Editor: A screen for viewing the development after UV expansion.  
Shortcut
Ctrl]+[E]→[Mark Seam]: to mark a seam for expansion.
[A]: Select all
[U]→[Unwrap]: After seaming, actually unroll the seam.
Introduction to NEWVIEW SCHOOL ONLINE
NEWVIEW SCHOOL ONLINE is now open! Learn the basics of Unity and PlayMaker, necessary for creating VR/AR content, and learn the process (and creation techniques) for developing attractive content available on STYLY.
Create VR/AR content without writing any programming code.
Professionally supervised Unity courses available.
Explore additional elements, such as photogrammetric production methods and content lightening.
Learn the concept of creating VR/AR content.