There is auto translation only of this article.
VR rakugo "Manjuu scary / Scary buns" produced by Mr. Ei Inami, graphic artist / art director. It is an anti-theory work that makes a story go forward with a graphic by making a VR space spreading 360 ° dare in one direction.
How to express your own color? The way of thinking and conflict to measure differentiation from other creators is increasing the interest of this work.
In this interview, we asked about the concept and production process of Mr. Inami's "Bunny scary / Scary buns".
After graduating from Department of Visual Design in 2003, after staying in New York, started activities as a graphic artist / art director since 2010. While placing a major emphasis on graphic design, he is active in various fields regardless of expressive media, such as video, product, space director, textile. Main work in recent years, Isetan Shinjuku store window display, PARCO advertisement, NEWoMan advertisement etc. There are.
VR production that showed how to show it
—What did you think when you first heard about VR?
Inami:It seemed interesting simply, I was glad. I have never actually made VR since I have experienced it, but since I was influenced by the game from the past, I did not feel resistant feeling. However, as I had never made 3D, I did not think that the opportunity for me to make a VR would come.
—How did you feel when you first touched STYLY?
Inami:At the meet-up event where I invited NEWVIEW creators at the end of 2017, I had the opportunity to experience STYLY, but at that time I could not use it as I expected. Since the creators who participated were just those I liked, I felt a lot of pressure at first.
I felt that it was particularly difficult, after I decided the size to be created first at 2D, I do not have that "frame" in VR.
Also, since we had to make it while conscious of how to see the 3-dimensional space different from 2D, because there was a displacement of the object when changing the viewpoint, it is necessary to bring it up to the level actually experienced in VR It took me a while.
At first I was not accustomed to the operation, it took quite a bit of trouble to decide various concepts, such as what kind of things can be expressed and what kind of spatial composition to make.
—How did you decide on the concept?
Inami:First of all, I wanted to be covered with the direction of the work with the other creators. So, what kind of section is good for making works that do not coat with people while putting out their own colors? I began thinking first from the point of view.
I also tried using 3D models in Google Poly, but inevitably I could not wipe the feeling "I tried" but I felt frustrated somewhere that I was playing with tools. Even if I create a VR space using data as in a 3D model shared site, I feel like I do not have any idea for those who have already made VR works, and I use VR I thought of trying to "return home" to make space.
But I can not make 3D and I do not have enough time to ask 3D creators. When I was thinking about how to justify the graphics of 2D, I recalled that the game "Palappa rapper", which used to play a long time ago, had a strange feeling that the character was "flat instead of three-dimensional" in the opposite way.
It happened that Itoh Gabin of a longing editor who happened to be a judge of NEWVIEW AWARDS 2018 handled that "Rappa rapper" was very happy. (Lol)
Also, I thought that I would like to add another element I have not seen much, and I came up with an action called "Read".
Because I heard that NEWVIEW plans to hold events around the world, I thought that I could incorporate Japanese likeness and chose the classic rakugo "Manjuu scary" that I liked originally.
Differentiate with infinite finite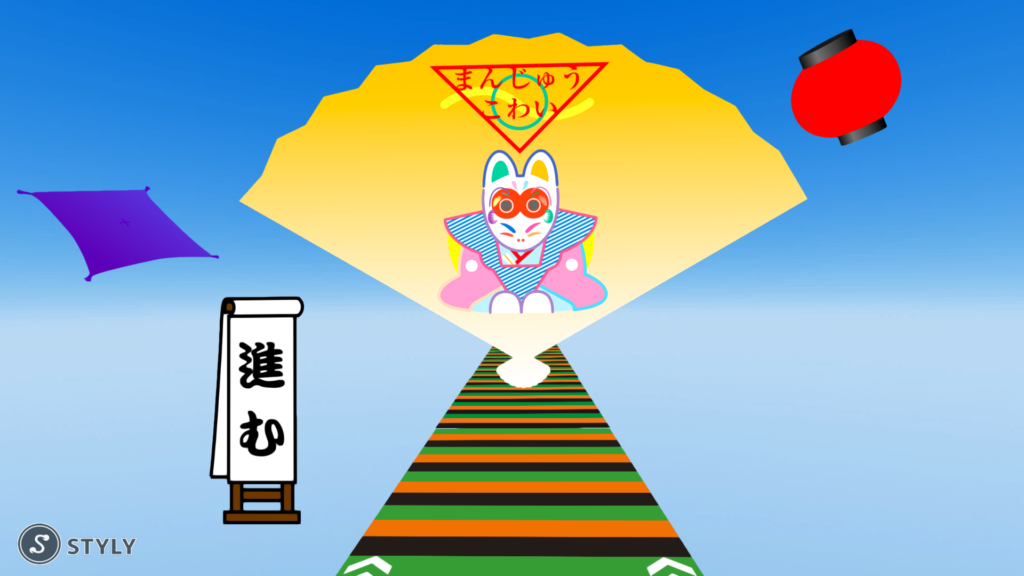 —How was this work "Scary buns" produced?
Inami:First of all, considering the story summarizing the original, the characters made characters. From there I prepared a scene envisioned along the story graphically, but as I advanced it, I encountered the problem of how to tell a story in a space that I can see through 360 °.
Therefore, in a three-dimensional space which is the biggest attraction of VR, we adopted a method of daringly arranging a straight road and reading that road in one direction.
As I look forward to reading the picture-story show, as I went through the road looking at layered graphics, I made it with the aim of creating such a space that I can understand the story naturally.
I made about 70 layers of graphics and serifs used in space. Actually, the roads on which the arrows are displayed are also mixed with moving pictures. I think that it was accented by laying out a movie.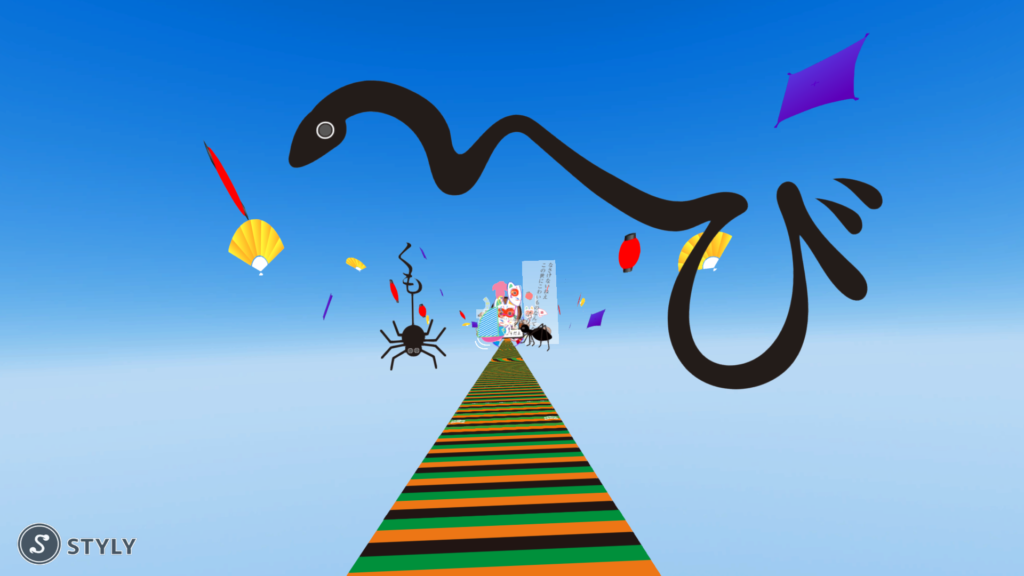 —How long did you devote to production?
Inami:It is about a month including trial and error. The first two weeks were a series of trial and error. However, it was early after the direction was decided. It is a feeling that you make graphics first and insert it into the VR space and then finely adjust the visibility while actually looking at the VR space.
The end of this story is the end of VR space in this work. In other words, the goal was decided, so it was easy to judge completion.
There was also a trickery that it would be nice to see it fresh, as we made everything in reverse, such as turning multidirectional in one direction and finite infinite.
It is OK to make
—How about trying to make a VR work?
Inami:Production was serious but it was very interesting to see the works of other people with the same theme. I always think that making is daisy, so it was fun to see various answers.
Inami opened up a new VR expression with the idea of ​​reverse calculation not bounded by frame, such as trying to distinguish it from other people from the tango and originality, and limit infinite to finite. In the next VR, what kind of answer will you show?