'Sup' by Ryusei Etou from STYLY on Vimeo.
'Sup', a VR work that aimed at finding out the nature of the objects that exist all over the world, under the main theme, 'functional beauty created for a purpose'.
In the past, Mr Etou, a CG artist who created this work, provided a VR work, 'Odd Camp', where people experience strange camp, which was a collaboration between WIRED and us.
Last August, when 'Odd Camp' was published, VR was still supposed to be used just for gaming or business; nevertheless, he showed VR's new possibility for artistic expression by this VR work.
Such an innovative creator, Mr Etou, released his latest work, 'Sup', which renders his thought, 'All things in this world have their own purpose and that is the only reason why people think they are beautiful', by finding out the examples from the real world.
In this interview, I asked about how to make the concept as the core of this work, and the design process.
Profile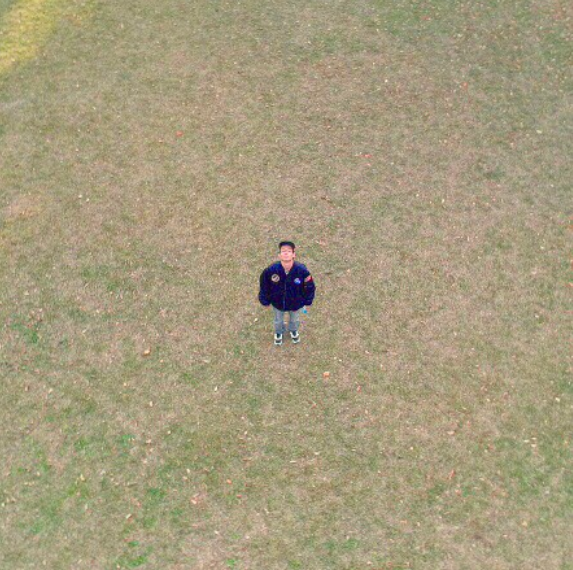 Ryusei Etou
1993 Born in Tokyo. Explored a possibility of primitive CG.

2013 Entered  Art and Media Course, Departmet of Information Design, Tama Art University.
Group Exhibition 'Explosion m,o,d,e'
2014 'Explosion m,o,d,e Exibition -welcome house-'
2015 'Explosion m,o,d,e Exibition -vol.3-'
2016 'Road -theory-'
2017 He produced the MV of 'YourGayThoughts' and took part in the production of the MV, 'Qiezmabo'.
He provided an interactive VR space and a demonstration space for 'Psychic VR Lab'.
Find what I want to do from hands-on experience
— When were you involved in VR work for the first time?
Mr Etou: About a year ago, I started creating a VR work, 'Odd Camp', for WIRED at the same time that I was making a demonstration space for STYLY. I already had an experience with Unity.
— How did you feel when asked to work for NEWVIEW project?
Mr Etou: I honestly thought it was interesting. And, I had a positive feeling because I had already created a VR work before.
— Compared to other creators without VR experience, it is a big advantage. Which tools do you usually use for VR creation?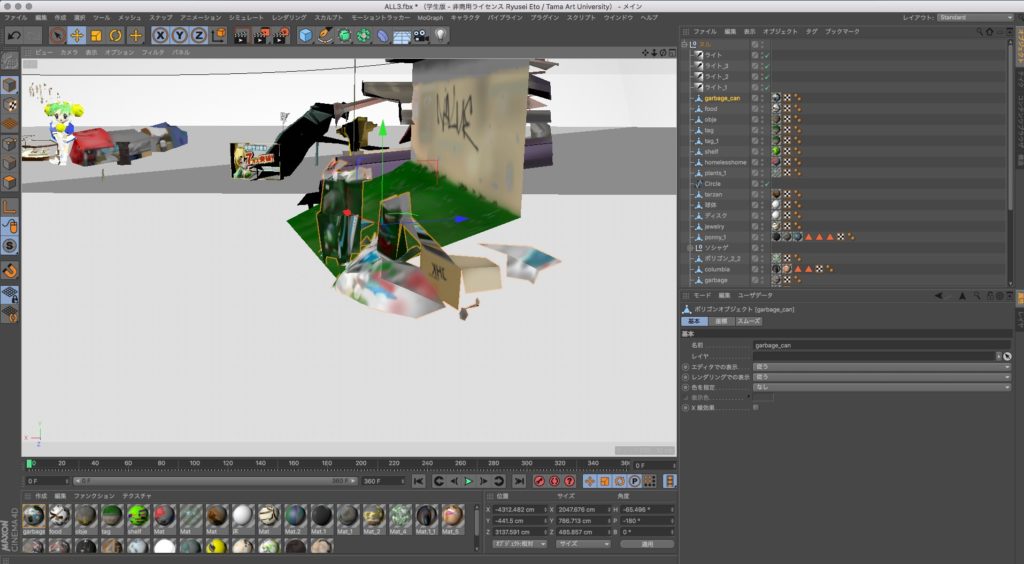 Mr Etou: Most of them are CG tools. When I create a VR, I mainly use CINEMA 4D (hereafter referred to as 'C4D').
After placing objects and adding animations in C4D, I import them into Unity to check and then upload it to STYLY.
Since there were some animations that didn't work after uploading them from C4D to Unity, I checked and adjusted them in Unity. However, some animations that C4D added semi-automatically such as the motion of waves, didn't work on Unity, so I gave them up.
Looking back now, by giving up various things I couldn't render, I created a simple work successfully.
I appreciate it if I can upload from C4D to STYLY directly in future.
— I agree that it's handy if I can upload from applications other than Unity. How long did it take to create this work?
Mr Etou: I finished it in a month approximately. Some people may be able to finish in a shorter time, but, in my case, it took a while as I did modelling and drawing from scratch.
— How did you create 'Sup'?
Mr Etou: I already had several 3d models I had made before. My brain had been already occupied by them, so I used them (lol).
I am a type of person who finds what to express after making something to some extent by my own hands and asking myself, 'What am I doing?'.
I usually break down what I want to express and summarize their reasons and subjects into a mindmap. Then, I pick up a concept from it afterwards.
It's not a solid rule as I sometimes set a concept first. But, somehow I feel that it makes more interesting stuff.
Beauty comes from 'purposeful function'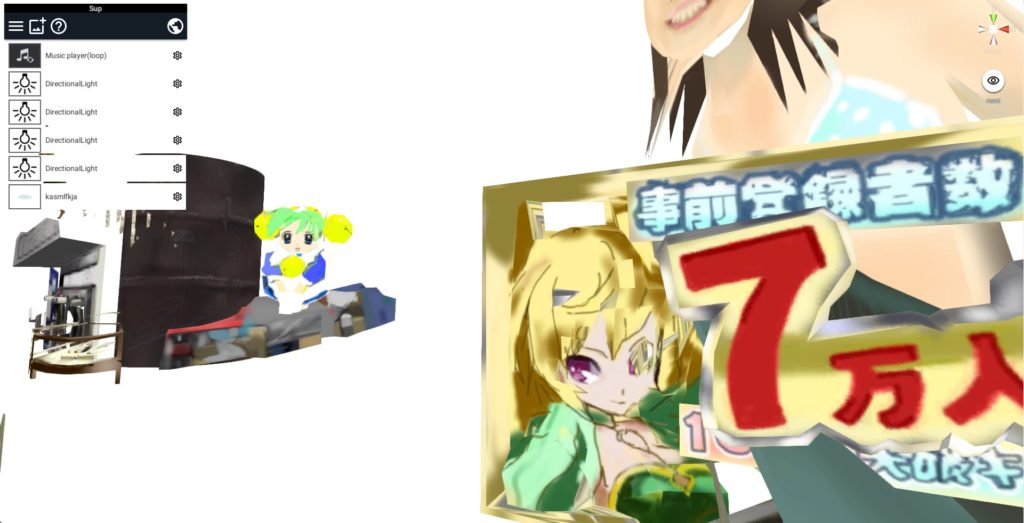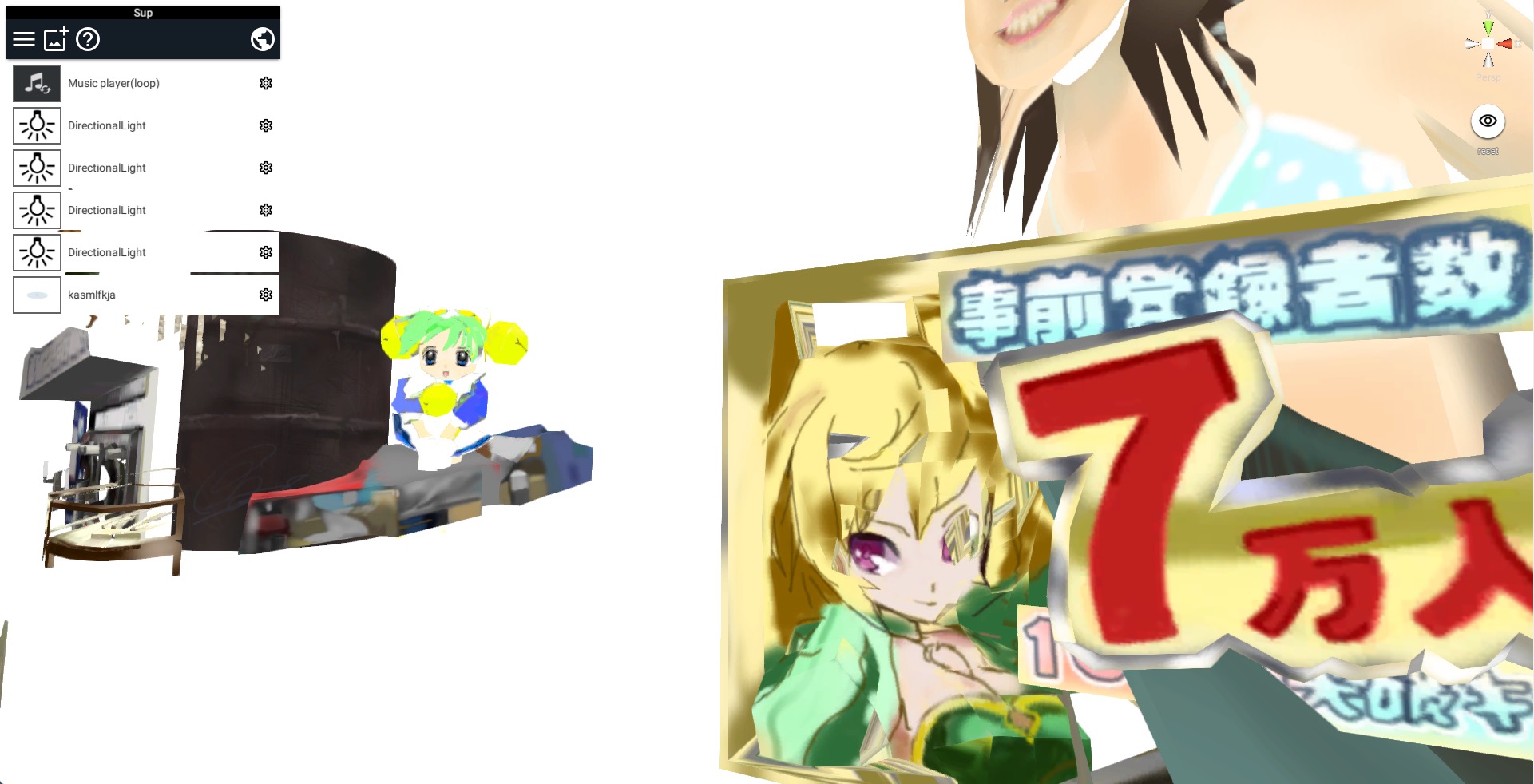 — What image did you have to create this work?
Mr Etou: This time, when I asked myself, 'What do I want to do?', I realized that I wanted to make people feel the correlation between the purpose a thing aims at and the function to keep it going, in the same way as I do.
The advertisement of a social game is a kind of visual expression that updated continuously for the main purpose of attracting a lot of people. In my opinion, the purpose-driven expression like the advertisement of a social game shows a remarkable functional beauty by functioning single-mindedly, in addition to the beauty at a glance such as good-looking character art.
Instead of caring about a visible part, I wanted to extract the purpose that makes sense from the larger scale of view. It's a kind of reason why I placed the object of a social-game advert in my VR space.
— Did you make the other objects from the real ones?
Mr Etou: All the objects have their original photo. Based on those photos, I created their 3D model and graphics.
I picked up some from the internet and also clipped the photo taken at the place where I actually visited and make an object from it.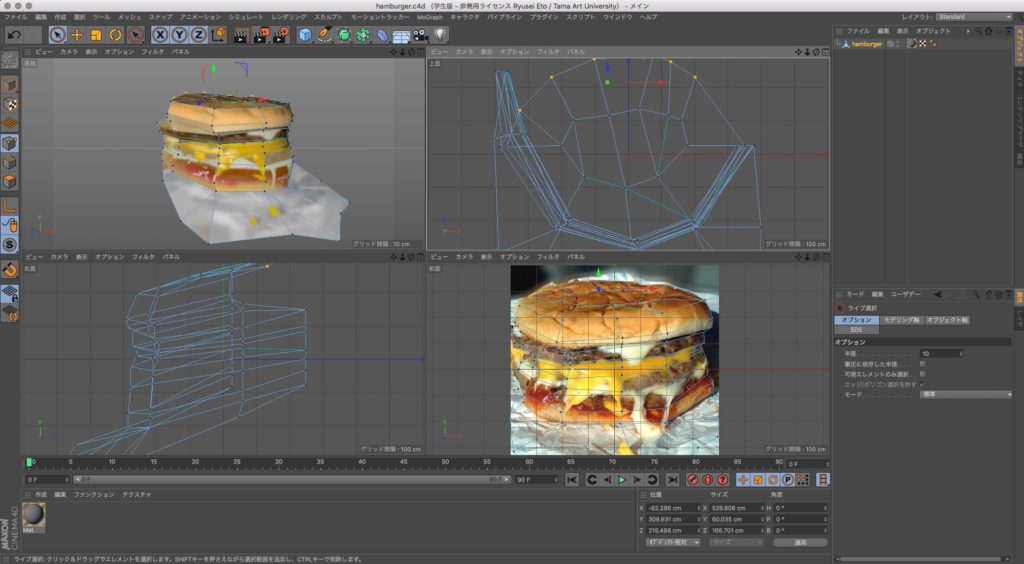 One good example is that Walmart's shopping cart was made from the photo I took when I travelled to Hawaii.
In addition, I placed Miss Colombia, Yu*o Ogura, a person role-playing Tarzan I found on Instagram and so on in the VR space. I can say the direction and intensity of the purpose that each motif has are random but I can also say each motif shared the same purpose when viewed from a different point of view.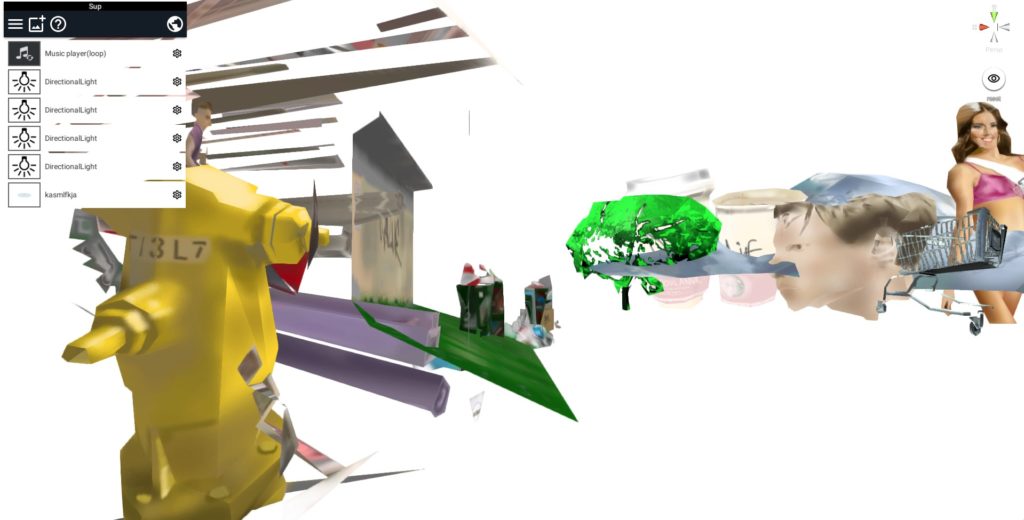 When I analyzed them one after another, I sensed another aspect of those things.
For example, in this work, I used the photo of the rubbish I took in Hawaii. When visiting a bit rough area in my travel, I found a negative aspect of the town that selected what is useful to coexist with tourists. Depending on the purpose, a selection is sometimes required to make a functional beauty, I thought. I wonder it could be called the attractiveness that contains even a negative aspect. I cannot put it nicely (lol).
Trace the reason why it's beautiful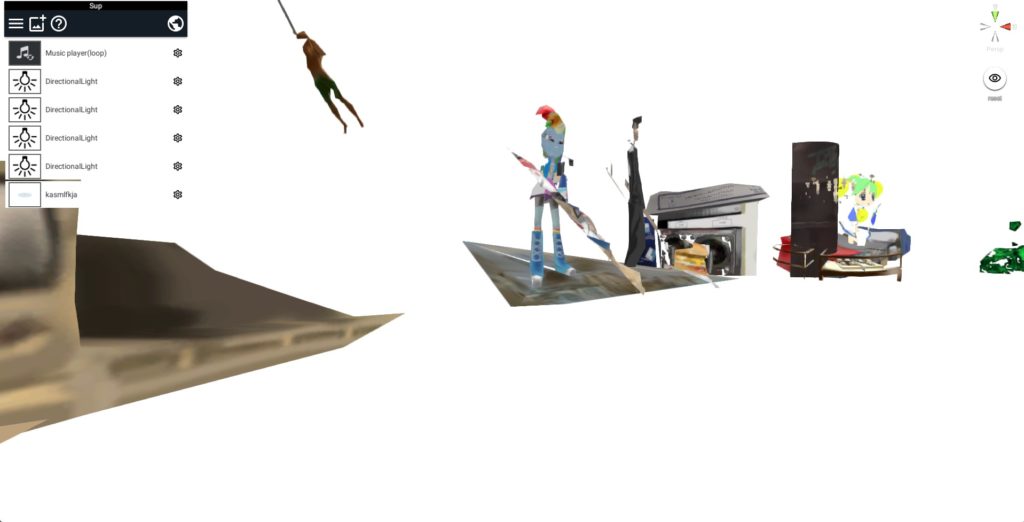 Mr Etou: The reason why I extract the purpose is that I thought I could grasp something big by extracting something like the beauty that has already been created in a landscape or the beauty that should exist inevitably, although I, as a creator, agree that creating a wonderful atmosphere is a good thing.
I am thinking that there are two approaches, introvert one and extrovert one, when setting up the atmosphere of the work.
Personally, I think it's good to be extrovert. Since a real beauty in the outer world moves towards the purpose, it becomes functional and it's polished up into a more beautiful existence. Conversely, any functional beauty doesn't exist without the purpose, so the beautiful thing in this world has its purpose without exception.
There are a lot of beauties, so I can find the nature of them by tracing back the reason why they should exist like an inverse calculation.
Looking at the advertisement of a social game, you would often find a sexual expression. Does it mean people demand it? When you see an expression more, it means people demand it. I often find negative comments, 'Inappropriate!' or 'Disgusting!', but expression is kept updated for the users who love it because desire exists deep into the suppressed people's mind no matter how immoral it is. This is the very state in which the design aiming at its purpose is updated continuously.
I create this work to express the functional beauty that is being updated necessarily for the purpose in the sense I told above.
A thing always has its purpose. That's the only reason why it has its beauty. 'Sup', a challenging VR work to find the nature of each existence by a reverse calculation. Please have experience with this VR space. I think you could enjoy it more if you thought about why each object should be there.