'Virtual University – Humans and us' created by Mr Kazuki Takakura, an illustrator, artist, game creator. He modelled it with Blocks and rendered the material by Unity's lights, which makes me feel it natural and fresh as if an actual material was applied.
In this interview, I asked about the design process of this VR work, 'Virtual University – Humans and us' and his vision of a game system should be.
Profile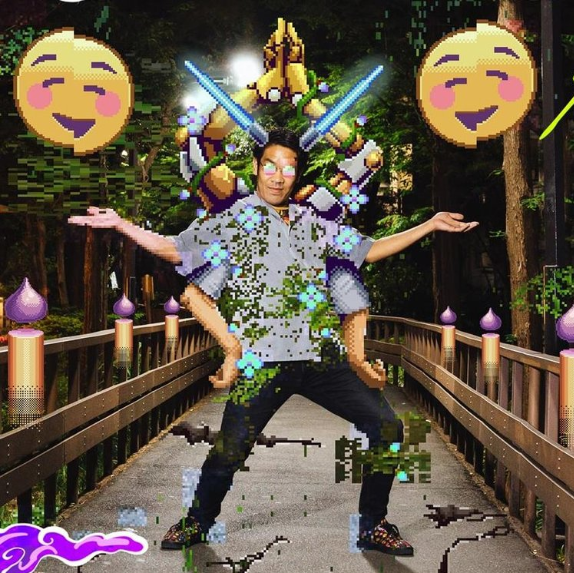 Illustrator and game creator. Born in 1987. He creates illustrations, animations, games and VR works based on pixel art and digital expression. He acts as an art director for 'HANCHU-YUEI', a theater group. In 2016, he held 'PIXEL OUT', a group exhibition, in pixiv zingaro. In 2017, he held his private exhibition, 'umwelt'. In 2016, he started developing games under the label, 'STUDIO TOKOYO', which released 'mani yugi TOKOYO' in 2018.
Reference: http://www.takakurakazuki.com/profile.html
Studying Human History in Virtual University
—Why did you accept the work for NEWVIEW project?
Firstly, I simply thought it's interesting, and it also justified buying a VR set. Actually, I went to buy a VRHMD right away (lol).
In addition, when I was going to do some VR work, I wanted to do modelling works as well. So I bought a PC powerful enough to deal with modelling.
Since I usually work for 2D, I had no experience with 3D except tasting Blender a bit. But, taking this good opportunity,  I planned to create a model from scratch by using 'Blocks' and then started modelling.
—How did you make the concept?
Since I aimed at making a lot of low-poly models with 'Blocks', I wanted to make a place like a museum by making good use of those 3D models. As I also remembered there was a kind of university or lecture room in NEWVIEW project, I created this VR work with a motif, 'A university to study the human history that recorded in the information space after the human extinction'.
'A creator studies a new tool, STYLY'. That was my image of the NEWVIEW project. So I named the work 'Virtual University'.
Modelling with Blocks
—How did you create the work?
Firstly, I modelled 3D models with Blocks and rendered the colours on the model by Unity's lights. So, in fact, the object itself is left white.
That is because I didn't understand how to set material very well. I thought it's possible to render the colours by combining the lights. Then, doing trial and error, I was finding the required colours. Although I needed 30+ light as result, I successfully coordinated colours just as I imagined.
As in the legend about the creation of the world in the ancient mythology, seen at a distance, 3D model has a nesting structure that has the VR space on a table supported by a turtle. The border of the VR space has a collider so that viewers can't go out of it.
This work was created with the workflow, checking through it in Unity, importing to STYLY and making fine adjustments such as inserting videos. But, the viewers initially couldn't walk around the space at all. That was because STYLY didn't allow them to move to a non-horizontal area at that time and my 3D object with nesting structure was actually slanted.
Then, I solved it by placing cubes as a footpath. It took a long time to make this kind of adjustment after all. It actually took a month approximately from the modelling to the final adjustment.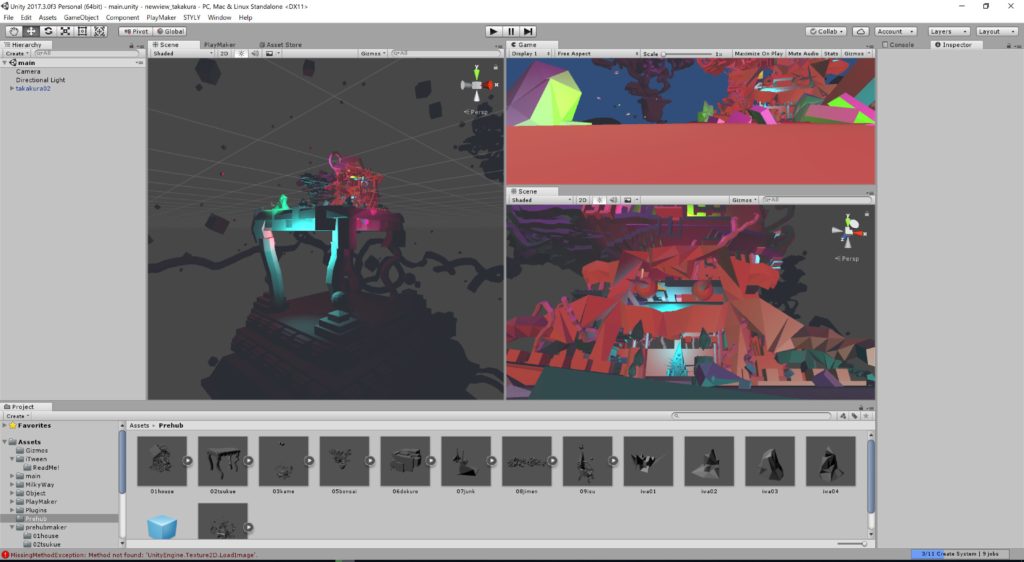 VR as a game genre
—Do you have any requests for STYLY?
Firstly, I want STYLY to have more ways to move around.
At the moment, it just allows the visitor to teleport by the controller. If I could move seamlessly with an analogue stick, for example, I could apply a game-design-like approach to STYLY and could add a game potentially.
In my opinion, teleporting could spoil the immersive and realistic experience by a blackout at each move.
On the other hand, teleporting has its own advantage (e.g. it doesn't cause VR-sickness very much). So I think it's ideal if I can switch between them on demand).
And, as I mentioned earlier, the current version of STYLY doesn't allow the viewers to move to a non-horizontal area because the condition to detect a collision is very strict. I would appreciate it if STYLY allowed the visitors to step onto a curved object, which increases the variations of experience.
In addition, it could be useful to switch between the 2D virtual monitor and the 3D first-person view seamlessly or switch between multiple views to adjust the level of immersive-ness, for example. In short, I would like to take a rest without taking my VRHMD off, which allow me to enjoy the VR a bit longer.
—What is the important point for VR's future?
Currently, the keyword, VR, is widely recognized, but buying it is still supposed to be out of people's reach. Of course, stand-alone VR kits such as Oculus Go lowered the threshold with an affordable price. But, the real boom is still to come.
To make VR common seriously, I think it's important to provide a 360-degree view and finer tracking such as subtle movement of the upper body, instead of a large scale tracking such as walking around the whole space.
The fundamental mechanism, 'Visual is changed by the input from the controller', is the same as games'. So, the most important thing is to establish the control system, UI and UX.
In the case of  Wii and WiiU, they initially promoted the sales by appealing a dynamic control by body motions. But, as time goes by, they release body-controlled software less and less. For Nintendo Switch, they are also switching from body-controlled game to the game with the conventional control system in recent days.
The interesting and remarkable point of gaming is that you can extend your body by a minimum movement such as moving fingers. The possibility of VR would be widened by the idea of assuming VR a tool to extend body.
I think only Mr Takakura, the person who is familiar with a lot of devices, could tell the story that focuses on 'control system' from a neutral perspective. Regarding controllers, Japan has been overwhelmed by many products from other countries such as iPhone's touch panel or PC keyboards. Now I think the important thing is to find the UI/UX optimized for VR and show it to the world in the way Nintendo released their original game controllers. As the control system for VR  has not been established yet, I am looking forward to seeing who will come to this field in future.
The VR work: Virtual University – Humans and us