A Gallery Showcasing AI-Generated Audio and Visuals
AIAR Gallery 02, by American artist Rory Scott (rksxo), is an experimental art gallery showcasing AI-generated audio and visuals.
AI technology has evolved rapidly in recent years, in creative fields such as image and audio generation. AIAR Gallery 02 incorporates this technology within its works, and explores the human-machine interface; it explores the creative process to imagine and generate work that could not exist independently of one another.
Rory Scott is a multidisciplinary artist, whose work utilizes animation, extended-reality, AI & handcrafted means to create emotive environments & reimagined life. Her exploration of impermanence, reality and the passage of time along with the impacts of technology upon the evolution of humanity, form the foundation of her practice & body of work.

— Via the official NEWVIEW website
A Dreamy Reality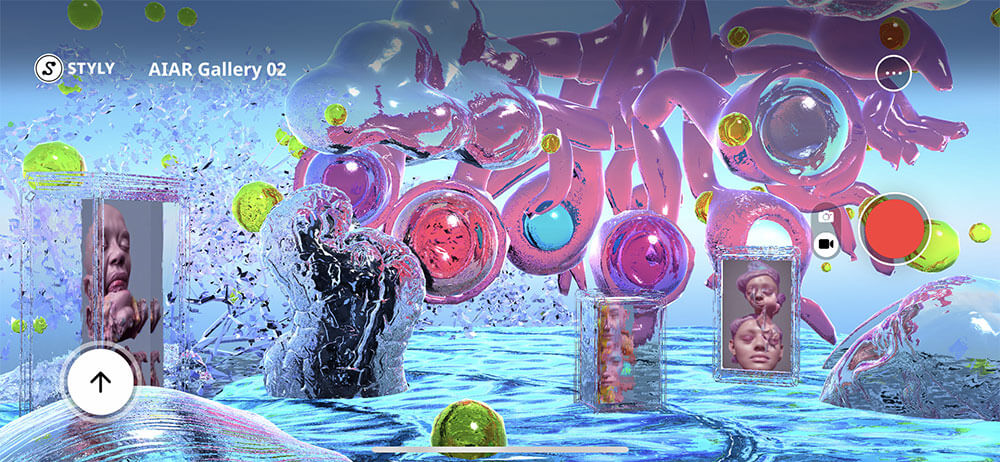 Upon launching the scene, we are put in an underwater gallery surrounded by transparent, abstract objects. Serene electronic music plays in the background, like the shimmery surface of clear water.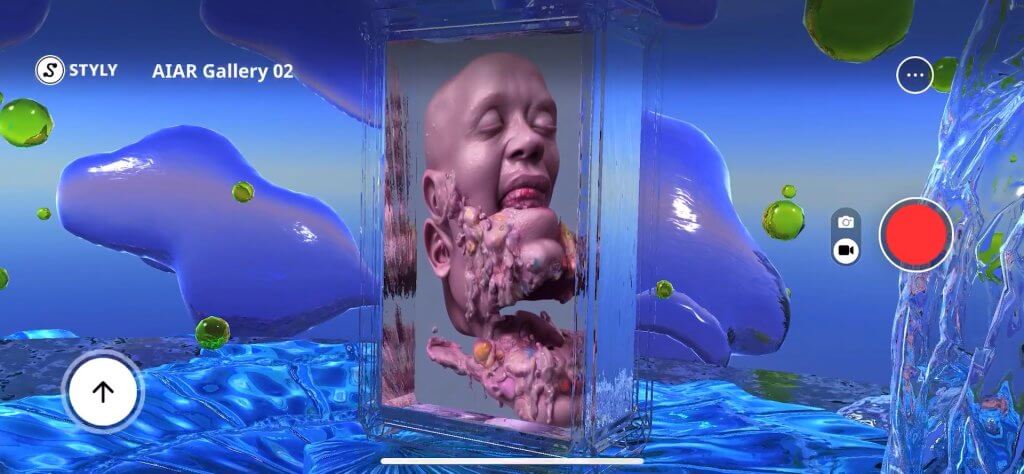 AI-assisted images are on display here, cast inside an icy frame as if time is frozen. The clay-like texture of the human faces makes them seem like they're in the midst of taking form, but are also being destroyed.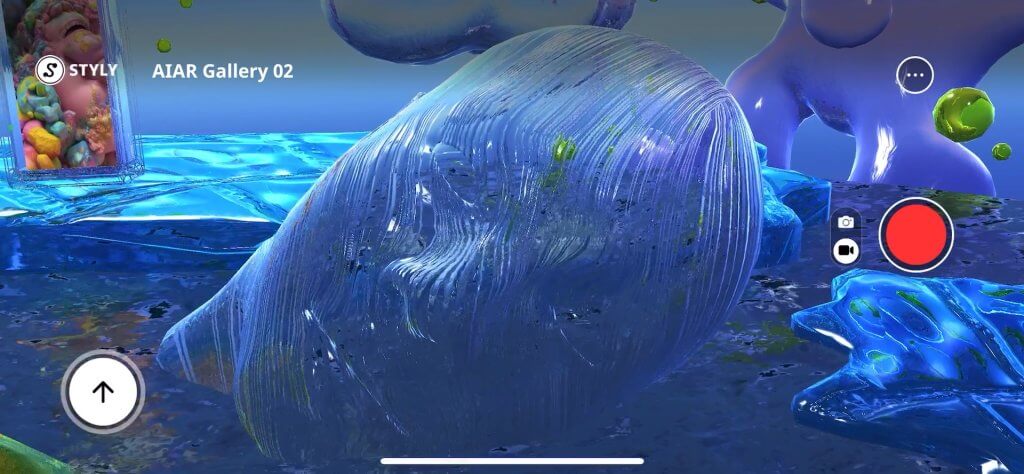 Another large face floats on the surface of the water. Its translucent skin resists understanding — its identity blends into the background, adding to its anonymity.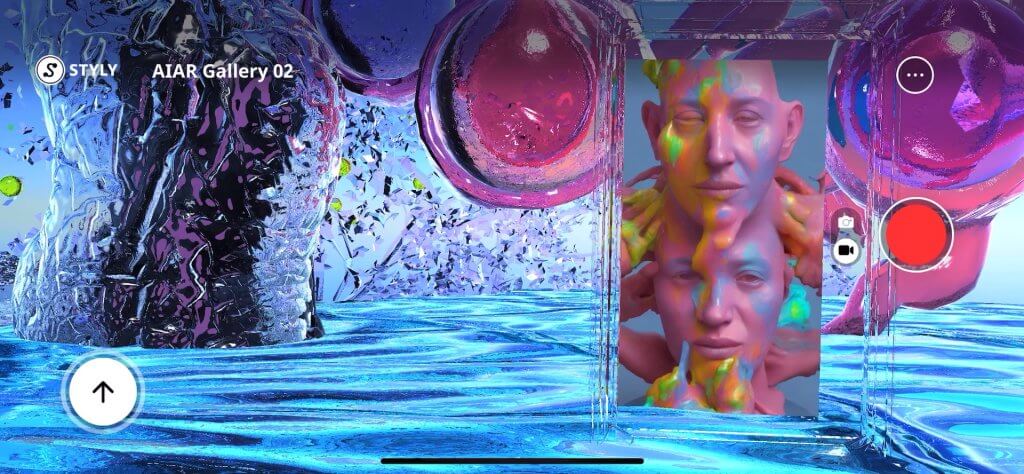 AI-generated images and sounds contain complex patterns and textures that humans are unable to create. This work reveals the potential that AI-assisted works have, not only to explore human-machine relationships, but also to create new forms of art and music.
AI and Us — A Collective Consciousness
With thoughts of what is reality & what constitutes what is artificial vs what is real, AI pushes us to consider what could be more real than creating with the collective consciousness of humanity.

— Via the official NEWVIEW website
Works generated by AI may seem more "realistic" than those created by the collective consciousness of humans. This is because AI technology enables one to incorporate and process a vast amount of information — about human knowledge, culture, and the senses. Using advanced computational capabilities, AI can also capture subtle patterns and correlations that are difficult for humans to perceive individually. Therefore, at times, AI-generated artwork may in fact be more "real" than humans perceive it to be.
However, there the question remains of whether AI art is as "real" as human experience in reality. What AI generates is only digital information and is different from the world perceived by humans. I believe that if AI-generated art can evoke strong empathy in people's hearts a new "reality" may be born.
While AI art is not currently fully accepted as art, I believe that its role will eventually become a dominant force in both art & life. That AI, the collective consciousness of humanity, will be utilized to design our future existence in both the digital and physical world.
AI technology uses machine learning to achieve a certain "creativity," but it is debatable whether the AI itself is "creative." Is AI-generated art truly creative, or is it simply detecting patterns from data and generating new variants based on them?
Whether AI-generated art will be fully accepted as the direction art takes will depend on future social, cultural, and technological developments. However, for AI art to be accepted as art, it must become as expressive and more impressive than us. The evolution of AI itself will be indispensable to demonstrating whether this is possible.
In some artistic fields, AI art has already begun to be accepted as an art form and is attracting much attention. As AIAR Gallery 02 also shows, AI technology is a new means of creating art, with its own unique appeal that differs from traditional artistic expression. I believe that the evolution of AI will open up new possibilities for humans and machines to collaborate and create new and creative art forms.
AIAR Gallery 02 gives us a glimpse of the future, where humans and machines will follow similar paths.
How to Experience an AR Scene
If you are accessing this page from a smartphone, tap the "Try Now" button.
If you are using STYLY for the first time, please also refer to the instructions below.

After tapping "Try Now," you will be redirected to a page like below.
If you have already downloaded the STYLY Mobile app, select "Activate in STYLY app."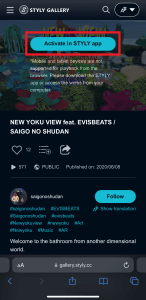 If you are accessing this page from a PC web browser, first click the "Try Now" button to open the scene page.
Then, in the scene page, click "Experience in AR" and scan the QR code with your smartphone to launch the scene on the STYLY Mobile app.

Download the STYLY Mobile app
For those who want to know more about how to experience the scene:
For more information on how to experience AR scenes, please refer to the following article.

Edited by SASAnishiki
Translated by cpnnn