Summon an Instrument with your Smartphone
Draw & drag future instruments is an AR music application that will detect shapes drawn in space and summon the corresponding "Kinmiraigakki" (fancy future sound instrument.)
Hold down the orange circle in the middle of the screen and move your smartphone to draw in the air.
A circle summons the drum "Observer," a straight line summons the string instrument "HUSHI," and a zigzag/lightning pattern summons the "Blitz Valve." The "Blitz Valve" generates a spark sound. Each instrument can be played by touching it through the screen or by directly hitting it with the phone, and its tone is determined by the size of the shape drawn.
Since this scene is very large, we recommend viewing it in an open setting, such as a spacious room or an open outdoor space. If you view this work outdoors, please make sure that your surroundings are safe and free from obstacles such as cars or other pedestrians.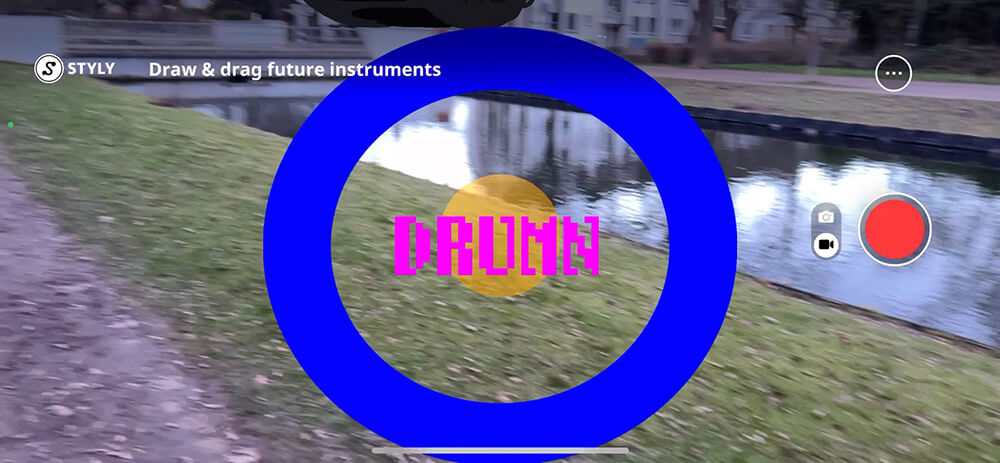 Drawing a circle summons the "Observer."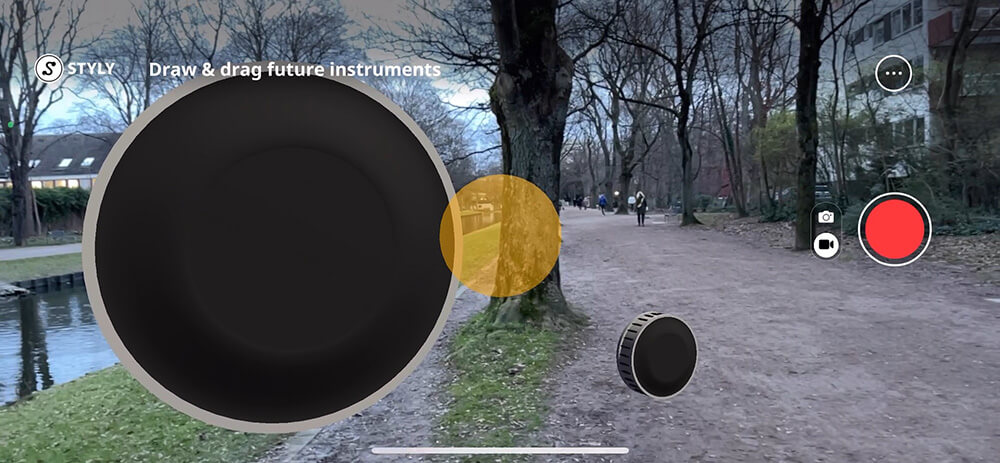 If you want to create a large "Observer" drum, draw a large circle, and if you want to create a small "Observer", draw a small circle. Different sized drums will result in a variety of drum tones!
Drawing a straight line summons the immortal bow "HUSHI."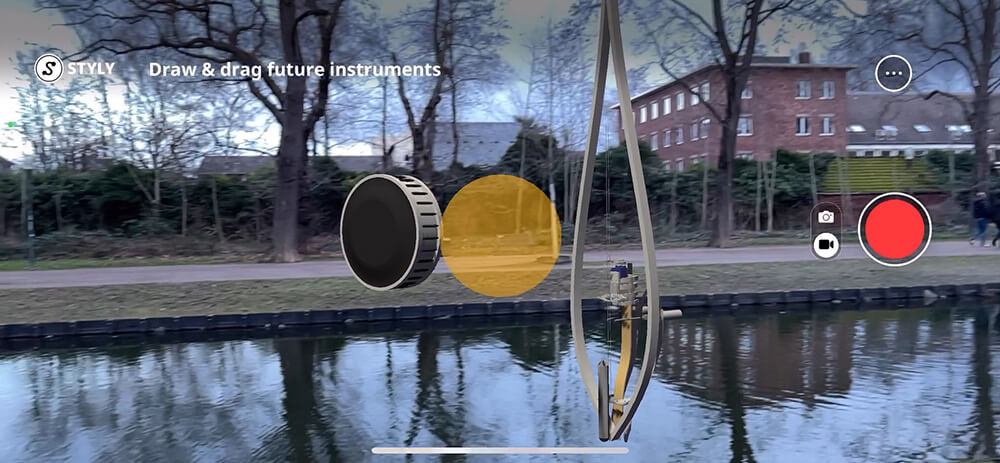 Each instrument can be played by tapping on it directly on the screen or by bringing your smartphone device close to it. By creating many instruments in your scene, you may be able to play them like an orchestra — the possible sound combinations in Draw & drag future instruments are endless.
About FANCY Future Instruments ltd.
Draw & drag future instruments by artist FANCY Future Instruments ltd. explores the theme of combining time, space, and musical instruments.
The instruments in this scene exist in the physical world as well. Draw & drag future instruments are digital twins created from these originals, but projected in AR.
Click the link below to see the original instruments:
[By] combining elements from multiple fields such as mechatronics, science, and physical research, we will develop entirely new musical instruments, Kinmirai Gakki, to give back to everyone. The developed works will be used in media art exhibitions, live performances, workshops, sales, and so on, where the characters have a world view based on the theme of space and time. By pursuing new musical expressions using Kinmirai Gakki, we will introduce difficult technologies in the context of entertainment. In 2021, we started a live project with the production of the "TIME⇆MACHINE series" of automatic musical instruments. We held two concerts in Japan, one of which received an award. In the future, instruments will be updated as "autonomous playing instruments that mimic pseudo-life.

— Via the official NEWVIEW website
As an alternate dimension music store by "C.E.O" the time-traveler, [Kinmirai Gakki] reinvents, deals, and plays parallel-timeline mysterious artifacts & musical instruments.

— Via the official FANCY Future Instruments ltd. website
AR Instruments in an Alternative Space
FANCY Future Instruments ltd. states their inspiration to create Draw & drag future instruments as below:
We believe that through the use of AR, the world that can be viewed from anyone's point of view, thought of as the space of ideas before materialization.

— Via the official NEWVIEW website
German Biologist Jakob von Uexküll and Thomas A. Sebeok proposed the concept of umwelt (from the German Umwelt meaning "environment" or "surroundings,"). According to Wikipedia, umwelt is the "biological foundations that lie at the very center of the study of both communication and signification in the human [and non-human] animal." Von Uexküll and Sebeok theorized that all organisms can have different umwelten, even if they share the same environment.
The biologist pair write about ticks, which survive by feeding on the blood of animals but lack the ability to perceive color or sound. The umwelt for ticks is reduced to only three senses: temperature, smell, and touch. Thus, organisms each have their own perceptions, and even though humans and ticks live in the same world, they experience completely different worlds.
What if, just as there is an umwelt for ticks, there is an umwelt that can be experienced through the smartphone camera?
In our everyday lives, smartphone devices only show us the world we want to see. We look up what we want to know, access apps that we like, and connect with the people we want to connect with. In a world of information that immediately reflects the perceptions and desires of each individual, a smartphone is therefore an important item in creating a unique umwelt for each of us.
Draw & drag future instruments is an intangible instrument within the smartphone that allows each of us to play it in a different environment. The generated sounds transcend time and space, vibrating in the real world that we are in now, while perhaps trying to make us aware of an "idea" that cannot be perceived in the ordinary human umwelt.
How to Experience an AR Scene
If you are accessing this page from a smartphone, tap the "Try Now" button.
If you are using STYLY for the first time, please also refer to the instructions below.

After tapping "Try Now," you will be redirected to a page like below.
If you have already downloaded the STYLY Mobile app, select "Activate in STYLY app."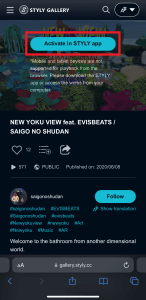 If you are accessing this page from a PC web browser, first click the "Try Now" button to open the scene page.
Then, in the scene page, click "Experience in AR" and scan the QR code with your smartphone to launch the scene on the STYLY Mobile app.

Download the STYLY Mobile app
For those who want to know more about how to experience the scene:
For more information on how to experience AR scenes, please refer to the following article.

Edited by SASAnishiki
Translated by cpnnn