Our AVYSS×NEWVIEW CYPHER AR Collaborations series will introduce AR scenes made in collaboration between STYLY's NEWVIEW CYPHER and the online Japanese music and culture magazine, AVYSS.
The AR works feature three artists who performed at AVYSS Circle, the magazine's circuit event held September 2022 in Shimokitazawa, Tokyo.
All scenes are produced by STYLY's NEWVIEW CYPHER team and directed by artist ippaida storage.
For our first article, we will look at DJ/producer TORIENA's scene.
About TORIENA
TORIENA「C.Q.C」Music videohttps://t.co/mK3UQICYem
Director : @seidai_takekoshi pic.twitter.com/AdUXhWCiN5

— 🥩TORIENA🥩 (@toriena) January 26, 2022
Started her carrier in Kyoto from 2012. In 2013, she launched her own label "MADMILKEY RECORDS". In October 2018, released first full-length album "SIXTHSENSE RIOT" from the same label which was distributed nationwide.
TORIENA has also played in "HYPER JAPAN 2017 (UK)", "MAGFest 2018 (USA)" and other oversea venues as well. Provided music for SEGA's "Team Sonic Racing", TV anime "Jyashin-chan Dropkick" insert song, Softbank's "MONEY RUN" BGM/SE, and many other TV ADs.

From TORIENA's official website biography: http://toriena.net/profile
Official website: http://toriena.net/
Twitter: https://twitter.com/toriena/
Instagram: https://www.instagram.com/toriena/
A video of the collaborative XR live performance at AVYSS Circle is also available on YouTube.
About the AR Scene
This medium-sized work can be viewed both indoors and outdoors.
The character doing the "peace sign" is TORIENA's avatar. We recommended taking a screenshot while looking into her face to show her cute smile.
In the background, there is an energy ball-like object inside a white, abstract shape. The logo for her previous EP is visible across the top of the white shape.
This AR work allows you to view TORIENA's avatar as if it were a life-size doll.
If you are already a TORIENA fan, you will definitely enjoy this experience.
If you are new to TORIENA, this is a great opportunity to get to know her visual work and her music!
How to Experience an AR Scene
If you are accessing this page from a smartphone, tap the "Try Now" button.
If you are using STYLY for the first time, please also refer to the instructions below.

After tapping "Try Now," you will be redirected to a page like below.
If you have already downloaded the STYLY Mobile app, select "Activate in STYLY app."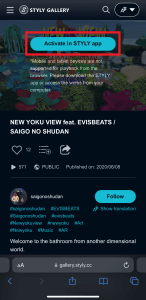 If you are accessing this page from a PC web browser, first click the "Try Now" button to open the scene page.
Then, in the scene page, click "Experience in AR" and scan the QR code with your smartphone to launch the scene on the STYLY Mobile app.

Download the STYLY Mobile app
For those who want to know more about how to experience the scene:
For more information on how to experience AR scenes, please refer to the following article.

Edited by SASAnishiki
Translated by cpnnn