STYLY was used in the AR whale scene in episode 5 of the Japanese TV drama "Riding on a Unicorn." Now, you can experience this scene for yourself.
This article introduces the contents of the AR scene and explains how you can experience it too.
Introduction to the scene
After launching the scene, some huge whales will take off into the sky.
The whales suddenly appear and drift above us, paying us no attention. Experiencing this in person will give you a sense of immersion into the world of "Riding on a Unicorn."
In this AR scene, whales and particles appear all over the sky.
The whales swim in the sky as if it was the ocean. The particles create a fantastic effect, and the AR makes you feel as if you are traveling to another planet.
The best place to experience the scene is in a large, open place. You may bump into people or cause an accident if you are in too small of a space.
Let the whales appear against the backdrop of your city and take fantastic photos and videos!
How to experience a AR scene
If you are accessing this page from a smartphone, please click on the "Experience the Scene" button (*If you are experiencing the scene on a smartphone for the first time, please also refer to the following instructions).


After clicking, the following screen will be displayed.
If you have already downloaded the STYLY Mobile app, please select "Continue on Browser".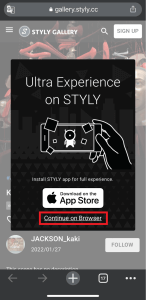 You can then select "Play on Mobile App" to experience the scene.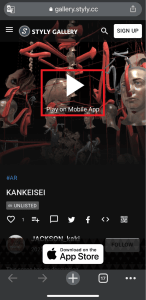 If you are accessing this page from a PC (web browser), you can experience the scene by clicking the "Experience the Scene" button, selecting the Mobile icon on the scene page, and scanning the QR code.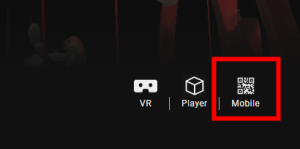 Download the STYLY Mobile app
For those who want to know more about how to experience the scene
For more information on how to experience AR scenes, please refer to the following article.

Edited by Chujo
Translated by passerby1