In this article, we introduce the Virtual Reality (VR) work of artist Chiruchiru, titled Chiruchiru. 
Chiruchiru's art revolves around fashion. She expresses her aesthetic vision through her VR works and her own clothing brand named"Michiru."
The following is an overview of Chiruchiru's career and a few key insights for analyzing and interpreting her works based on our evaluation.
About Chiruchiru
Chiruchiru was born in Tokyo in 1997. After graduating from the fashion course of Display and Fashion Design under the Department of Scenography in Musashino Art University in Kodaira,Japan, she established her own clothing brand "Michiru." Her works are inspired by the idea of"overflowing affection filling the body."

(Translated from the official NEWVIEW CYPHER website https://newview.design/cypher)
Instagram:https://www.instagram.com/michiru_chiruchiru_/
Her fashion brand,"Michiru," is characterized by its dreamy designs that exude a certain "warmth."
Chiruchiru
As the scene unfolds, giant Gingerbread men, a Christmas tree, and Christmas presents are exhibited.
The rotating background and the Christmas tree trunk are textile designs created by Chiruchiru. 
These unique textile designs convey Chiruchiru's "warmth" beyond fashion and graphics.
What I find most distinctive about this scene is Chiruchiru's use of vibrant colors.
When people think about VR, they initially tend to imagine a cyber/sci-fi world. Contrastingly, this scene is "cute," which is entirely polar from conventional VR interpretations.
STYLY allows artists to collaborate and create new VR works.
Through this platform, people like Chiruchiru who are unfamiliar with 3D computer graphics can create scenes in VR, which sets it apart from other digital and VR experiences in the VR world.
Textile patterns on 3D objects is a new idea that came from Chiruchiru's fashion background.
We invite you to explore this immersive scene in STYLY and experience the world through Chiruchiru's eyes.
How to experience a VR scene
If you are accessing this page from a smartphone, please click on the "Experience the Scene" button (*If you are experiencing the scene on a smartphone for the first time, please also refer to the following instructions).


After clicking, the following screen will be displayed.
If you have already downloaded the STYLY Mobile app, please select "Continue on Browser".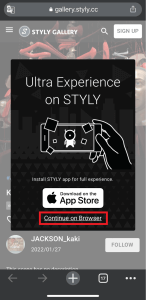 You can then select "Play on Mobile App" to experience the scene.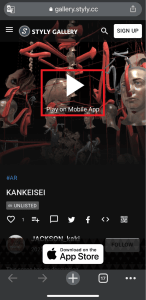 If you have an HMD device, click the "Experience the Scene" button from your PC (web browser), then click the VR icon on the scene page.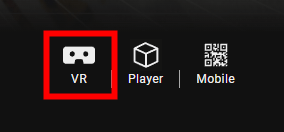 Download the STYLY Mobile app
Download the Steam version of STYLY app
https://store.steampowered.com/app/693990/STYLYVR_PLATFORM_FOR_ULTRA_EXPERIENCE/
Download the Oculus Quest version of STYLY app
https://www.oculus.com/experiences/quest/3982198145147898/
For those who want to know more about how to experience the scene
For more information on how to experience VR scenes, please refer to the following article.

Edited by Sasanishiki
Translated by cpnnn