In this article, we introduce the VR work paper island by art unit machutorica.
The following is an introduction to machutorica and a few points to keep in mind when viewing their work.
About machutorica
Rika Hayakawa: Freelance graphic designer and time-lapse artist, working between digital and analog.

Mathieu: IT engineer. A French guy who is interested in many things and loves to both hack and play.

(Translated from the official NEWVIEW CYPHER website: https://newview.design/cypher)
Twitter: https://twitter.com/ricamon
あけましておめでとーございます!
HAPPY NEW YEAR !
Bonne Année !
새해 복 많이 받으세요 !
昨年は大変な年になってしまいましたが、じっとしすぎてしまいました。
春からは生活をがらっと変えていきます。
それまで、力を蓄え、もぐもぐ!モグモグ!!
本年もどうぞ、よろしくお願いいたします。 pic.twitter.com/e8kWCKG3cB

— rica hayakawa (@ricamon) January 4, 2021
machutorica combine painting and 3D objects to create softly textured works, and utilize those textures in VR as well.
About paper island
When we start the experience, we are surrounded by watercolor objects.
This scene is characterized by its absence of 3D objects, and it is made entirely from PNG and GIF image data created by machutorica.
When we think of VR, we imagine a space rich with 3D computer graphics, but this scene takes advantage of soft, watercolor graphics.
Because 3D objects are rendered according to the environmental lighting, it is difficult to create this kind of paint-like texture in 3D. 
However, when a space is constructed using 2D images, it is possible to create an image that deviates from the stereotypes of VR.
A 3D computer graphics mesh is not paper-thin and has a 3D shape. However, 2D images do not have thickness and have a flat shape.
Therefore, you could say that a 2D image conveys less information than a 3D one.
However, machutorica used this limitation of "less information" as a possibility for unique expression through this work.
The scene is divided into six different spaces that can be explored.
Try out this experience to explore the possibilities of the image.
How to experience a VR scene
If you are accessing this page from a smartphone, please click on the "Experience the Scene" button (*If you are experiencing the scene on a smartphone for the first time, please also refer to the following instructions).


After clicking, the following screen will be displayed.
If you have already downloaded the STYLY Mobile app, please select "Continue on Browser".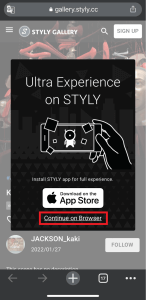 You can then select "Play on Mobile App" to experience the scene.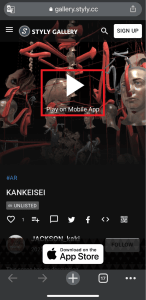 If you have an HMD device, click the "Experience the Scene" button from your PC (web browser), then click the VR icon on the scene page.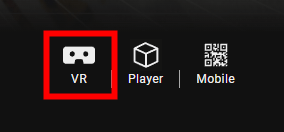 Download the STYLY Mobile app
Download the Steam version of STYLY app
https://store.steampowered.com/app/693990/STYLYVR_PLATFORM_FOR_ULTRA_EXPERIENCE/
Download the Oculus Quest version of STYLY app
https://www.oculus.com/experiences/quest/3982198145147898/
For those who want to know more about how to experience the scene
For more information on how to experience VR scenes, please refer to the following article.

Edited by Sasanishiki
Translated by cpnnn