Our AVYSS×NEWVIEW CYPHER AR Collaborations series will introduce AR scenes made in collaboration between STYLY's NEWVIEW CYPHER and the online Japanese music and culture magazine, AVYSS.
The AR works feature three artists who performed at AVYSS Circle, the magazine's circuit event held September 2022 in Shimokitazawa, Tokyo.
All scenes are produced by STYLY's NEWVIEW CYPHER team and directed by artist ippaida storage.
For our third article, we will be viewing a scene created by Peterparker69 (Jeter and Y ohtrixpointnever) and visual artist eijin.
About Peterparker69 and eijin
Peterparker69 is a duo consisting of Japanese producers Jeter and Y othorixpointnever.
Peterparker69 is based in Tokyo and hosts parties in various areas of Japan.
The artwork for Peterparker69 is created by eijin, a 3DCG artist who is also active as a DJ.
About the AR Scene
This medium-sized work can be viewed both indoors and outdoors.
When you start the scene, you will see two mysterious humanoids with a group of cartoonish characters floating in the air.
Approaching one of the humanoids, on closer inspection you can see that its eyes are glowing blue and give off an alien atmosphere.
On the other hand, the other floating characters are cartoonish and adorable.
As part of the experience, you can take selfies with these characters. We recommend finding your favorite character and taking various pictures in different situations. Our favorite is the pink caterpillar near the top of the scene.
How to Experience an AR Scene
If you are accessing this page from a smartphone, tap the "Try Now" button.
If you are using STYLY for the first time, please also refer to the instructions below.

After tapping "Try Now," you will be redirected to a page like below.
If you have already downloaded the STYLY Mobile app, select "Activate in STYLY app."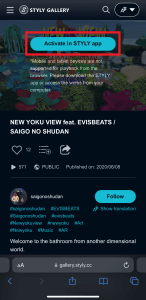 If you are accessing this page from a PC web browser, first click the "Try Now" button to open the scene page.
Then, in the scene page, click "Experience in AR" and scan the QR code with your smartphone to launch the scene on the STYLY Mobile app.

Download the STYLY Mobile app
For those who want to know more about how to experience the scene:
For more information on how to experience AR scenes, please refer to the following article.

Edited by SASAnishiki
Translated by cpnnn