This article introduces the work For Utopia by 3DCG designer Saki Takegawa.
In it we will discuss Saki Takegawa's career and explain how to navigate and enjoy her work in VR.
About Saki Takegawa
Saki Takegawa is a 3DCG designer based in Kansai, Japan.
She is a graduate of the first (2019) class of NEWVIEW SCHOOL and won the KMNZ PRIZE at the same year's NEWVIEW AWARDS 2019.
渋谷PARCOで行われた #NEWSAWARDS2019 の授賞式ではKMNZ PRIZEを頂きました!🐶🐱

VtuberのガールズHIPHOPユニット様とコラボレーションさせて貰えるそうで、びっくり嬉しいです!

ラップやストリートカルチャーは大好きなので、KMNZ様とかっこいいものが作れたら…と意気込んでいます。 pic.twitter.com/6CX1dcMHVU

— 𝙎‌𝘼‌𝙆‌𝙄 𝙏‌𝙆𝙂𝙒 (@tkgw_crystel) December 16, 2019
Let's experience her vivid "Yu"-topia of warmth created in VR!
About For Utopia
For Utopia recreates a large Japanese "sento" bathhouse, and the viewer is welcomed inside to enjoy its stylish and nuanced architectural construction.
Translator's note: The original title For♡湯ゥ~トピア is a clever play on words with "Yu" (湯) meaning hot water (in the bathhouse), "For you," and "Utopia."
The baths are carefully crafted, and the sento specialty—a mural of Mt. Fuji—is created with neon lights, which are one of Takegawa's signature artistic styles.
Saunas are a common feature of Japanese bathhouses. The spacious saunas, cold water baths, and rest area show the full potential of a "revitalizing" sauna experience.
Translator's note: Saunas have become very popular amid the COVID-19 pandemic in Japan. "Revitalization" (ととのい)refers to the euphoric, tingling feeling one gets after the cycle of a hot sauna, ice-cold water bath, and laying back on the plastic sauna chairs. The word "revitalize" (ととのう) was coined by "professional saun-er" Nurezukin-chan and popularized by Katsuki Tanaka's manga Saunado which was also made into a TV show.
Reference article: https://rkb.jp/article/54026/
The building is filled with the utopian elements of a public bathhouse, and there is even a rooftop pool.
This work expresses Takegawa's vision of utopia in the form of a public bathhouse.
How would you feel in a utopia where there are no other humans?
Walking around this liminal space and thinking about your personal utopia is what will add to the story of this VR scene.
Relax and enjoy your time in this work by imagining your own "Yu"-topia.
How to experience a VR scene (Recommended environment: HMD/VR)
If you have an HMD device, click the "Try Now" button from your PC's web browser (*If you are experiencing the scene on a smartphone for the first time, please also refer to the following instructions).

Then, click the VR icon on the scene page.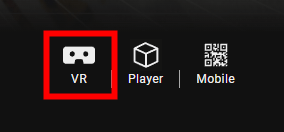 If you are accessing this page from a smartphone, please click on the "Try Now" button above.
* Note that you may not be able to have the intended experience from a smartphone. 
After clicking, the following screen will be displayed.
If you have already downloaded the STYLY Mobile app, please select "Continue on Browser".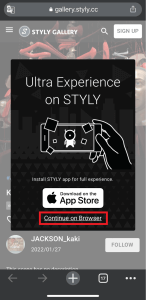 You can then select "Play on Mobile App" to experience the scene.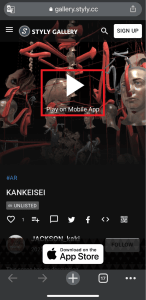 Download the Steam version of STYLY app
https://store.steampowered.com/app/693990/STYLYVR_PLATFORM_FOR_ULTRA_EXPERIENCE/
Download the Oculus Quest version of STYLY app
https://www.oculus.com/experiences/quest/3982198145147898/
Download the STYLY Mobile app
For those who want to know more about how to experience the scene
For more information on how to experience VR scenes, please refer to the following article.

Edited by SASAnishiki
Translated by cpnnn