Our AVYSS×NEWVIEW CYPHER AR Collaborations series will introduce AR scenes made in collaboration between STYLY's NEWVIEW CYPHER and the online Japanese music and culture magazine, AVYSS.
The AR works feature three artists who performed at AVYSS Circle, the magazine's circuit event held September 2022 in Shimokitazawa, Tokyo.
All scenes are produced by STYLY's NEWVIEW CYPHER team and directed by artist ippaida storage.
For our second article, we will delve into the work of DJ/producer Telematic Visions and visual artist cosgaso.
About Telematic Visions and cosgaso
[MARU-188]
"town without sky"

release on @MaltineRecords
jacket by @kanikumitoi
mabiko character design by @cosgaso
mastering by 得能直也

>links in reply pic.twitter.com/qN0ENQqMbp

— Telematic Visions (@TelematicV) September 15, 2022
Telematic Visions is a Tokyo-based DJ and producer. His pop- and electronica-influenced music features visuals inspired by otaku culture and media such as anime, video games, and manga.
Twitter: https://twitter.com/TelematicV
linktree: https://linktr.ee/Telematicv 
cosgaso is the artist behind the iconic anime-style character and visual works that accompany Telematic Visions' music.
Telematic Visions – bluespring
artwork: cosgasohttps://t.co/8X8sQyNI4S pic.twitter.com/QtFv9nRYN3

— AVYSS (@AVYSS_magazine) August 16, 2021
A video of the collaborative XR live performance at AVYSS Circle is also available on YouTube.
About the AR Scene
This medium-sized work can be viewed both indoors and outdoors.
The scene features a UI similar to that of a visual novel game.
cosgaso's characters and UI screen represent the otaku subculture that is symbolic of Telematic Visions' central imagery.
A few seconds into the scene, the anime character's expression changes.
This is all to the very simple scene, which also can be used as a photo frame.
This AR work allows anyone to capture reality inside Telematic Visions' world.
Let's launch the scene and try it out!
How to Experience an AR Scene
If you are accessing this page from a smartphone, tap the "Try Now" button.
If you are using STYLY for the first time, please also refer to the instructions below.

After tapping "Try Now," you will be redirected to a page like below.
If you have already downloaded the STYLY Mobile app, select "Activate in STYLY app."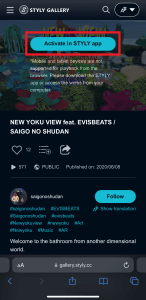 If you are accessing this page from a PC web browser, first click the "Try Now" button to open the scene page.
Then, in the scene page, click "Experience in AR" and scan the QR code with your smartphone to launch the scene on the STYLY Mobile app.

Download the STYLY Mobile app
For those who want to know more about how to experience the scene:
For more information on how to experience AR scenes, please refer to the following article.

Edited by SASAnishiki
Translated by cpnnn