This article introduces graphic designer / 3D artist Kenta Nakano's work "POP CLIMB."
Kenta Nakano participated in the 2021 NEWVIEW CYPHER and POP CLIMB is a work created at that time.
It was selected as NEWVIEW AWARDS 2021 FINALIST.
Not only presenting 3D characters as images, but also presenting them as VR games, creating a new experience. I will explain how to experience the work and how to enjoy it.
About Kenta Nakano
Graduated from Nihon University College of Art in 2009. Freelance designer, primarily involved in advertising and Corporate Identity design, as well as 3D productions as a 3D artist.

(Quoted from https://newview.design/en/works/pop-climb/ )
Twitter: https://twitter.com/_kentanakano
Although his background is as a graphic designer, he is now also starting 3DCG, creating soft vinyl characters and selling his work as NFT. His activities have expanded beyond the realm of graphic design.
\ New NFT sofvi !! /
Jarvis (Chocolate banana boy)

3DCG animation
25 seconds
1920 x 1920 px
edition 1 of 1
0.1ETH(Polygon)
2022 https://t.co/pSYHMoxySi#NFT #NFTs #NFTJapan #NFTdrop #opensea #NFTcollecter #NFTsofvi #sukotatoys pic.twitter.com/1ct2XiCsgq

— 中野健太_kentanakano | SUKOTA-TOYS (@_kentanakano) March 30, 2022
About POP CLIMB
This work allows you to experience the world of 3DCG soft vinyl characters created by Kenta Nakano as if it were a game; it is recommended that you experience it in VR, not in a web browser.
When you start the scene, an avatar, which is also Kenta Nakano's main icon, stands in front of you.
The DJ booth is the first place to stand.
Looking around the DJ booth, there is popcorn and a giant soft vinyl character standing there.
When the marker on the VR controller is aligned with the popcorn, it can be moved to match the popcorn's position.
Following the popcorn, you can approach the character's position.
It is an interactive VR game with a simple design.
Eventually, you can even stand on top of the character.
Nakano's soft vinyl characters can usually only be viewed in 2D images and videos.
They are presented mainly on the NFT platform and on Twitter.
\ Re-listed NFT sofvi! /
Julian (shamrock shake boy)
3DCG animation
25 seconds
1920 x 1920 px
edition 1 of 1
0.1ETHhttps://t.co/QAzeMM20bu#NFT #NFTdrop #NFTsofvi pic.twitter.com/FdkEkVVzyt

— 中野健太_kentanakano | SUKOTA-TOYS (@_kentanakano) March 20, 2022
VR allows us to experience a new sense of distance and appreciation of characters.
With images and videos, you can only experience them from a one-way angle of view. However, interactive media such as games can change the way we view things depending on our own experiences.
You can view from any angle of view, from any position, from any location.
And by viewing it in VR, it appears before your eyes in a "size that is not possible in reality."
The game is also an interesting way to experience the world of soft vinyl characters.
The space, characters, and interactions broaden the viewer's appreciation and create an immersive experience in the artist's world.
Experience a world that cannot be experienced through images or video alone.
How to experience VR scenes (HMD/VR experience is recommended for this scene)
If you have an HMD device and are accessing from a PC, click on the "Experience the scene" button below (*For first-time visitors, please also refer to the instructions below).


After clicking the "Try Now" button from a PC (web browser), click the VR icon on the scene page.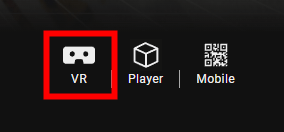 If you are accessing from a smartphone, click the "Try Now" button above.
*Smart phones may not reproduce the experience intended by the author.
After clicking, the following screen will appear.
If you have already downloaded the smartphone version of STYLY, select "Continue on Browser."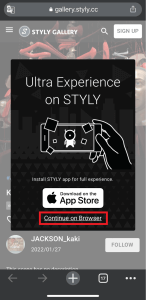 Then select "Play on Mobile App" to experience the scene.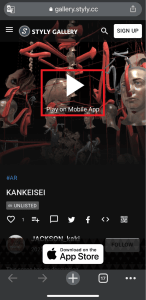 Download STYLY for Steam
https://store.steampowered.com/app/693990/STYLYVR_PLATFORM_FOR_ULTRA_EXPERIENCE/
Download STYLY for Oculus Quest
https://www.oculus.com/experiences/quest/3982198145147898/
Download STYLY for Smartphones
Want to know more about how to experience a scene?
For more information on how to experience VR scenes, please refer to the following article.