This article introduces the VR work MANON_"GALCHANMODE"_MV_WORLD by filmmaker and visual artist, WATAKEMI. WATAKEMI is a visual artist and filmmaker who creates VJ and MUSIC VIDEOs. The following is an introduction to WATAKEMI's career and a few key points for viewing his works based on the author's observations. By reading this article, you will enjoy WATEKEMI's work more.
About WATAKEMI
WATEKEMI was born in 1993 in Kyotango, Kyoto. He graduated from the Institute of Advanced Media Arts and Sciences (IAMAS). He is a member of of the creative unit,  tsuchifumazu/Chilly Source, and was selected as one of the 100 filmmakers of 2020. He likes squirming things. Recently, he has made a lot of video works.

(Translated from NEWVIEW CYPHER official website https://newview.design/cypher)
Twitter : https://twitter.com/watakemi725
Instagram:https://www.instagram.com/watakeminote
This work is a VR version of a MUSIC VIDEO, or "VRMV".
It is based on MANON's song, GALCHAN MODE, and it allows the viewer to experience this world in VR.
This MUSIC VIDEO was also produced by WATAKEMI's unit, tuchifumazu.
MANON_"GALCHANMODE"_MV_WORLD
When the video is launched, a richly saturated scene unfolds.
A series of shrine torii gates lead to the main space.
As the title GALCHAN MODE suggests, the theme is "gal culture".
The representation of gal is experienced through architecture and objects.
The many layers of space and architecture are the highlight of this work.
The objects are effectively interlinked to create a simple yet deep space.
A commercial structure that symbolizes Shibuya's gyaru culture also sits in the space.
The size and positioning of the distinctive objects are arranged in a circular manner within the space to catch the viewer's eye.
The video data for the MUSIC VIDEO is also placed in the center of the space.
A distinctive, rotating "arcade game" also appears in the center along with the  MUSIC VIDEO.
Access WATEKEMI's recreated world of GALCHAN MODE's MUSIC VIDEO!
How to experience a VR scene
If you are accessing this page from a smartphone, please click on the "Experience the Scene" button (*If you are experiencing the scene on a smartphone for the first time, please also refer to the following instructions).


After clicking, the following screen will be displayed.
If you have already downloaded the STYLY Mobile app, please select "Continue on Browser".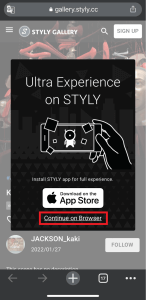 You can then select "Play on Mobile App" to experience the scene.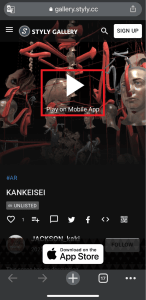 If you have an HMD device, click the "Experience the Scene" button from your PC (web browser), then click the VR icon on the scene page.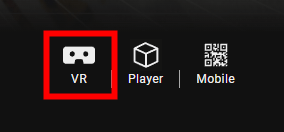 Download the STYLY Mobile app
Download the Steam version of STYLY app
https://store.steampowered.com/app/693990/STYLYVR_PLATFORM_FOR_ULTRA_EXPERIENCE/
Download the Oculus Quest version of STYLY app
https://www.oculus.com/experiences/quest/3982198145147898/
For those who want to know more about how to experience the scene
For more information on how to experience VR scenes, please refer to the following article.