STYLY is a Google ARCore Featured Partner
Tokyo, Japan,  June 2023 – Psychic VR Lab, along with KDDI Corporation, have showcased a promotional video for the fictional immersive AR game "Attack on Titan AR." It is an AR game experience unlike anything you've ever seen before. The fictional AR game was promoted at this year's Google I/O conference held in Mountain View, California on May 10th, 2023. Attack on Titan AR will see players working together against a city destroying Colossal Titan.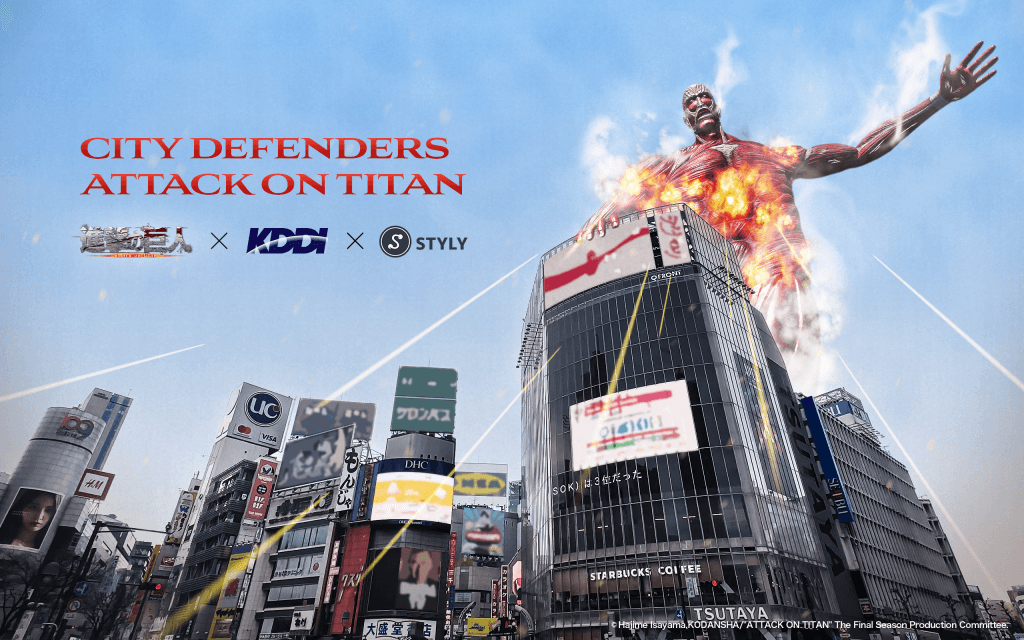 ATTACK ON TITAN AR is an all-new game experience that utilizes a smartphone app allowing players to engage in a unique real-world AR experience. In the experience, a Colossal Titan has appeared at the Shibuya Scramble Crossing in Tokyo, Japan. Players joining the Survey Corps team up to fight against the Colossal Titan, while calling in assistance from around the world. Using the live chat function of YouTube, real-time playing participants from around the world can join the fight.
We have developed a promotional video at the Shibuya Scramble Crossing. The game is not planned to be released.

promotional video
Leveraging ARCore and Geospatial API
Psychic VR Lab and KDDI have been selected by Google as an ARCore Featured Partner in May 2023.
The two companies have been developing "XRscape," a media-enabled space solution that makes possible the placement and distribution of virtual advertisements and content in real city spaces with no coding. "SATCH X powered by STYLY," is an AR application provided by KDDI that is based on the STYLY application. This new solution has been proposed as large-scale city promotions that utilizes an entire city or urban space.
With the introduction of the ARCore Geospatial API, it is easier to implement the placement of 3D content that perfectly matches the shape and height of buildings in a real city space. This makes it possible to easily create large-scale city promotions.

In the future, we will propose the development of AR experiences based on Japanese culture not only in Japan but also in city spaces around the world, dramatically expanding city XR entertainment globally.
About City XR Entertainment
City XR Entertainment is a new form of entertaining that expands commercial facilities and urban spaces themselves into experiential media using XR technology.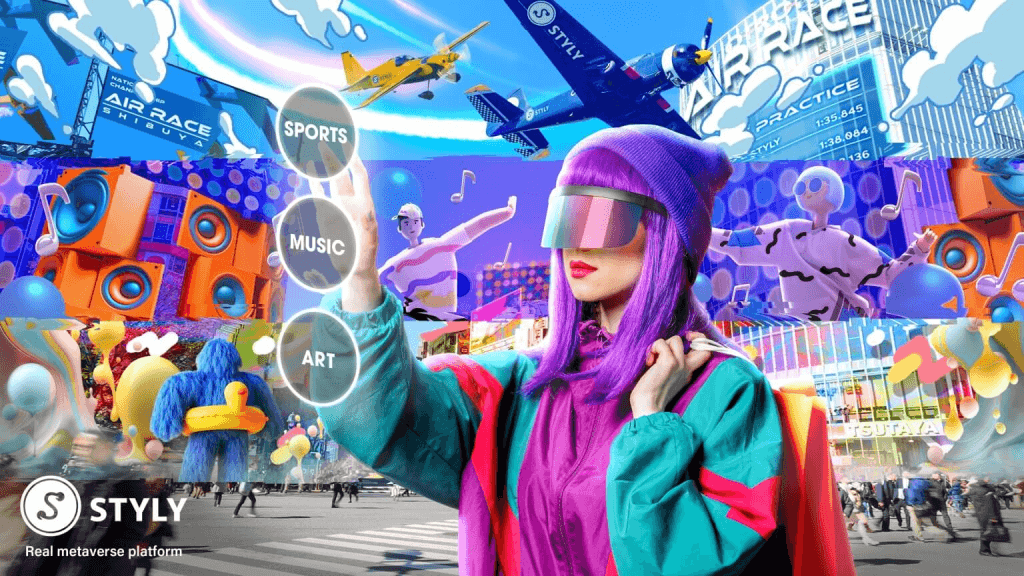 Users can experience a variety of XR content when visiting a city, just like switching TV channels. By layering various stories in the real world with XR technology and creating a highly immersive experience, we will create a new flow of people in the city.
In the future, we will develop an urban XR entertainment business for games, music, movies, art, sports, shopping, and entertainment together with commercial facilities, real estate developers, railway companies, media, and IP holders who own real assets. 
Initiatives of KDDI Corporation
KDDI has set KDDI VISION 2030 (https://brand.kddi.com/managementplan/kddivision2030/), and is conducting research in technology areas from the perspective of consumers to create a business model looking ahead to 2030 in its medium-term management strategy. We are working on "Life Transformation (LX)" to promote. By combining cutting-edge technologies such as drones and Metaverse, we aim to create new businesses that bring about innovation in diversifying consumption and experience behavior.
About STYLY
STYLY is a real metaverse platform that enables the creation and distribution of XR content linked to city spaces.
STYLY provides 3D spatial data from cities around the world. This 3D data can be used to create and distribute contents that are linked to real spaces. STYLY is compatible across multiple devices, allowing users to experience AR content on a variety of devices, including smartphones, AR/MR glasses, web browsers, and VR HMDs.
In collaboration with creators and cities from around the world, we continue to promote the "real metaverse." Our metaverse is designed to augment the real world with digital technologies ushering in a new era of "wearing space in our daily lives."
STYLY Official Site:https://styly.cc/