Laval Virtual is an international festival dedicated to VR and AR, held annually in Laval, France. Celebrating its 25th anniversary this year, the event has served as a forum for industry, academic, entertainment professionals, and other participants active in the VR and AR fields.
Through multiple articles, I will review the event in detail. In this fifth article, I will review some of the digital art exhibitions shown at Laval Virtual Festival 2023.
What is Recto VRso?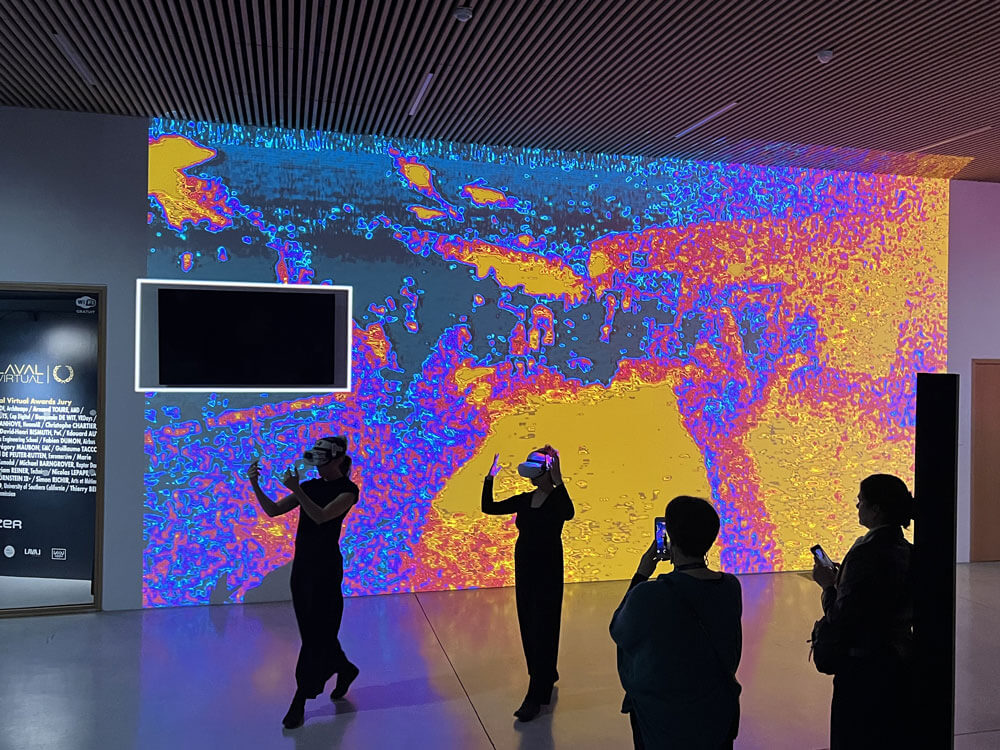 Recto VRso is an international art exhibition featuring virtual and mixed reality, held during the Laval Virtual exhibition period. Conceived by the artist-researcher Judith Guez, the title is a play of words with "recto verso," meaning "both sides of a page" in French. The exhibition aims to invite artists, researchers, and students who question the medium of virtual reality, to bring out new forms of art. This initiative started in 2018 and is now celebrating its 6th edition this year.
The ART&VR Gallery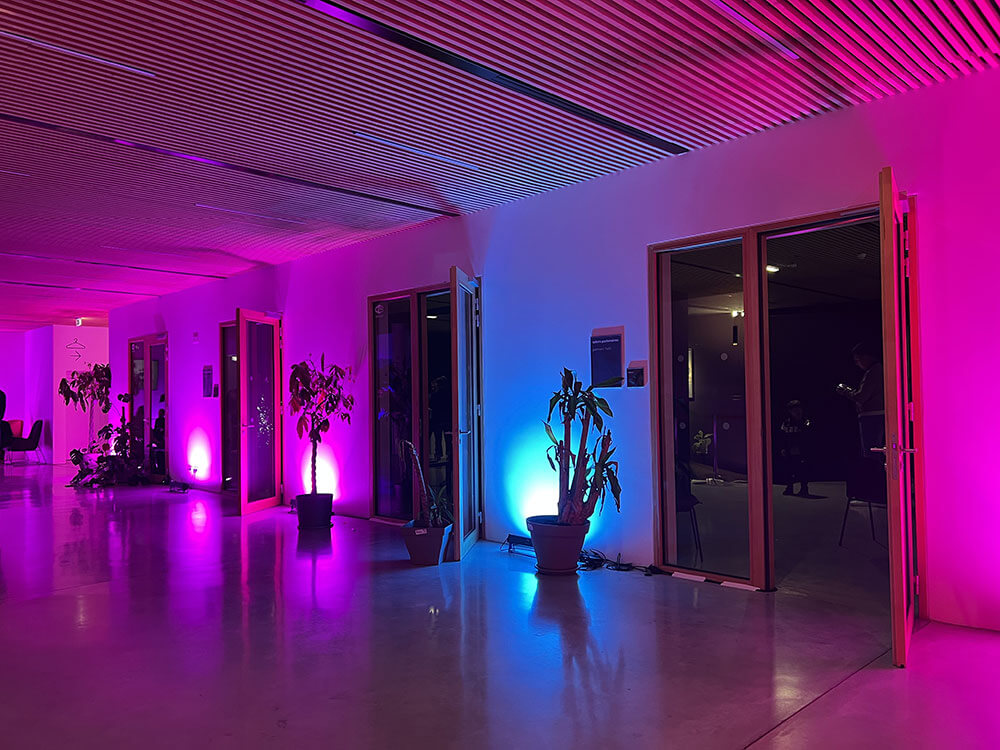 The ART&VR Gallery is the official exhibition venue of Recto VRso, featuring works by international artists in the field of art and mixed reality. The gallery showcases seven works by over ten international artists who have previously won the Recto VRso Award, challenging the intersection of art, technology, and science.
Below are two works that were exhibited at the gallery.
SPRING ODYSSEY by Elise Morin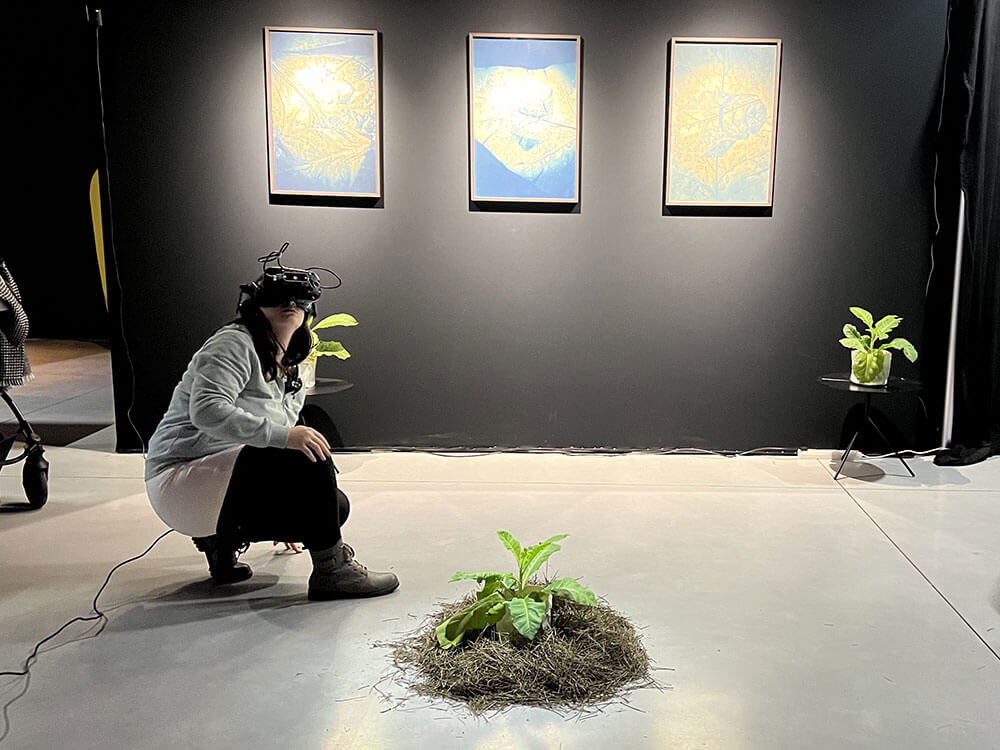 The plant placed in the center of this photo is the "M_plant," a Nicotiana Tabacum (tobacco leaf) mutated by radiation from Chernobyl, Ukraine. In this VR experience, the "Red Forest" where the Chernobyl disaster occurred is reproduced and you will encounter the M_plant there as well.
Inside the VR scene, I followed a spotlight through the dark forest until encountering the M_plant in the center of the forest. The staff instructed me to reach out to touch the virtual M_plant, and my hand touched the physical M_plant. The scene becomes immersive with the interaction between virtual vision and tactile sensation.
Before my eyes, the M_plant begins to grow and large leaves flourish. However, this is short-lived, as the leaves and surrounding forest starts turning white.
This VR work SPRING ODYSSEY by Elise Morin aims to overcome boundaries that the human body cannot naturally withstand. It questions the limits of our intuition by considering this experience as a rite of passage to a new physical reality that combines science and technology with powerful invisible phenomena at its core.
The collaborative research between artist Elise Morin and biologist Jacqui Shykoff examines plant responses to radiation and aims to understand environmental and ecological changes through the fusion of art and science.
The "Red Forest" depicted in this VR work is one of the most highly radioactive places on Earth, located less than a kilometer from the Chernobyl nuclear power plant. The forest is named after the pine tree needles that turned red due to contamination. The sensitive pine trees later went extinct, but a forest of radiation-resistant birch trees has since regenerated in the same location.
The sprout of Nicotiana tabacum, which was brought into the Red Forest, became the M_plant after being exposed to radiation for five days for scientific research in June 2018. The leaves that were exposed to radiation turned white, which is believed to be from a high level of radiation. The leaves were then taken to the Orsay experimental greenhouse in France and grown to produce seeds — the M_plant was born through this mutation. Elise Morin explains this approach as "poetic, fictional, with the possibility of a story right in front of them."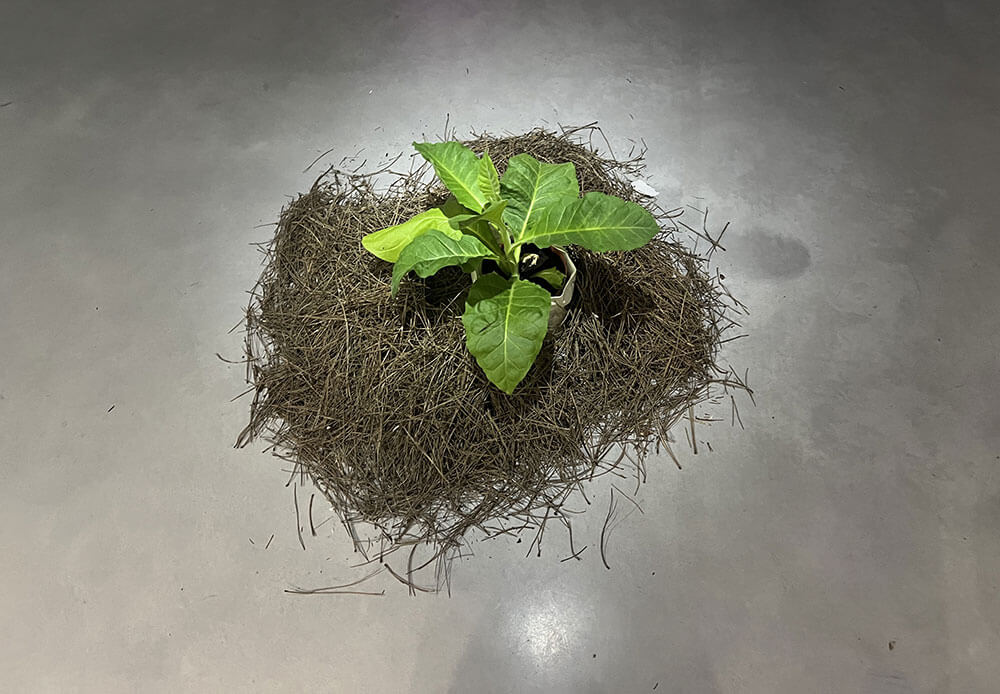 SPRING ODYSSEY invites us to interact with the M_plant exposed to radiation, and to accept an experience that goes against our instincts. How can we coexist with the wounded Earth? How can we visualize and recover from the high-level of radiation? These topics are approached by a sensuous VR experience that intimately links science, art, technology, and philosophy, and creates a space that exists between the real and virtual.
Eve 3.0 by Compagnie Voix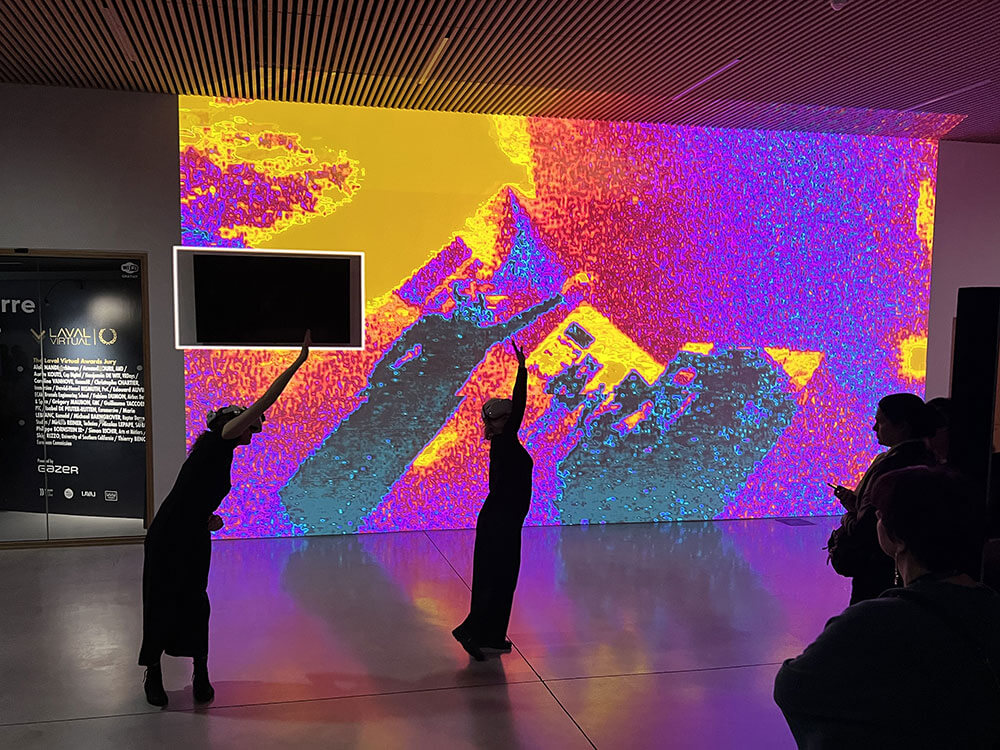 While I was wandering through the venue, a dance performance suddenly began in the lobby. The view of the dancers wearing VR headsets were projected onto a large screen behind them, as they guided us to a different room.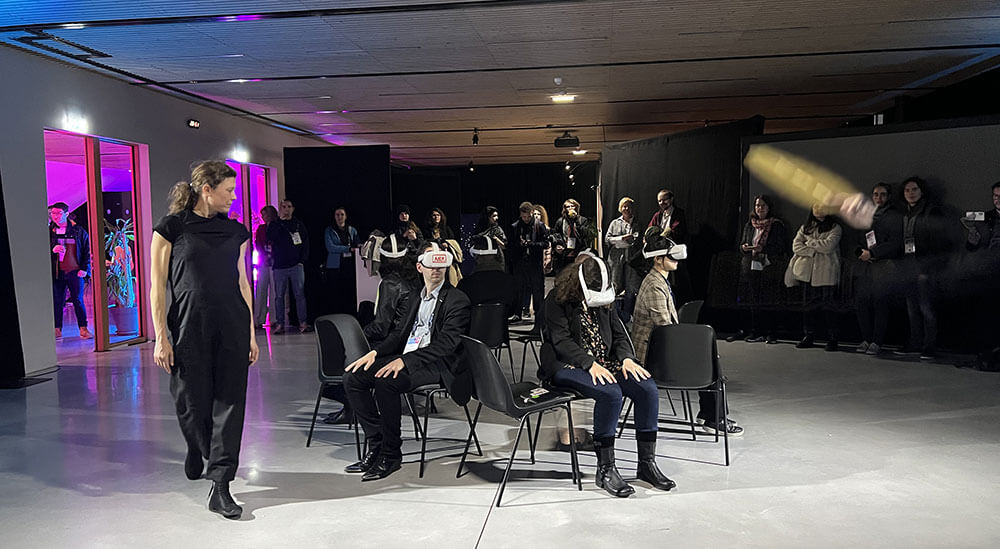 Following the dancers' lead, we arrived at a room with six VR headsets. Six random audience members were led to the center of the circle and given headsets to wear. Then, they were handed diaries that were placed next to their seats.
Eve 3.0 is a hybrid performance of contemporary dance live performance and virtual reality by Compagnie Voix, where the audience is taken on a sensory journey with six characters. Each character shares extreme emotions and fragments of their lives such as addiction, anxiety, depression, obsession, jealousy, and paranoia. By reading their diaries and embodying their movements through dance, the performance creates dialogue through the real and virtual bodies, questioning the causes of these conscious states and emphasizing the promotion of shared experiences that arise from bodily encounters.
Compagnie Voix combines choreography with immersive technology based on the study of body language, aiming to place the audience at the center of the dance experience. While creating virtual experiences based on contemporary dance research, they also educate and promote dance and other interdisciplinary activities.
The OFF Program at LE 40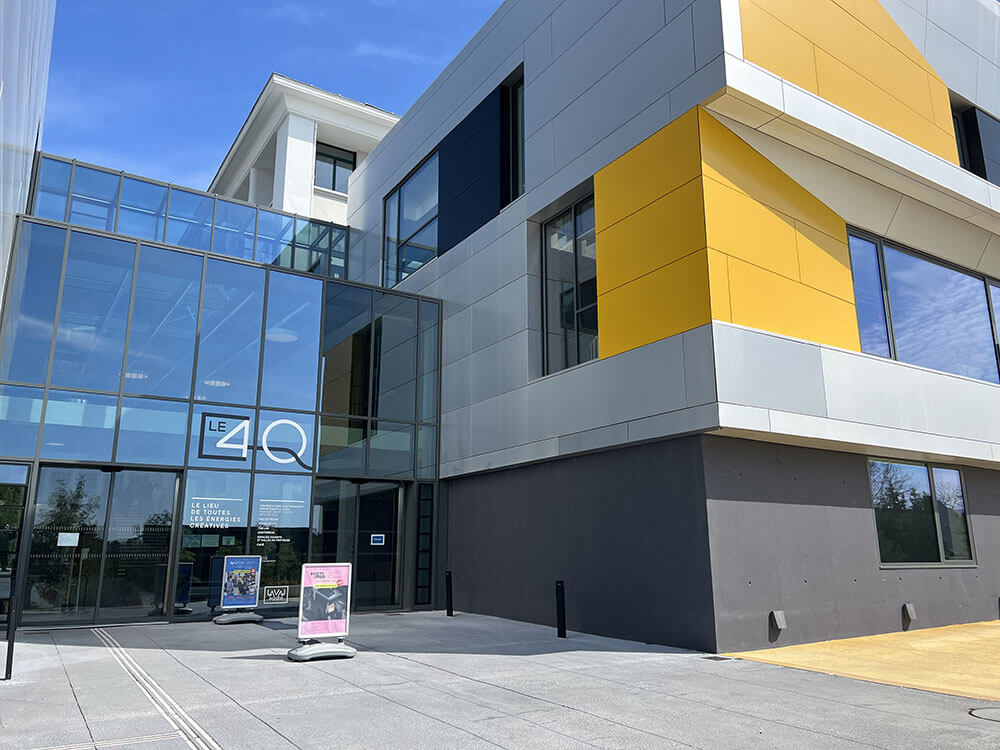 Since the beginning of the festival, multiple universities have invested in iconic places in Laval such as Bains-Douches and Musée Ecole de la Perrine, to promote the research and creation of digital art to the public. This year's venue was LE 40, a cultural facility located in the old town of Laval. Works from several universities: Université Paris 8 Vincennes – Saint-Denis, Université Paul-Valéry Montpellier 3, Université Rennes 2, National Tsing Hua University, and Université Catholique de l'Ouest – Angers were exhibited here.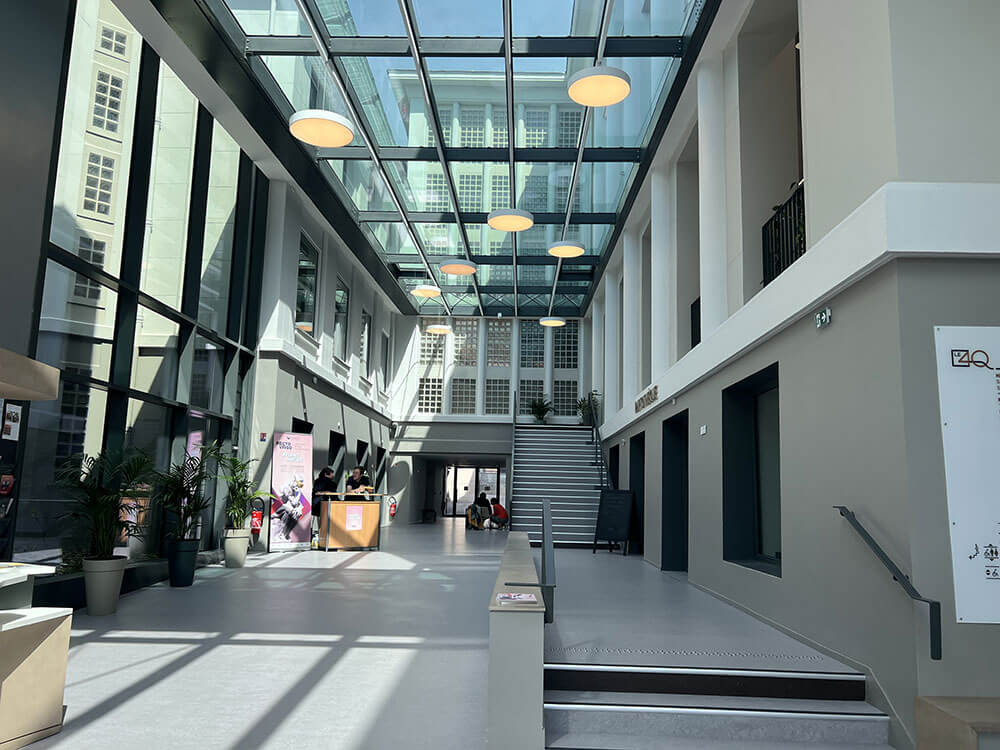 The OFF program is a new cultural space in Laval, inviting recognized artists, students, researchers and collectives to occupy different spaces and promote the artistic diversity of the field. This dynamic allows the freer exhibition of emerging projects, accompanying a particular theme, and hybridizing different practices and leaving room for artistic exploration.
Below are two works that were exhibited at this venue.
INCARNÉ.E by Paris 8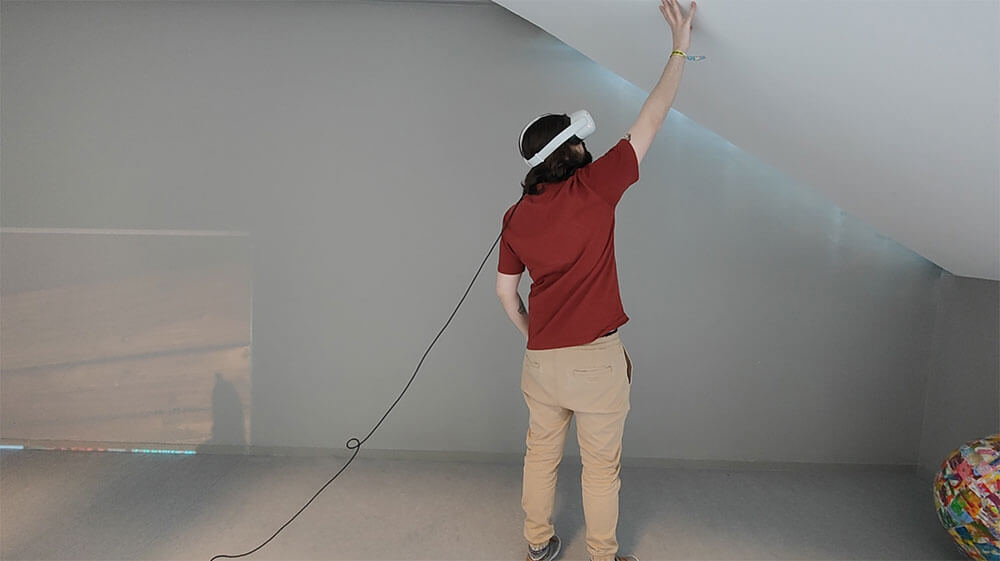 INCARNÉ.E is a collaborative VR work by graduate students from Paris 8 University. By creating a matching virtual scene, viewers can experience a completely different view inside the virtual world, whilst physically being in the actual exhibition space.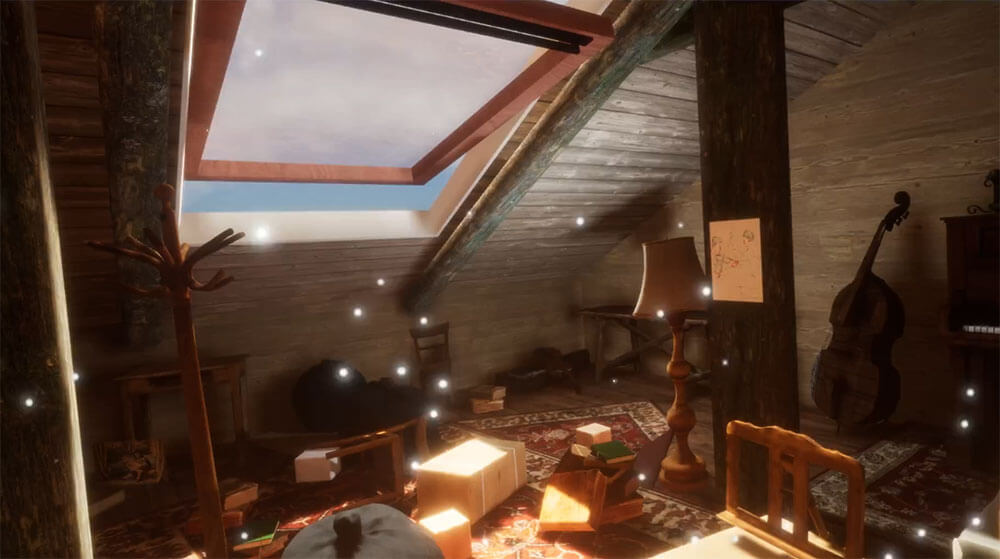 Through the VR headset, we are shown an attic. A messy arrangement of furniture and paintings, and an animated guitar performance. We can touch the walls and pillars while walking around this space, as they are identical to the structure of LE 40.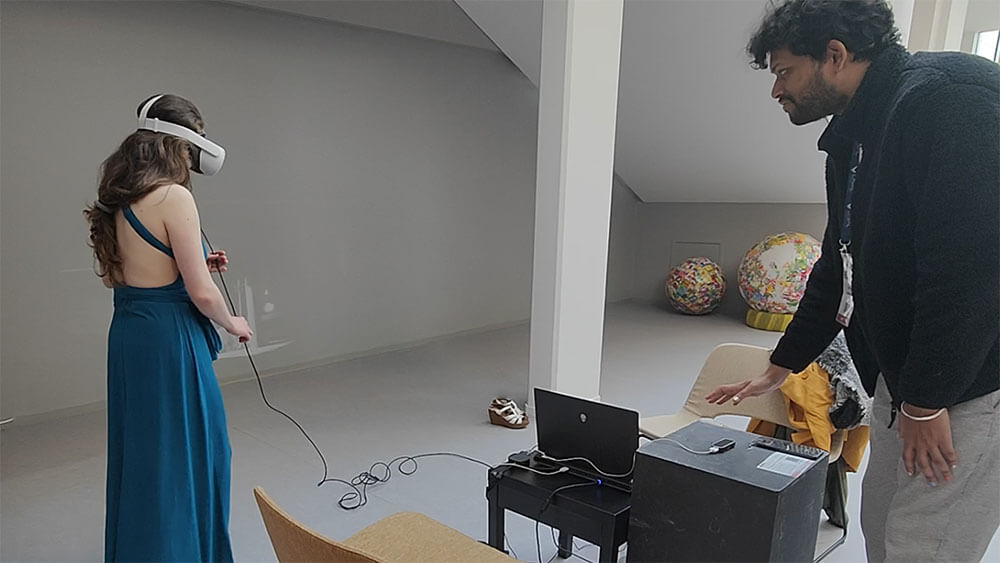 There is more to this work — when someone else comes close to a sensor placed in the real space, the sounds in the VR scene change in response to their movement. This new person becomes another performer, sharing the public experience of creating art together.
This asynchronicity where multiple people participate at different places and times makes the experience of INCARNÉ.E personal and unique. Moreover, the principle of co-creation suggests the importance of fairness in the relationship between the "artist" and "model."
MEMORY HOUSE by Jiahe Zhao (趙佳禾)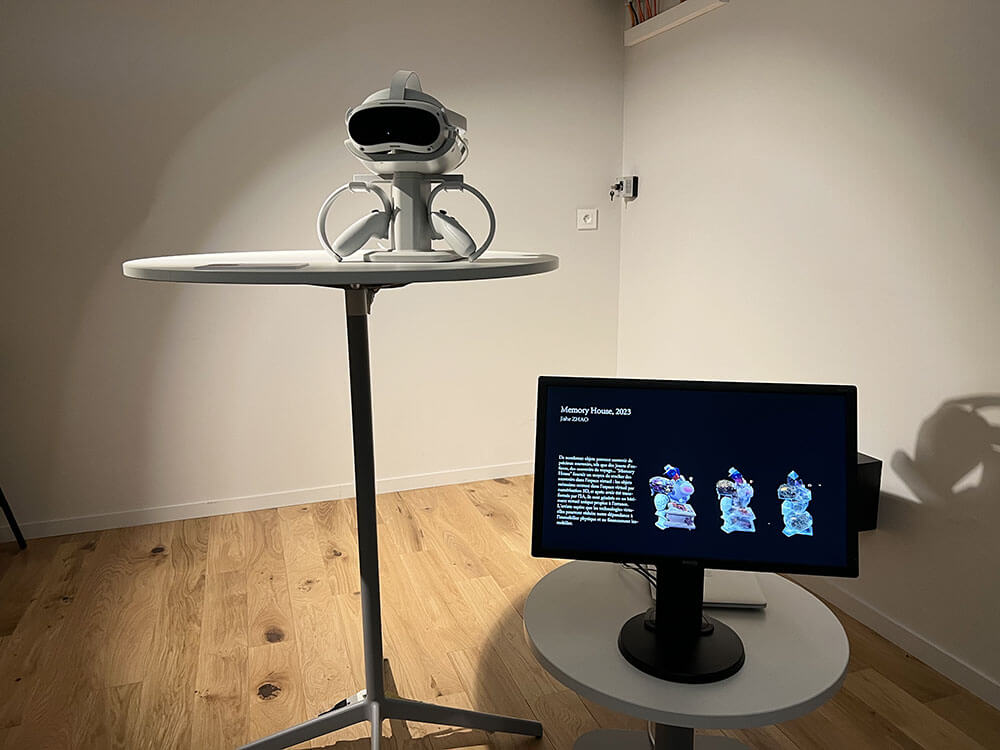 Childhood toys, souvenirs bought on trips, gifts from others – these are items that may not be a part of everyday life, but can hold valuable memories. However, these items are lost or thrown away in situations such as moving.
Jiahe Zhao, a student at National Tsing Hua University in Taiwan, created the VR work Memory House to save these memories in a virtual space. Through 3D scanning technology, memorable items are brought into the virtual space and a unique virtual building is generated by AI. Through this work, Zhao hopes that virtual technology can reduce dependence on physical real estate.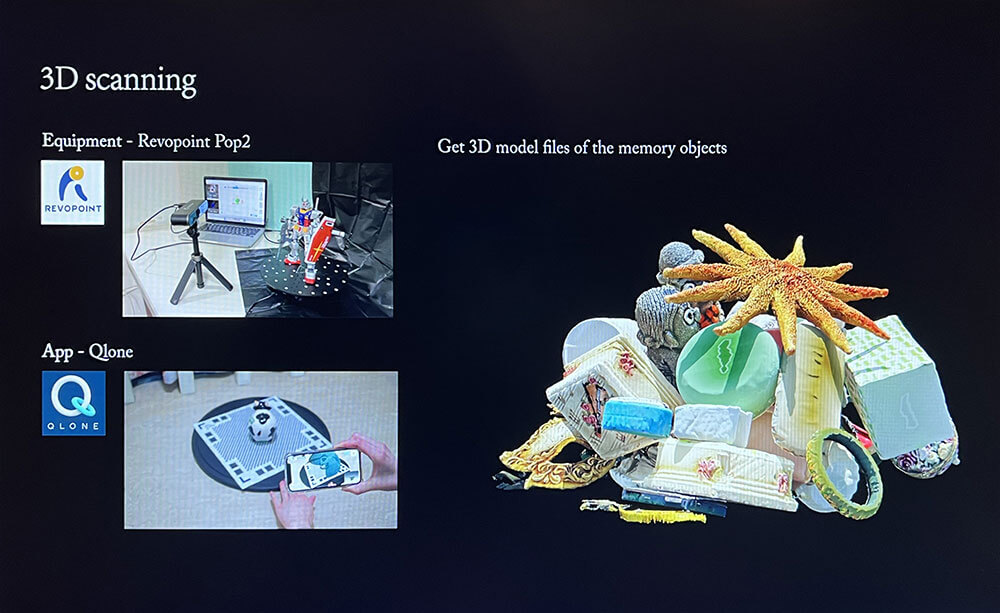 The objects of memories are digitized through 3D scanning technology.
In VR, these objects of memories melt and blend together with AI-generated animations.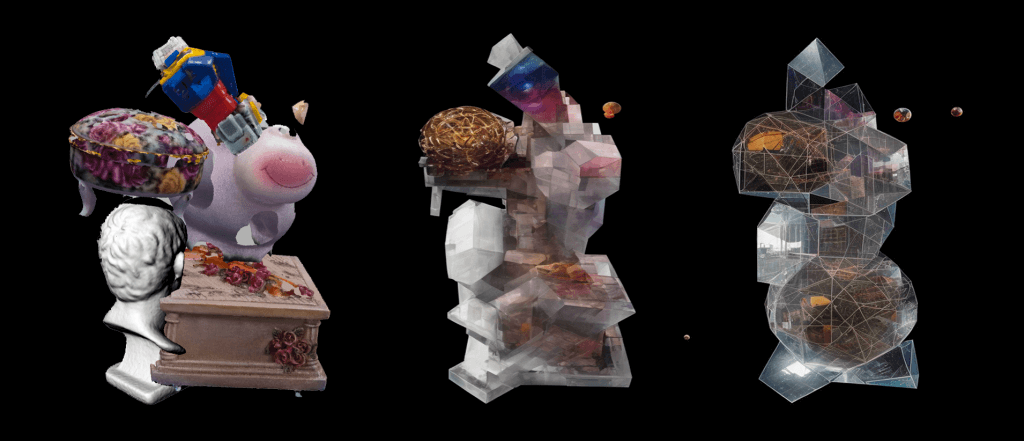 Ultimately, a unique virtual building is created, giving rise to new forms of memories.
A Creative Platform for VR and AR Art
Laval Virtual Art Exhibition has gained attention from all over the world as a creative platform for VR and AR art. The works I introduced in this article were all fascinating and thought-provoking, and I am very excited to see what the future of Laval Virtual will bring to the XR artscape.
In the next article, I will focus on networking and communities at Laval Virtual and how they have become one of the festival's most important offerings over the years.
Edited by SASAnishiki
Translated by cpnnn