Laval Virtual is an annual international festival dedicated to VR and AR held in Laval, France. This year marks the festival's 25th anniversary as a forum for industry, academic, entertainment professionals, and other participants active in the VR and AR fields.
Through multiple articles in this series, I have explored different aspects of the event. This last article will focus on networking and communities at Laval Virtual and how they have become one of the festival's most important offerings over the years.
What is Networking?
Networking refers to the act of making connections with other people, typically for professional or social purposes.
Laval Virtual offers many opportunities for people to connect with each other, such as the Networking Dinner held on the day before the festival, the Laval Virtual Party held on opening day, and the Award Ceremony held after the award presentations. Exhibitors, scholars, researchers, students, freelancers, and participants from various fields can network and interact with each other throughout the festival.
The Networking Dinner held prior to Laval Virtual is a traditional event that has been held since the festival started in 1999. Participants can enjoy a French dinner while networking with others. Three courses—an appetizer, a main dish, and a dessert—are served, with participants switching seats for each course. By the end of the dinner, connections are made between former strangers, helping the attendees to approach the following three days of the festival with a positive mindset.
Looking back, all of my chats and information exchanges at the dinner made time fly by so quickly that I was only able to take photos of the food. There were many people, including myself, who came alone. Even if you come alone, you can still meet new people and have a good time.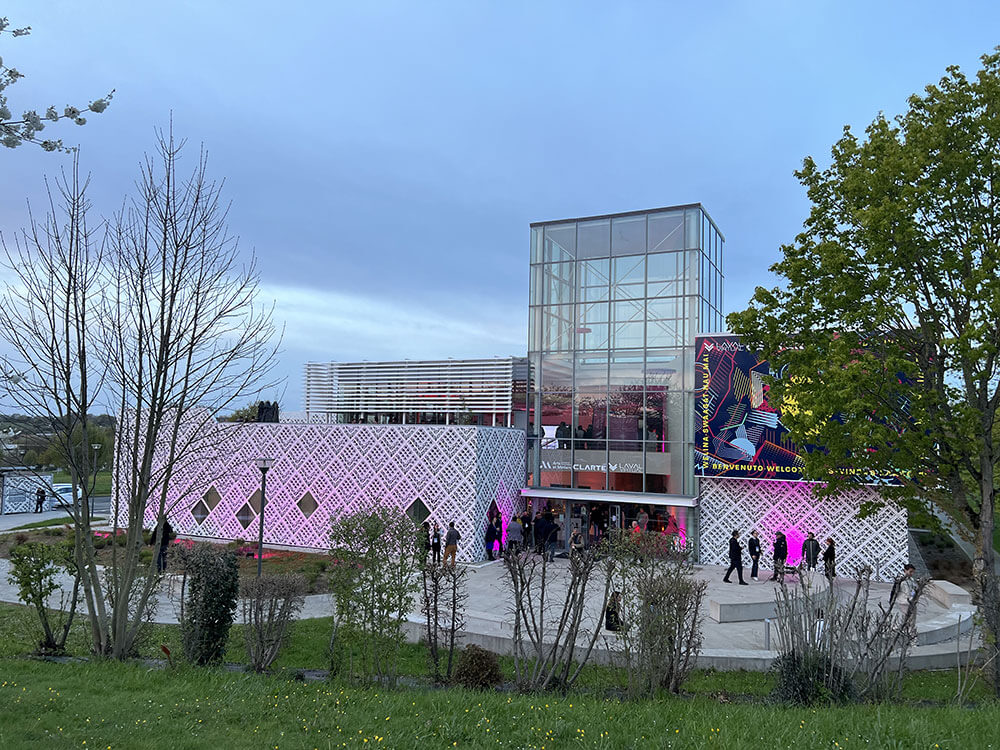 After the first day of Laval Virtual comes to an end, the Laval Virtual Party starts at the Laval Virtual Center.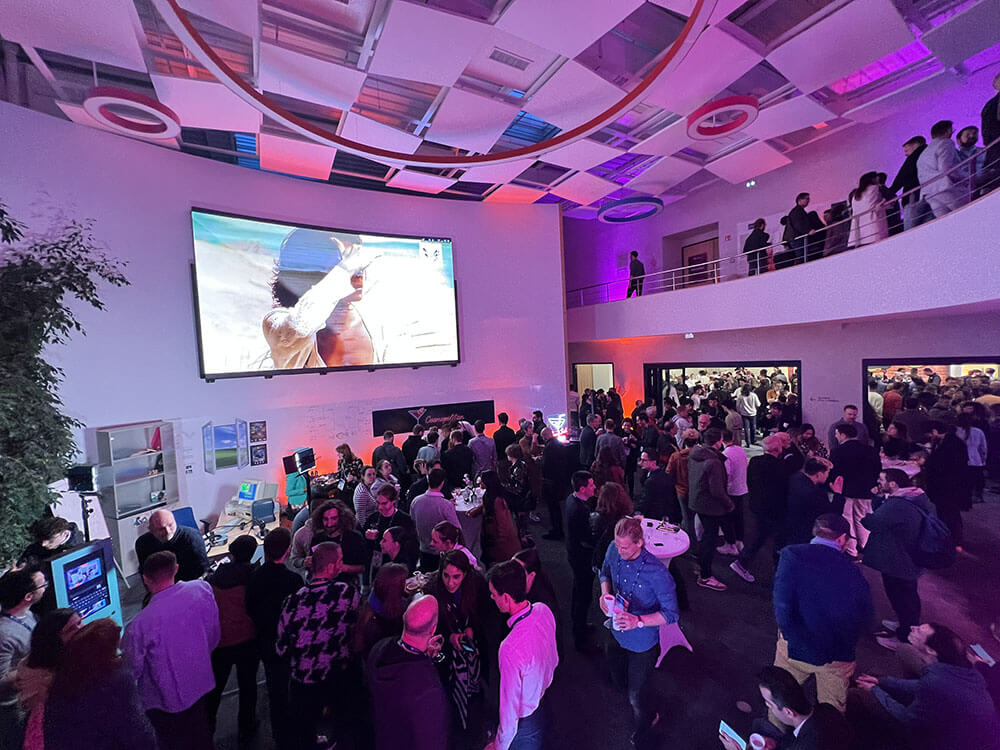 Exhibitors, visitors, companies, and scholars—everyone participating in the festival enjoys the party together here.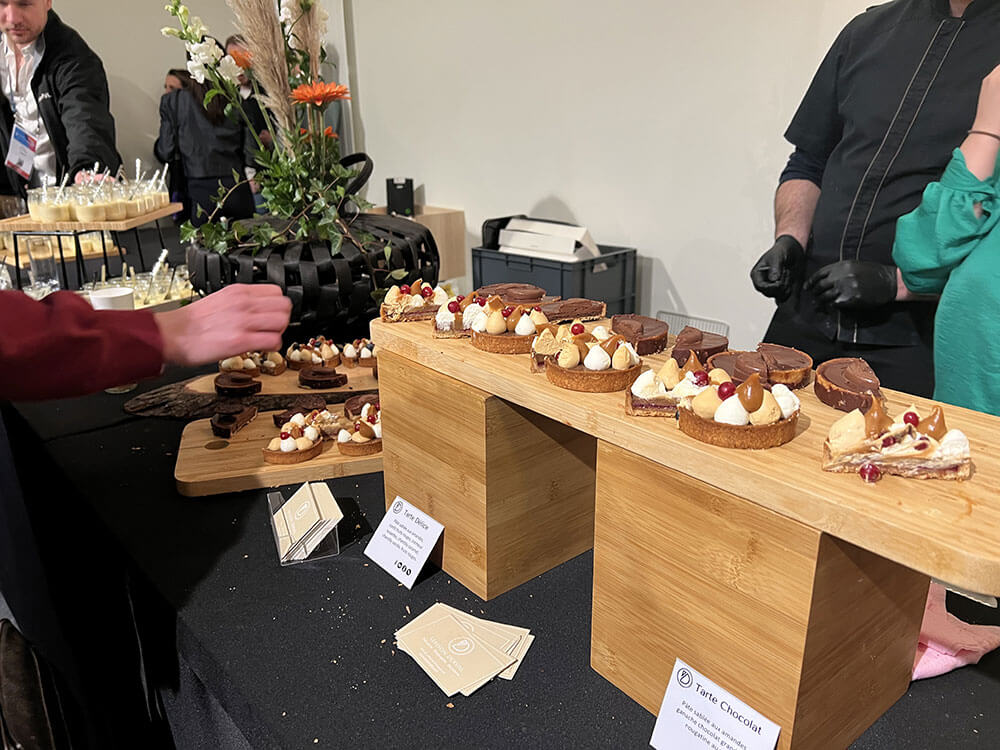 Plenty of delicious foods are available at the Laval Virtual Party, such as sweets, pizza, and hamburgers. Champagne, wine, and beer are also served, making it easy to relax and unwind after the excitement and stress of the first day. I strongly recommend attending the party with an empty stomach.
Laval Virtual and Its Connection with Japan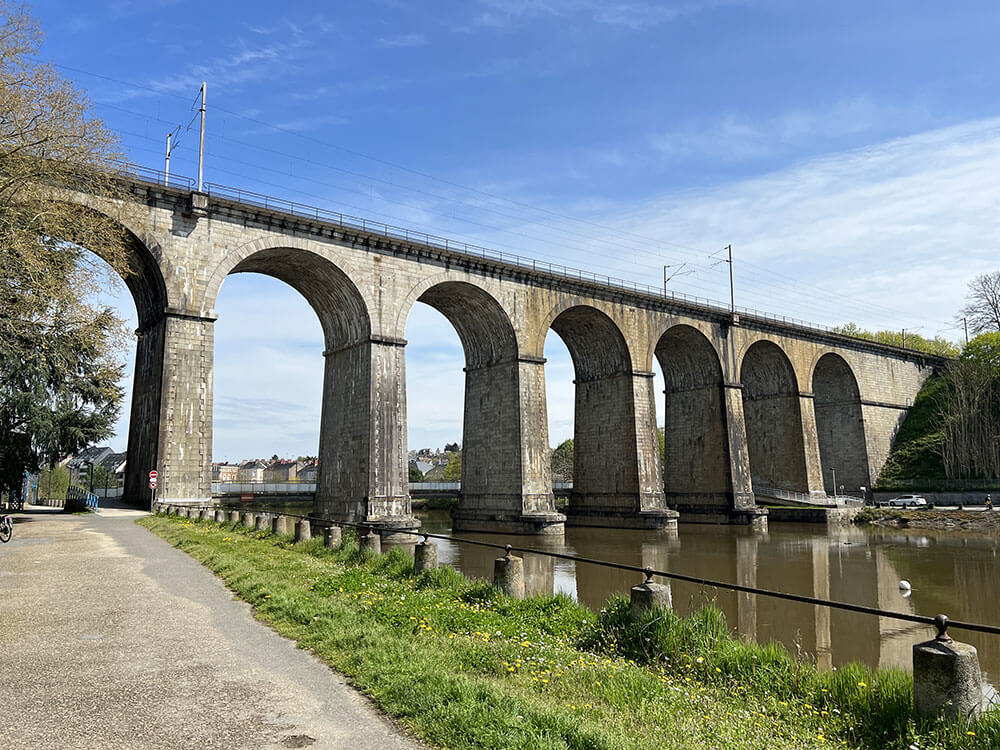 Laval Virtual has a deep connection with Japan. The Interverse Virtual Reality Challenge (IVRC), held every year in Japan, challenges teams of international students to plan and create interactive VR works. Those teams whose works are selected are invited to the Laval festival.
The team shown in the above image, which is part of the University of Tokyo Graduate School, won the Laval Virtual Prize at IVRC 2022 and was invited to this year's Laval Virtual.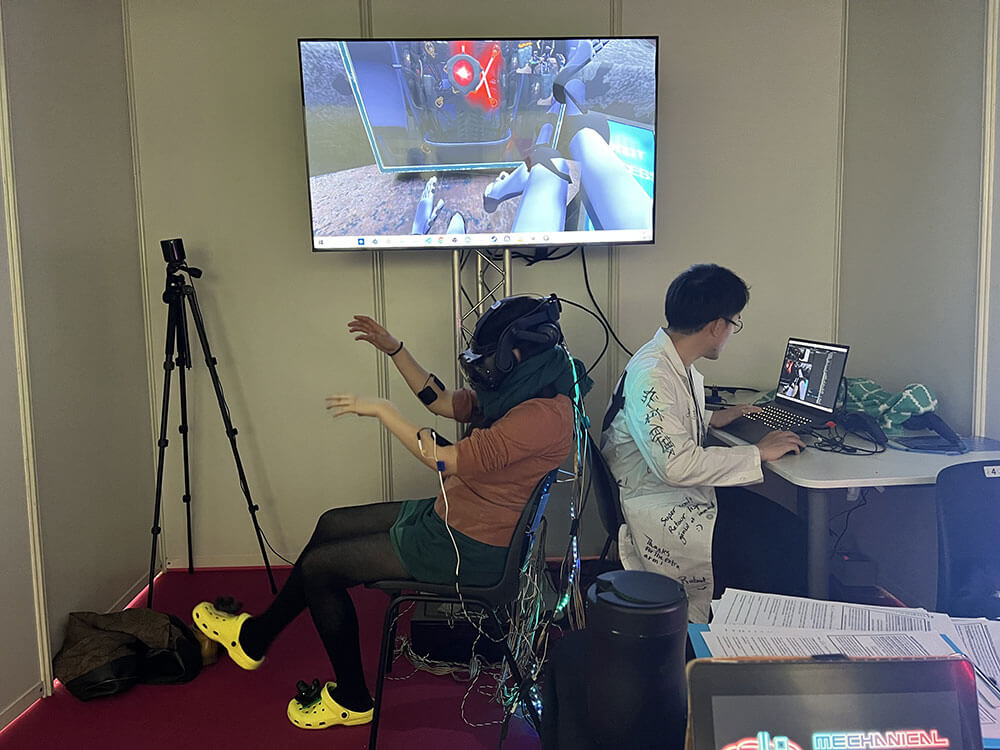 Their work allows participants to experience an "editable bodily sensation" by modifying their own "brain" in VR.
To do so, the participants put on a VR headset and attach pads similar to those used for electric massages to their body. In the virtual world, the participants become a broken, barely mobile robot tasked with repairing their own brain. Participants can repair and modify their bodily system, and electric stimulation to their physical body is reflected in real time. To repair their virtual broken limbs, they must reconnect the circuits extending from the "consciousness module" in their robot brain to their limbs. However, if they connect the circuits incorrectly, their virtual limbs will move in a way different from their actual limbs.
Laval Virtual also awards an invitation to the IVRC held in Japan. This year, a team of students from the Laval Campus of Arts et Métiers University in France was awarded this invitation.
Why does the connection between Laval Virtual and Japan exist? I asked Professor Masahiko Inami, Chair of the IVRC Executive Committee at the University of Tokyo.
Professor Inami told me that the connection can be traced back to Gifu Prefecture. In the 1990s, the prefecture conceptualized a regional development plan through VR technology and established the VR Techno Center and the Gifu Prefectural International Information Science Art Academy (now IAMAS). In 1995, with further support from the governor of Gifu Prefecture, the world's first international VR conference, the International Society on Virtual Systems and MultiMedia (VSMM), was established, becoming a major platform for interdisciplinary academic research and information exchange on multimedia and VR systems.
The current members of Laval Virtual were among those who participated in the international VR conference. Indeed, the conference inspired them to launch Laval Virtual and solidified their connection with Japan, stimulating ongoing information exchanges ever since. The tradition of inviting authors of selected works to each other's events for the purpose of exchanging ideas has continued in the student VR contest, which was launched after the conference.
Connection with Participants
For 25 years, Laval Virtual has helped to create and maintain an extensive community of past and present festival participants.
Tama University has been participating in Laval Virtual every year since 2004, when one of their student projects was exhibited at the festival. In addition, they have partnered with ESIEA University for 14 years, presenting joint exhibitions at Laval Virtual and exchanging interns. Starting this year, they have been accepting interns in Ibara City, Okayama Prefecture. The student on the left in the photo above is planning to travel to Japan in June 2023 for this internship.
At their booth, they exhibited a project they developed in collaboration with the Ibara City Office in Okayama Prefecture.
Below are pictures of several Japanese participant teams.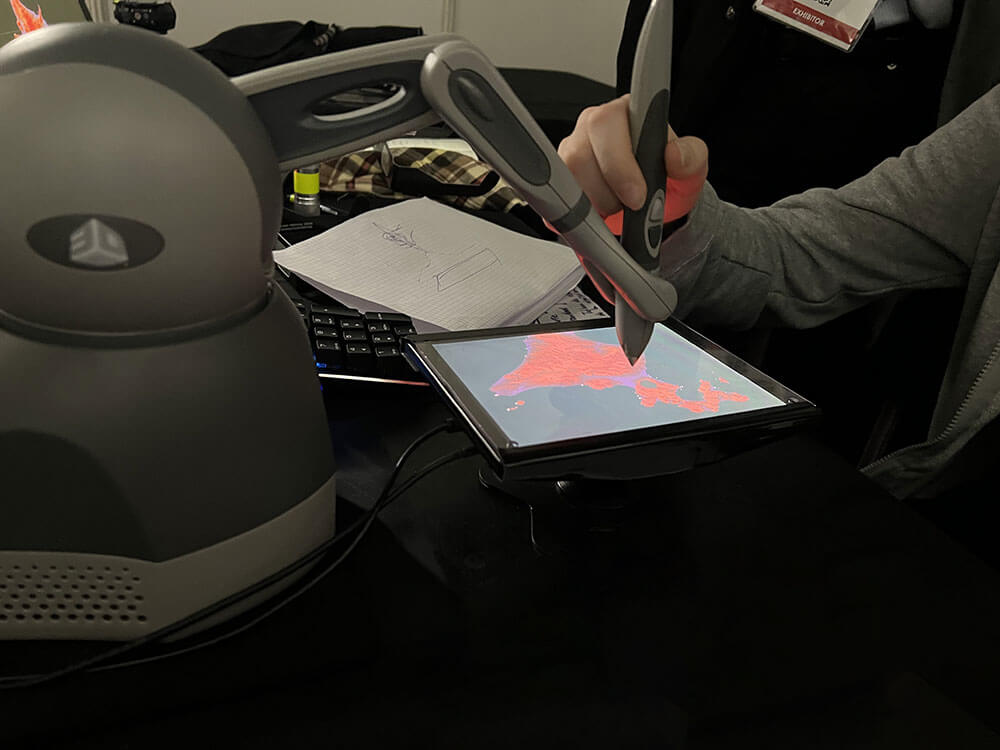 In this project, a map with physical touch sensation capabilities and a force-sensing device were used to create a learning support system for "geographical thinking" that employs MR to generate visual and tactile experiences. By holding a pen and tracing lines on the map, participants experience sensations that change depending on the terrain, permitting them to detect concave and convex landscapes through touch.
Not only visual information but also physical touch sensations can be used to make associations between geography and various types of information, promoting cross-sectional learning. The question of how existing technological elements can be employed for the benefit of society is also a focus of this project.
This project won the "Laval Virtual Award" at SIGGRAPH 2022, a world-renowned academic conference on computer graphics and interactive technology. Project members were thereafter invited to Laval Virtual.
In this project, experiencers can control two autonomous mobile robots: one in the shape of a dog and the other in the form of a Segway. Wearing a VR headset, users can view the real world through cameras attached to each robot and use visual information to operate the robots in the virtual world.
Virtual control of the two robots makes a multi-space experience possible.
Intergenerational Connections
At Laval Virtual, students from various countries come together to present their projects. It is not uncommon for former students who had exhibited their work at Laval Virtual in the past to return to the festival as professors, often bringing their own students with them. Laval Virtual thus fosters a deep connection between generations.
Assistant Professor Yi-Chun Ko from Taiwan's National Tsing Hua University was once a student participant at Laval Virtual. She presented her work while studying abroad at the University of Paris VIII.
Afterward, she mainly worked as an advisor, assisting the Kaohsiung Film Archive in promoting Kaohsiung Film Festival's XR Dreamland. She also served as a principal investigator for the VR program of the Taipei Film Festival.
Through such activities, particularly the introduction of French VR works to Taiwanese audiences, she has been actively working to bridge France and Taiwan.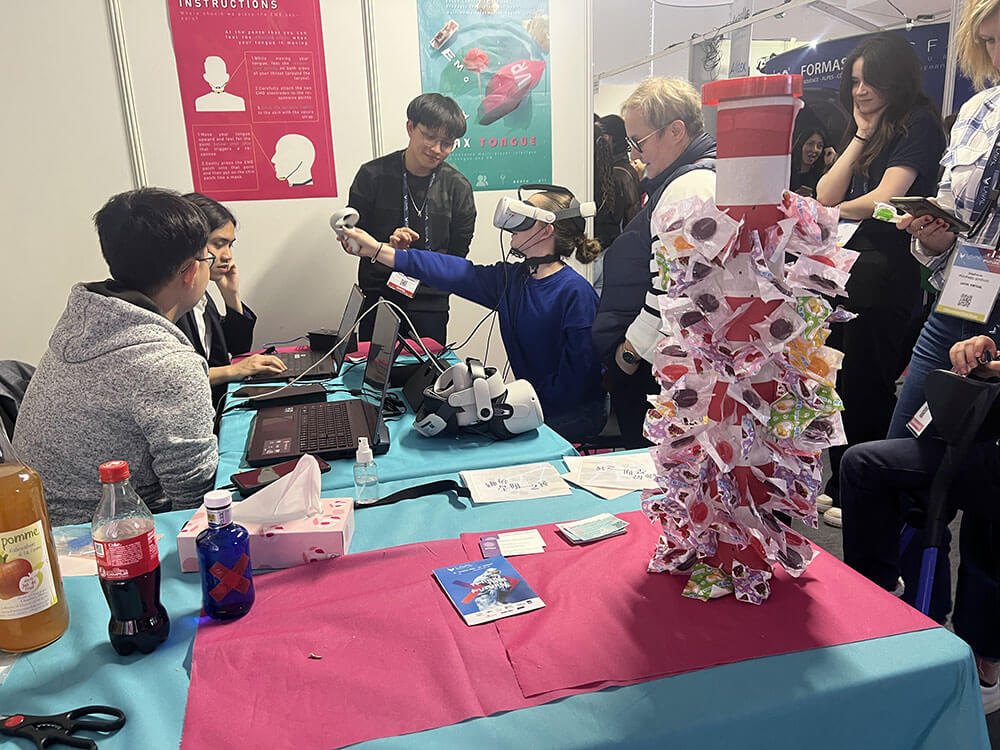 At the National Tsing Hua University booth, a game was demonstrated using VR controllers and a headset, with players having to lick candy to operate the game.
Assistant Professor Han Ping-Hsuan from the National Taipei University of Technology, Taiwan, was also once a student participant at Laval Virtual. He received the Laval Virtual Award at Siggraph 2017 and was thereafter invited to Laval Virtual. Since then, he has gone on to become an assistant professor and now brings his own students to the festival.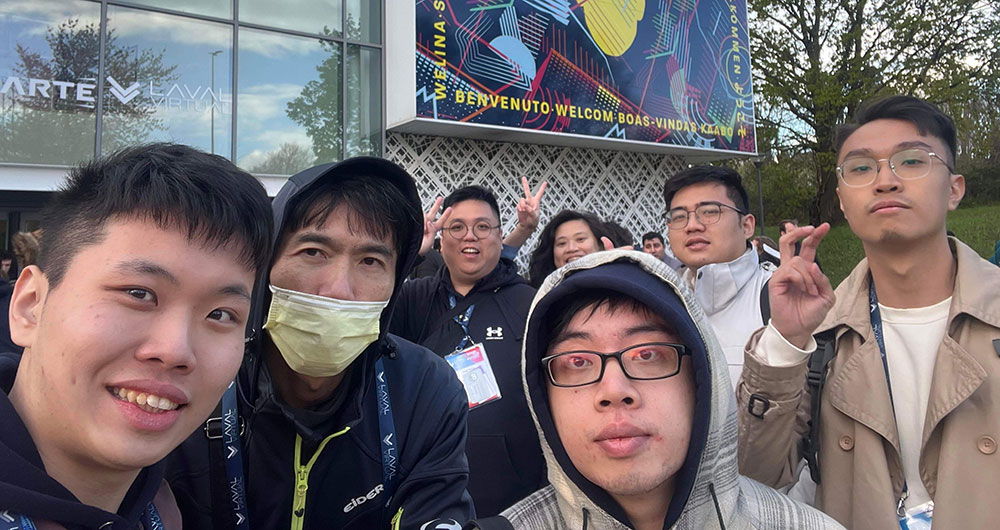 Members of the National Taipei University of Technology and Assistant Professor Han Ping-Hsuan (third from left).
At the demonstration held at their booth, I wore a VR headset and did some boxing. The boxing trainer was in VR, and the punching bag was controlled by the system. Hitting a punching bag in VR takes some getting used to, but once I got the hang of it, it really helped me to relieve some stress.
Boxing is a combat sport that involves intense movements and close bodily contact between two opponents. This project is working on using VR and robots to prevent injuries and fatigue among coaches, who often train many boxers in a row.
Connection with the Local Community
Many children and families also attend Laval Virtual every year. In its 25-year history, Laval Virtual has been sustained by the attention and interest of the local community.
Céline Tran, a local resident of Laval, has attended Laval Virtual many times since she was a child. Initially attending as a visitor Céline later enrolled at the local ESIEA University and is now participating in Laval Virtual as an exhibitor. Having previously attended the festival as a child, she was surprised to be recognized by long-standing participants and to being asked, "Are you the person I met back then?"
Alizee Calet, a student at the Laval Campus of Arts et Métiers University, has also been influenced by Laval Virtual. Born and raised in Laval, she has attended the festival many times since she was a child. Her team of 3D artists won the ReVolution #Student Award and the IVRC Award. Two years ago, she participated in Laval Virtual as a catering staff member—but this year, she participated as an exhibitor and was thrilled to receive an award. Calet is looking forward to traveling to Japan as an IVRC invitee.
The long history of the Laval Virtual Festival has not only firmly rooted it in the local community but has also allowed it to expand the virtual world worldwide.
The Reasons Behind Laval Virtual's 25-year Longevity
The longevity of the Laval Virtual Festival is evidenced by its continuous international exchanges, close connections between participants, and, above all, intimate connection with the local community. Laval Virtual provides participants with an excellent opportunity to meet many like-minded people with whom they can forge strong connections, expanding their professional networks and ultimately stimulating further developments in the XR landscape.
This concludes the six article Laval Virtual Festival 2023 series. Thank you for reading to the end!
The excitement of experiencing immersive works and gear, as well as opportunities to meet fellow Japanese XR enthusiasts and becoming part of the global community that has continued for many decades makes Laval Virtual a truly enjoyable festival.
Edited by SASAnishiki
Translated by cpnnn