VR will be popularized in near future.
I am sure that VR will also be applied to the interface related to our lifestyles such as art, fashion and music.
In fact, a lot of artists have already started exploring the possibility of new expressions in 3D space.
I think a good example is Ms Mika Maruyama who is the finalist in 'NEWVIEW AWARD 2018', a global award for the VR contents in the fashion, culture and art field.
Ms Mika Maruyama, a singer-songwriter and CG artist, is the multi-creator who plays a comprehensive role as songwriter, singer, visual designer and programmer.
Why did she step in the world of virtual reality?
In this article, I will close in on her motive while asking about the design process of her work, 'DAYDERAM'.
Profile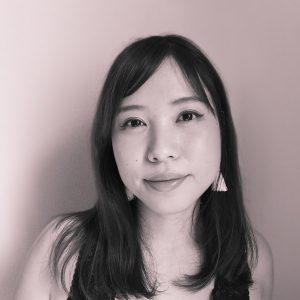 Mika Maruyama
Singer-songwriter / CG artist | Japan
The title: DAYDREAM
web: http://lagthorin.com
twitter: http://twitter.com/posoposomimi
instagram: http://www.instagram.com/lagthorin_/
Graduated from Music Design Course of  Senzoku Gakuen College of Music.  Singer-songwriter and artist. In 2018, she started a solo project, 'Lagthorin', which provides visual works based on music. She plays a comprehensive role as songwriter, arranger, singer, visual designer and programmer. She is also involved in the development of indie games inside and outside of Japan. As a  recent work, she took part in the development of 'YIIK: A Postmodern RPG' by 'AckkStudios' in the United States, as a singer and music creator. So she is working on her creative activities energetically.
SoundCloud:

NEWVIEW brings artists together
— Firstly, could you tell how you learnt about NEWVIEW?
Mika Maruyama: I learnt it as it's announced when I started using STYLY.
— Why did you apply for it?
Mika Maruyama: I thought it would be a chance to show my work to the companies and artists, who participate as judges, if I became the finalist.
Since I used to play a game called 'Mountain' developed by David Oreilly, I was pleased to hear that he was announced to be a judge.
I also wanted to make a friend who creates VR works. In fact, I saw a lot of wonderful creators through the NEWVIEW project. Thank you!
— How did you know about STYLY?
Mika Maruyama: STYLY was regularly on the headline of 'MograVR' website. That's how I knew it.
I found it interesting because it allows people to create VR content easily with only a browser and network connection and publish from its platform in a simple way.
Interactive VRMV by using her own music pieces
—  What kind of concept is behind 'Daydream' you created this time?
Mika Maruyama: I wanted to make something like an interactive 'Music Video' with the songs I wrote by myself.
The visual motif came from Shibuya Crossing. From the window of my office, I often view people in suit crossing the street intersection. Although they look all the same at a glance, I imagine every person has a unique personality and live with a variety of imaginations.
I wanted to create a 'positive' work that could connect the outside and the inside of people who don't stand out but live their life hard.
Therefore, a video of Shibuya Crossing is played behind the door floating in the air.
I actually visit there and record the background noise, which is played when you approach the door.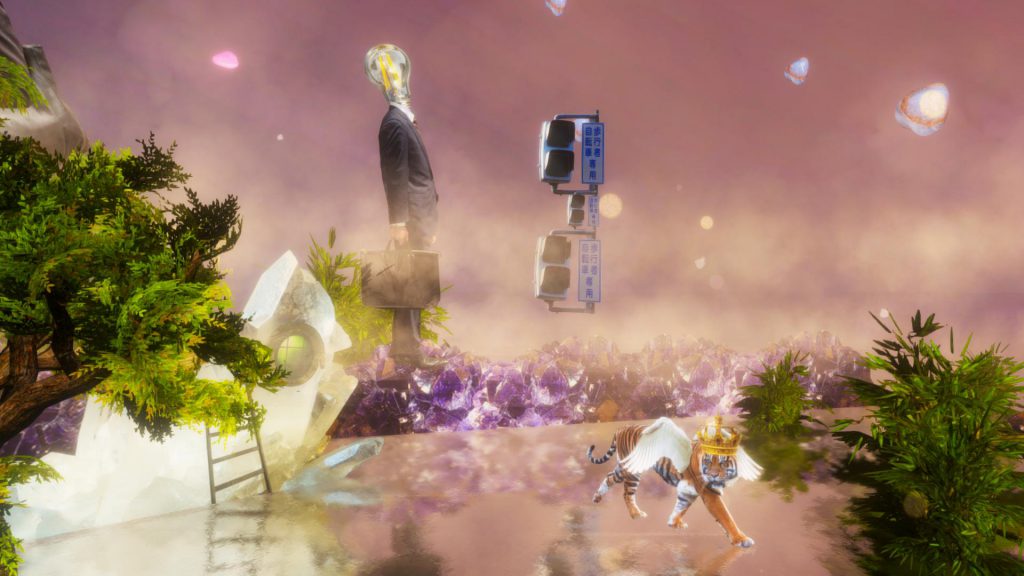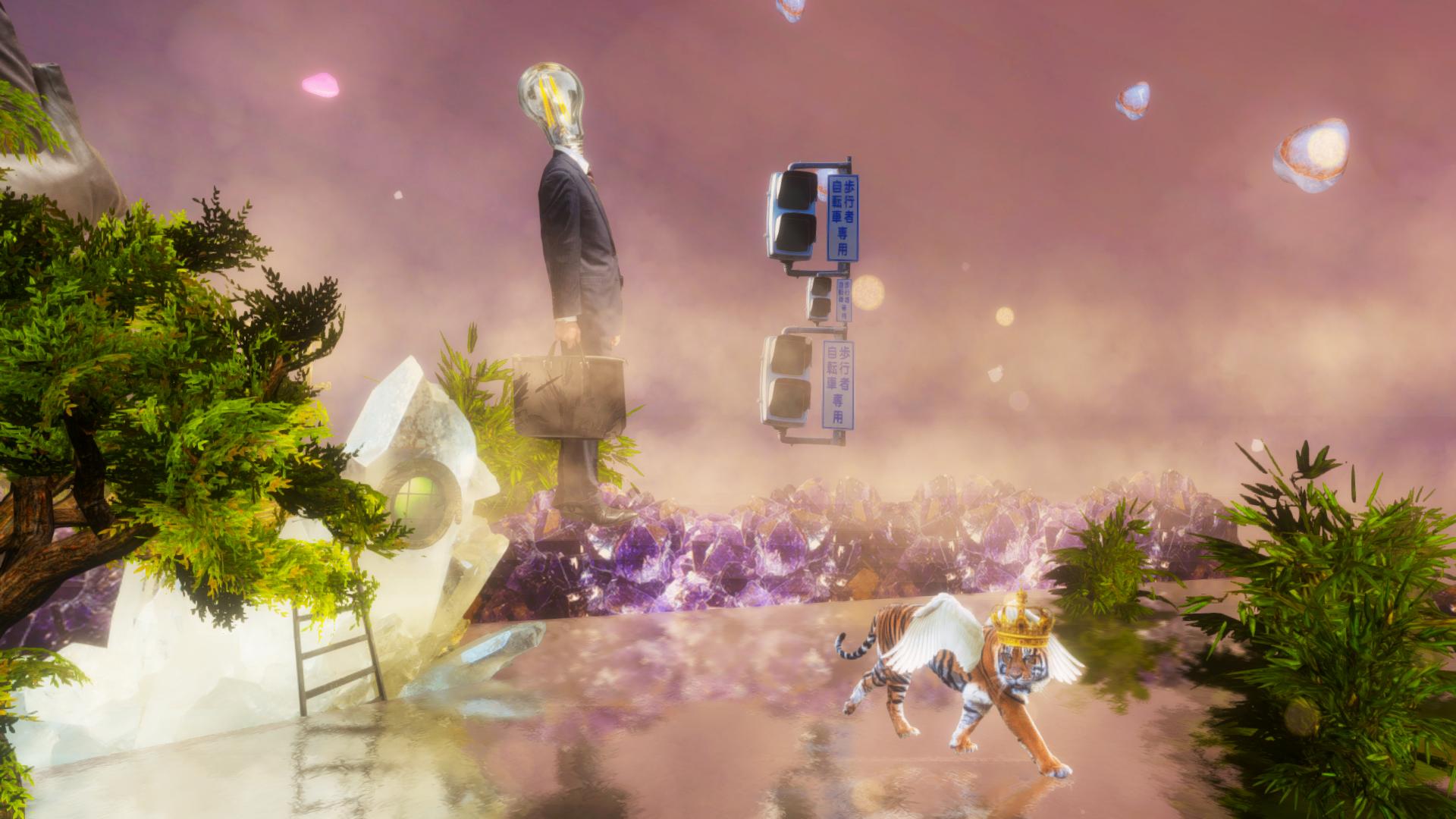 — I heard you created this work with Unity. Did you have any experience with the development by using Unity?
Mika Maruyama: Since I work on game development, I had a fair knowledge of Unity. Regarding PlayMaker, I studied it to create this work.
— Could you tell me how you created this work and how long it took?
Mika Maruyama: It took about a month. For a month, I was making it on the weekend and after-work hours.
I composed songs and created CGs on separate machines. I composed those songs with Logic Pro on MacBook a few years ago.
I used a Windows desktop (with GTX1080Ti graphics board), which I built to play with VR originally, to create the visual part and build it in STYLY. I developed interactive features with Unity and PlayMaker while I clipped and retouched photos with Photoshop. I used Animate and AfterEffect to create animations and I created 3D models such as a door, with Maya.
The object reactive to viewer's eyes is realized by the mechanism that casts a transparent object with collider forward from the centre of the camera and makes what the collider hit react. Since I placed a lot of 2D collages, I implemented a program to keep them facing the camera so that they don't look too flimsy.
— Could you tell me about what was difficult when making this VR work?
Mika Maruyama: It's physically hard to work on it at the same time I dealt with my daily works because it took most of my time to adjust the programs unfamiliar to me.
In addition, it was difficult to find the information I wanted because there are not so much information about PlayMaker in Japanese.
(I found 'Playmaker Tips' in STYLY official page very useful!)
— What did you care about most when making this work?
Mika Maruyama: It's difficult to put it simply, but I could say that I cared about creating an atmosphere that makes viewers feel a blend of the real world and the imaginary world.
Since I made the collages from the photos taken in various environments, I pay attention to the overall adjustment of colour and blur to make people feel a uniformity. In addition, I made up the missing parts of the photos to animate them, so I carefully processed them to make them look realistic.
Since how it looks in VR is different from the one on a web browser, it was difficult to get it closer to what I wanted to show while putting on and taking off my HMD to adjust the positions. Come to think of it, it is only STYLY that allow me to check what is implemented immediately and adjust its position so quickly.
— Thank you. Could you tell me about your future plan?
Mika Maruyama: I am planning to focus on creating songs for a while.
After stocking new songs, I want to release VR visual contents for them.
I put many 2DCGs this time, but I enrich my next VR work with more 3DCGs.
This time, the artists with various titles such as filmmaker, photographer, virtual artist, singer-songwriter, took part in NEWVIEW AWARDS.
VR still sounds 'geeky', but various artists have already used this media to render their art style.
The tagline of NEWVIEW AWARDS is 'DESIGN YOUR ULTRA EXPERIENCE'.
We need output from various artists to invent new expression and experience in three-dimensional space.
I sincerely hope her next work would create the VR space that surprises everyone again.