The FlutteringParticles Set is a group of particle assets that can be used for spatial effects.
Particles are a technology used in games and 3D computer graphics to represent a large number of fine particles.
Examples of events commonly simulated using particle systems include flames, explosions, smoke, running water, sparks, falling leaves, clouds, fog, snow, dust, meteors, hair, fur, grasslands, or light trails and spell visual effects (so-called "game effects").

(Wikipedia, translated from Japanese)
Sample Scene
Here is a sample scene using the FlutteringParticles Set.
Where is the Asset?
This asset is located here:
Particles with Drifting Flowers and Leaves
FlutteringParticles_Sakura_dance
FlutteringParticles_Ginkgo_dance
FlutteringParticles_Maple_dance
Ground Object for Particles with Drifting flowers and Leaves
This is a ground object. It can be used in conjunction with the particles on the top.
It can be used to create the effect of particles piled up on top of each other.
FlutteringParticles_Sakura_ground

FlutteringParticles_Ginkgo_ground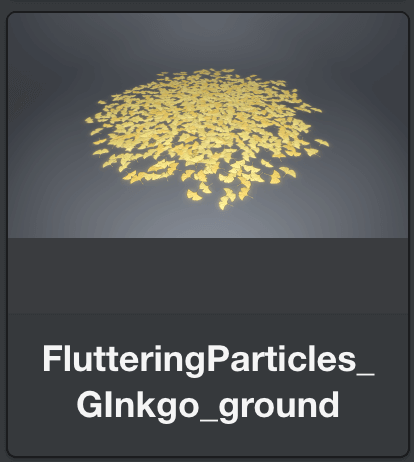 FlutteringParticles_Maple_ground
Candles and Paper Lantern Particles
Candles and paper lanterns are drifting particles.
Be sure to place the right amount of these particles, as over-placing them increases their load.
FlutteringParticles_Candle_dance
FlutteringParticles_Toro_dance
Certified by (QA) : Shota Shawn Yoshizawa
Edited by : SASAnishiki
Translated by : Sho Ishiwata