This article summarizes the problems and solutions to the errors that occur when uploading Unity's Prefab/Scene.
If you get an error when you try to upload an asset in Unity, try this article.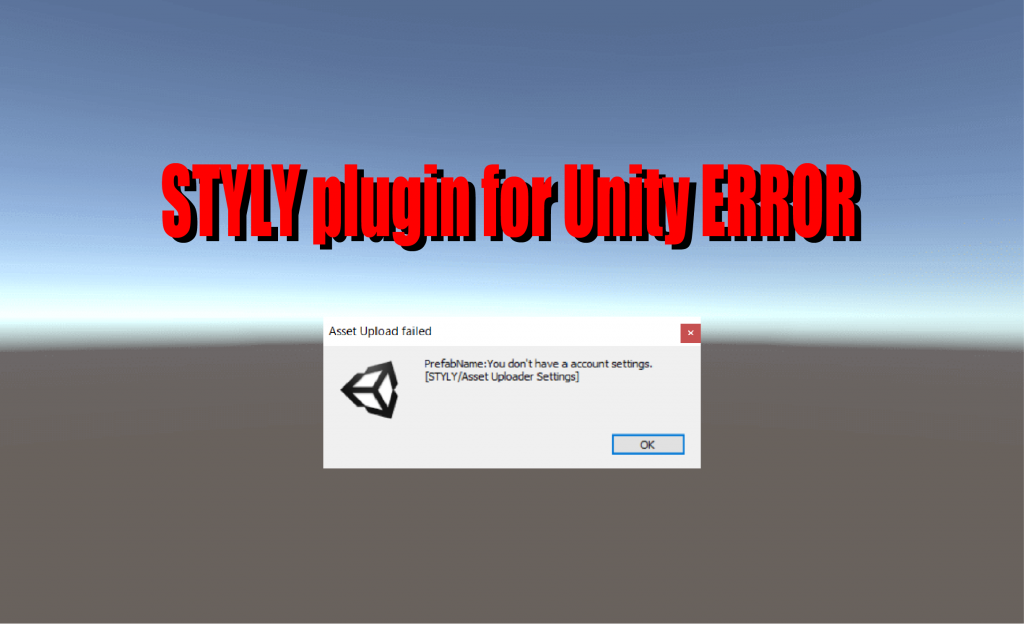 What is the Unity plugin for STYLY?
You can upload Prefab/Scene created in Unity to STYLY.

The plugin for this task is "Unity Plugin for STYLY".
Please refer to the following article on how to upload a Prefab.
Please refer to the following article on how to upload a Scene.
Why the STYLY upload process is taking so long
The role of the Unity Plugin for STYLY is not only to upload a Prefab/Scene to STYLY.
We are processing the Prefab and Scene to run on multiple platforms.
If this is not done, the assets uploaded to Unity will not be reflected on STYLY.
It may take some time to upload, but we're trying to make it as convenient as possible for as many people as possible to enjoy the XR with STYLY.
Prior confirmation
Is the version of Unity STYLY recommended?
STYLY Plugin for Unity is compatible with Unity2019. You must use the corresponding plugin to upload the file.
Unity 2019.3.X (Unity 2019.3.6f1 recommended)
Are the required modules installed?
In order to use STYLY Plugin for Unity, there are some modules that must be installed in Unity beforehand.
If the module is not installed, an error in red letters will appear in the settings window, as shown below.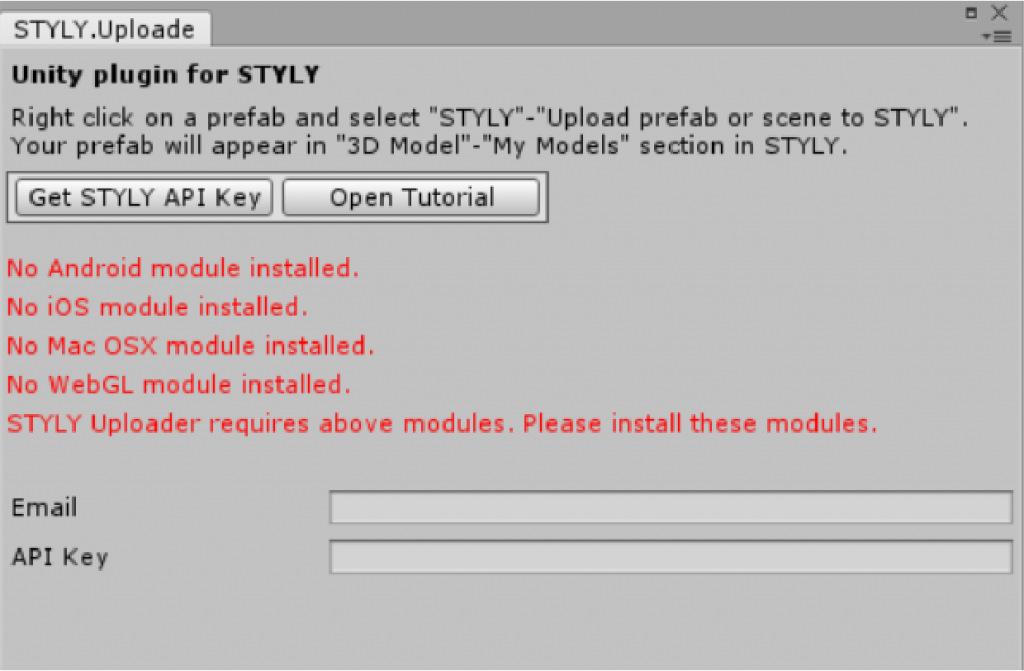 Install the module and upload it again.
The required modules can be found in the following links.
How to add modules is explained in the following article.
Not connected to your account
STYLY Plugin for Unity needs to be connected to the account you are uploading to. If you are not connected to your account, you will see an error such as the following.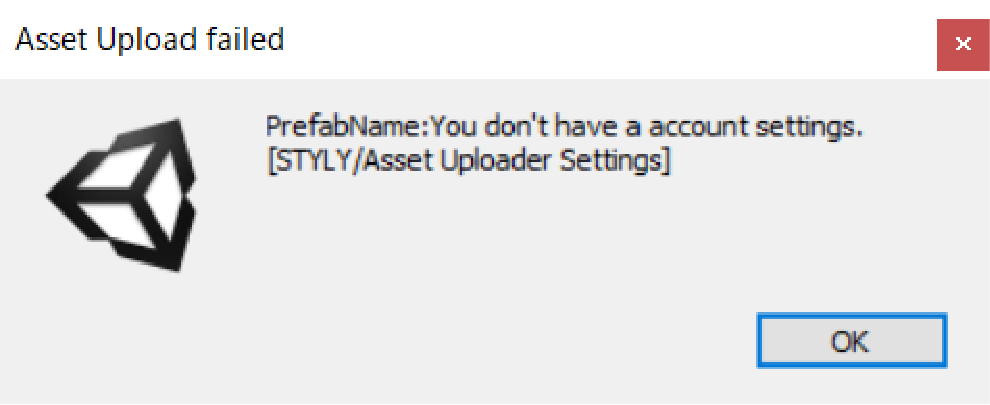 You do not have the account settings. [STYLY/Asset Uploader Settings]
Connect your account and STYLY Plugin for Unity and upload it again.
Use the following article as a guide to get connected.
The script is not available
C#, the programming language used in Unity, is not supported on STYLY.
Therefore, uploading a scene that contains a Prefab with a C# script set and an object with a C# script set will not work.
To implement object control and interaction on STYLY, use the "Playmaker".
For more information on Playmaker, please refer to the following article.
Unity upload capacity limit
We recommend less than 20MB of assets to be uploaded to STYLY from Unity.
If the capacity is too high, the speed may become slow, or it may take a long time to upload.
There are several ways to reduce asset capacity, but the following article is a good example.
About STYLY's capacity limit
One thing to keep in mind when uploading a Prefab or a Scene from Unity is that the amount of space you can upload to STYLY is limited.
STYLY allows you to place up to approximately 1.7GB of assets. As far as capacity is concerned, the capacity currently in use is displayed at the lower right-hand corner.
Once this capacity is exceeded, it is not possible to place assets in the scene.
When you try to exceed the capacity, the following window will appear.
If this is the case, you will need to recreate the scene.
Also, if the capacity increases too much, it will be very heavy to operate without a scene.
Let's create assets in Unity, paying attention to capacity.
If you have trouble opening STYLT Studio in OutofMemory, please see below.
How to speed up your Unity uploads
There are a few ways to save a little time.
1. Reduce the capacity as much as possible
 The larger the capacity, the longer it will take to upload.
 One way to reduce your capacity is to consult the following article.
2. Cache Server Settings
 You can set up a local cache server to reduce the upload time.
 Please take a look at the article below.
Let's make sure we are working efficiently!