Psychic VR Lab, the company that provides the VR creative platform 'STYLY' is going to hold a VR creation workshop aimed for students from 9-12 years old, with the Saito Masatake seminar of Chuo University Faculty of Commerce.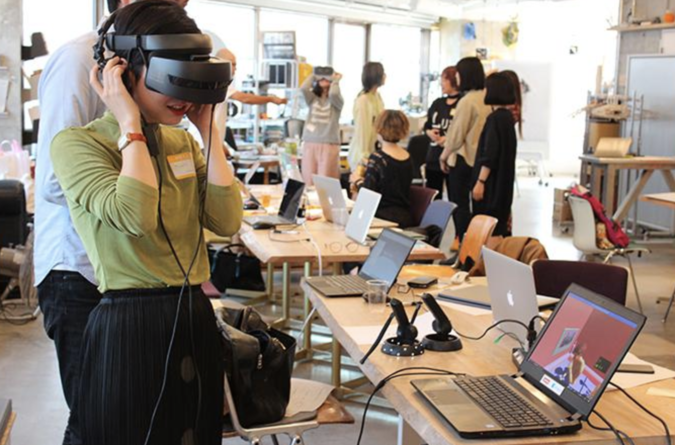 Students that research VR from the Saito Masatake seminar will take charge of the workshop, Psychic VR Lab will take role of technical supervisor, Professor Saito Masatake will supervise the texts and curriculum.
The Saito Masatake seminar VR research group is trying to use VR technology to improve creativity and spatial recognition abilities of children, and aims to achieve that at this workshop.
Workshop Content
Experience uploaded works at STYLY in VR

Create a VR scene in STYLY

Experience the created world by yourself in VR
First, students will experience STYLY worlds in VR.
Then, they will learn how to create a VR scene in STYLY with hands-on support.
In STYLY, users can create a VR scene using a web browser, and they can immediatly check it using a VR goggle.
Also, students will learn how to create a VR scene with support from the text and teacher, so students new to VR will have no troubles.
【Time Schedule】
12:30 Registration Start
13:00-13:10 Introduction to STYLY, and speech from the teacher
13:10-14:00 VR experience(5min per person)
14:00-15:00 STYLY VR Creating
15:00-15:20 Break time
15:20-16:00 Creating time
16:00-16:50 Experience your own world in VR
16:50-17:00 Comments from the supervisor
Date/Event site
・7/28(Sun) 13:00-17:00
・Event Site:Mixed Reality Salon 「TIMEMACHINE」(24 SKY Building 3rd floor)
 Map:https://goo.gl/maps/QpTN7dMKzGR2
■ Price
・Free
■ Capacity/Target age
・Capacity 8 people (Chosen by lottery)
・Target Age 9 – 12 years old
NOTE: Target age is decided based on the 2018 Jan guideline from the location base VR association.
https://lva.or.jp/pdf/guidelines.pdf
【Application URL】
https://www.c-sagyoba.com/events-1/7-28-bi-kizzukurieitahakkutsu-stylywakushoppu-vrwamirumonokaratsukurumonoe
Member Profiles
《Main Lecturer・Progression》
Saito Masatake seminar VR research group
《Text supervision》
Saito Masatake / Professor of Chuo University Faculty of Commerce
Saito Masatake seminar
Researches how technologies such as AI, VR, Robot, Bigdata, Cloud, and IoT will affect and improve our lives.
Also recently, developers are scarce in those areas, and they as a group are working to raise the next generation developers of programming, robot, AI, VR technologies.
《Management Coorporation》
Takane Sachiko / Representative of Co-working space C
Works for Nomura Securities. Mainly in charge for Asset management consultation for Individual investors. Recently, created a logical programming course for children, supported the joint research of Cram School Lojim and KDDI research group. After that, after experiencing STEM school manager of Viling, worked at GIFTED AGENT as a support staff. Planned and hosted many IT events for children. Is going to start a new business,『コワーキングスペースC作業場』from 2019 August.
《Technology Supervisor》
yosh / Psychic VR Lab Creative Developer
Experienced in creating and operating large-scale systems such as official content service delivery platforms and application stores for cellphone companies. Worked with Isetan Mitsukoshi Holdings, PARCO, and many fashion brands using VR technology for marketing and promotion. In 2018, has started a new project 'NEWVIEW' with PARCO and many artists to create and design new and innovative experiences with VR/MR technology. Instructor of 。Tokyo Fashion-technology Lab. Part-time lecturer at Sokei academy of fine art and design.
<For inquiries regarding this matter>
Psychic VR Lab Co., Ltd.
Contact Personnel: Watanabe, Kikiyu
Email address: info@psychic-vr-lab.com