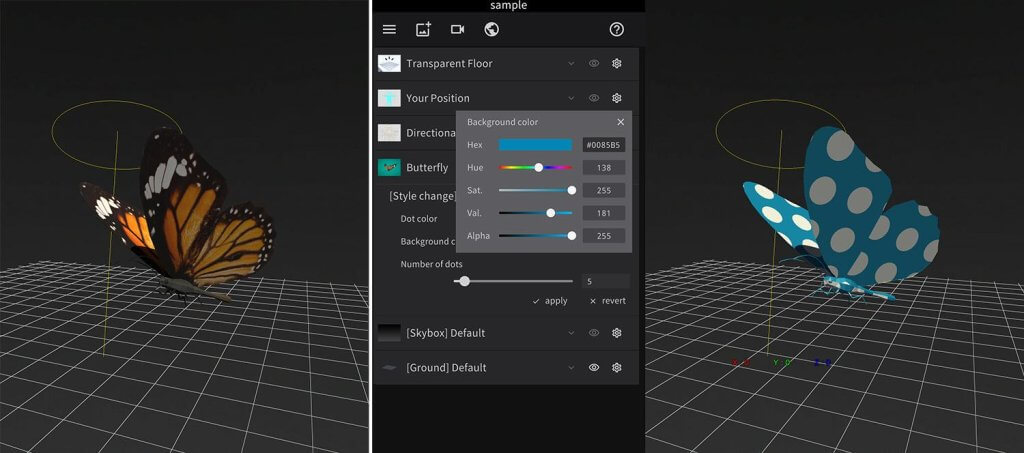 Creates a metaverse with various expressions without programming
Psychic VR Lab (Shinjuku-ku, Tokyo, CEO: Yukihiro Yamaguchi) has released a new feature for STYLY Studio, a production tool on its real metaverse platform STYLY (https://styly.cc). It is called Modifier.
*XR is a term for technologies that combine the real world with the virtual world, such as VR (virtual reality), AR (augmented reality), and MR (mixed reality).
Modifier gives you the ability to alter objects in STYLY Studio without going through a game engine, such as Unity or 3D software.
Up to 66% reduction for XR production costs with easy operation
With STYLY Studio, a production tool on the VR/AR/MR creative platform STYLY, our customers can create XR artworks in a browser using assets in STYLY Studio and materials uploaded by each individual customer.
In order to add animations and change the style of objects, our customers had to use external software like Unity.
With Modifier, our customers are able to add simple things like colors, movement and rotation to objects, or more complex things like contact and holding judgments.
Rich expressions can now be created without specialized knowledge.
It has drastically reduced the labor and time required to create XR works.
Time devoted to XR content production when Modifier is used or not used (estimated using conventional workflow)
| | | | |
| --- | --- | --- | --- |
|   | With Modifier | Without Modifier (estimated) | Reduction |
| User A | 60 hours | 90 hours | 33% |
| User B | 60 hours | 84 hours | 28% |
| User C | 50 hours | 70 hours | 28% |
| User D | 70 hours | 90 hours | 22% |
| User E | 48 hours | 144 hours | 66% |
| User F | 40 hours | 80 hours | 50% |
*Numbers are rounded down to the nearest decimal point.
*It includes reduced time for programming learning
Modifier features now available
Interactions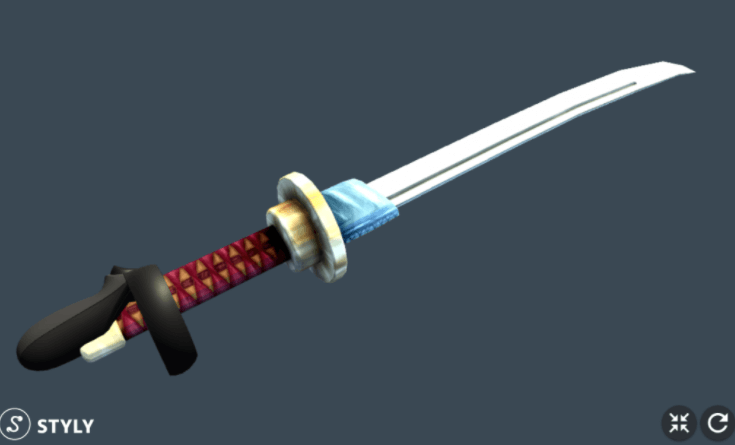 Grab, equip, and destroy assets with controllers.
Change of style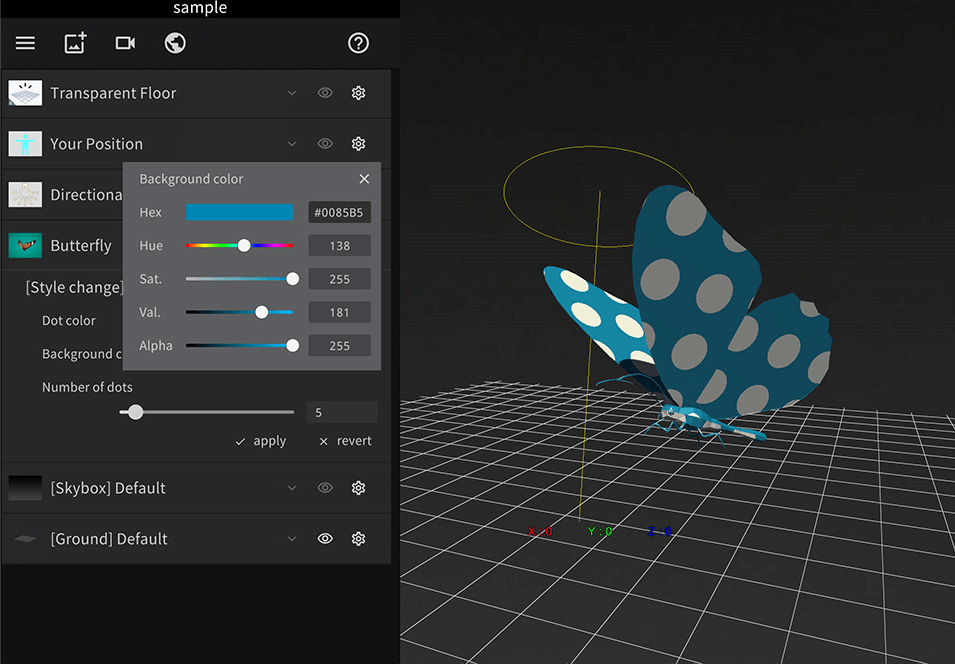 Change the texture, color, and style of your assets.
Animation
Make your assets more engaging by adding animations like rotation, movement, and rhythm.
Humanoid (avatar) animation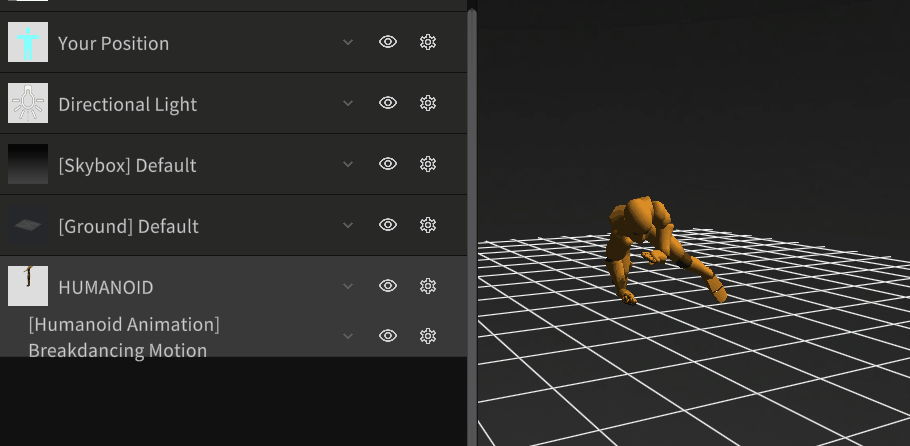 Create dance motions for Humanoid model assets.
With the STYLY plugin for Unity, users will also be able to add their own interactive elements to the Modifier feature.
More functions will be added to Modifiers in the future.
*Plugins are software that extends an application's functionality.
"Easy to use and quite useful" 
Before its release, Modifier was used as a demonstration by artists.
nyu (Designer)

I thought it was simple and easy to use. I found it bothersome to have to go through Unity to set up complex animations,

but it was convenient to be able to apply animations that I use a lot within STYLY.

JACKSON kaki (DJ/Artist)

The process took me a long time because I created scenes in Unity and then uploaded them to STYLY.

I found this feature to be very useful. When you simply want to upload an object created with glb, etc.

and then add a simple animation, you don't have to use Unity.

It was handy to be able to change the material color and add interactions to objects imported directly into STYLY using obj.

It may be helpful to create the background in a scene and upload the objects and art to Prefab.
A work created with Modifier
All interactive elements, including object movement, utilize STYLY Studio's Modifier.
[Sample scene demonstrating Modifier]
■About
STYLY is a real metaverse platform that provides artists with a place for spatial expression.
Using STYLY, you can not only create VR/AR/MR contents with ease, but also distribute them to a variety of devices, such as VR HMD, web browsers, smartphones, and AR glasses.
Additionally, it can be run on computers including Mac and Windows. It is also linked to 3D software such as MAYA and Blender, and to Internet services such as YouTube and SoundCloud, so you can import various materials and use them without complex operations.
In 2022, we plan to implement an additional feature that will enable the distribution of AR/MR content within urban areas. We will provide a platform where artists and creators around the world can create and distribute urban-scale AR/MR content.
STYLY Official Site:https://styly.cc/
STYLY GALLERY:https://gallery.styly.cc/
VIVEPORT:https://www.viveport.com/c6682fba-9f3c-4519-abd9-4d799665a372
STYLY Mobile:
Google Play | https://play.google.com/store/apps/details?id=com.psychicvrlab.stylymr
App Store | https://itunes.apple.com/jp/app/id1477168256?mt=8
STYLY for Nreal:
GooglePlay:https://play.google.com/store/apps/details?id=com.psychicvrlab.styly.Nreal
■ Psychic VR Lab, Inc.
Office: 2F MORIAURA, 1-34-2 Shinjuku, Shinjuku-ku, Tokyo
CEO: Yukihiro Yamaguchi
STYLY is a cloud service that enables users to create XR (Virtual Reality, Augmented Reality, and Mixed Reality) spaces and distribute VR/AR/MR content using only their browsers as a creative platform in the XR era. We aim to make XR the interface for everything from art and fashion to lifestyle, enabling every artist to create a virtual space from scratch.
Please contact us from this link if you have questions about launching a new business with STYLY or creating XR content.