Psychic VR Lab Co., Ltd. (Head office: Shinjuku Ward, Tokyo / CEO: Hiroyuki Yamaguchi) that provides a VR creative platform, 'STYLY ', co-operated on a mashup MV with fan-made VR space, 'Natsu on Blue', released by the new wave girl group, 'You'll Melt More!', by providing STYLY as a VR-space creation tool.
'Natsu on Blue' is an electro pop tune with the theme of summer, which 'You'll Melt More!' have been performing since their debut. It's written by Ai Kobayashi and composed and arranged by Tamptin.
This MV originated from a VR costume exhibition to mark the release of the first best album, 'MUSIC GO ROUND – Yoru Best! –' by 'You'll Melt More!' in this May. At the same time, we invited the fans to co-operate in making the MV for "Natsu on Blue'. By using STYL, this mashup MV has been created as the collaboration with various VR spaces provided by the fans.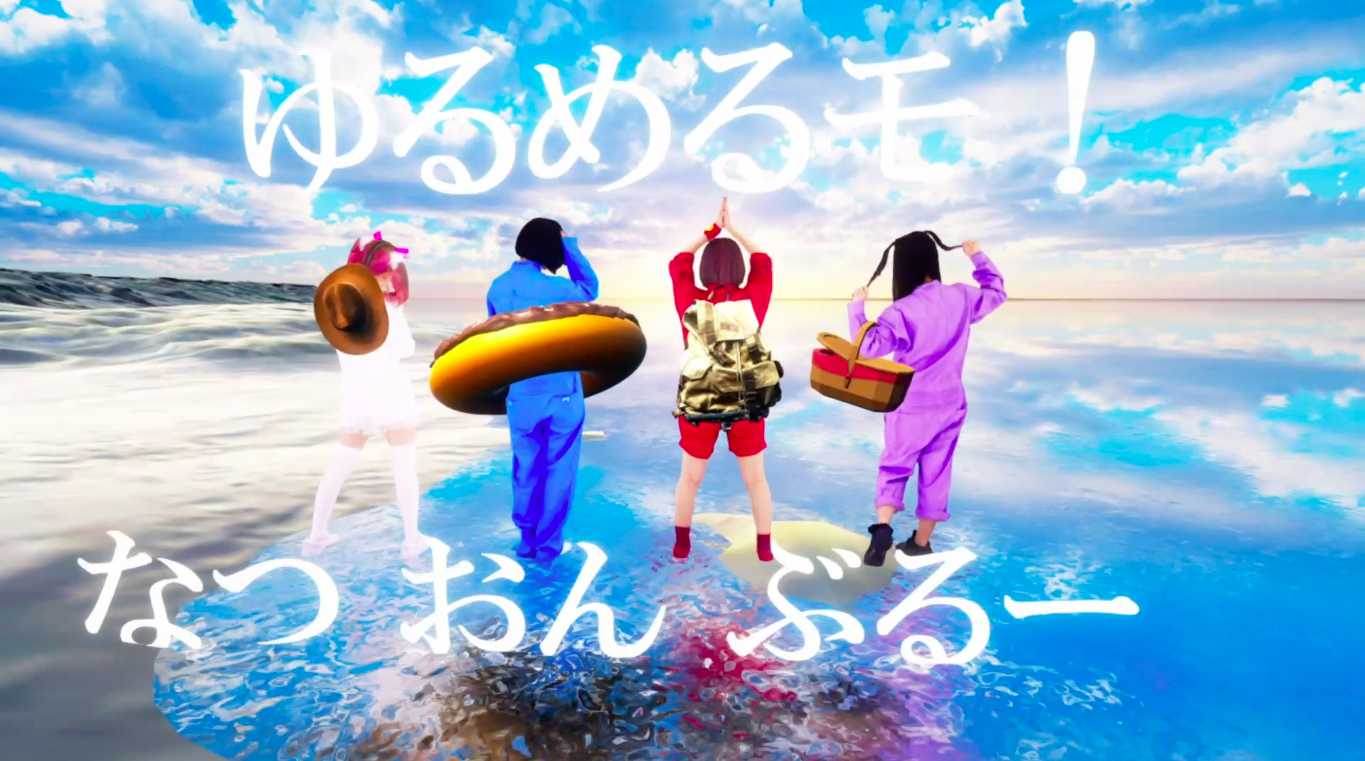 The director of this MV is Mani Kato who provided many works for 'You'll Melt More!' such as 'Nigenai!! (Don't Run Away!)', 'Summer BOKAN', 'Okoranaide(Don't be angry)', 'DAHLIA', etc.
'You'll Melt More!' is now on nation-wide tour in Japan. The 'double' final concerts are planned in Zepp Tokyo and Zepp Namba. The ticket is now on sale.
You'll Melt More! 'Suiken' Tour – 'Double Final' – Tokyo 'Ryu No Ran'
05 January 2019 (Sat) at Zepp Tokyo
You'll Melt More! 'Suiken' Tour – 'Double Final' – Osaka 'Tora No Ran'
26 January 2019 (Sat) at Zepp Namba
https://www.hipjpn.co.jp/archives/51443
'You'll Melt More!' official site
http://ylmlm.net
ゆるめるモ!( You'll Melt More! )x STYLY Collaboration VR Scene
■虎よ(衣装:初期カラーつなぎ)
http://gallery.styly.cc/yurumerumo/435add9e-5795-11e8-b34d-4783bb2170d0
■生きろ!!(衣装:UFO)
http://gallery.styly.cc/yurumerumo/a1d16723-57ca-11e8-b34d-4783bb2170d0
■人間は少し不真面目(衣装:グレーつなぎ)
http://gallery.styly.cc/yurumerumo/b4cbc215-57ca-11e8-b34d-4783bb2170d0
■Hamidasumo!(衣装:黒つなぎ)
http://gallery.styly.cc/yurumerumo/ce4f4c4a-57ca-11e8-b34d-4783bb2170d0
■1!2!かんふー!(衣装:かんふー)
http://gallery.styly.cc/yurumerumo/db27efc4-57ca-11e8-b34d-4783bb2170d0
■もっとも美しいもの(衣装:YOU ARE THE WORLD)
http://gallery.styly.cc/yurumerumo/eabc5ca7-57ca-11e8-b34d-4783bb2170d0
■id アイドル(衣装:bedsidedramaつなぎ)
http://gallery.styly.cc/yurumerumo/fd153285-57ca-11e8-b34d-4783bb2170d0
■ナイトハイキング(衣装:WE ARE A ROCK FESTIVAL)
http://gallery.styly.cc/yurumerumo/09235705-57cb-11e8-b34d-4783bb2170d0
■震えて甦れ(衣装:孤独と逆襲)
http://gallery.styly.cc/yurumerumo/15196d35-57cb-11e8-b34d-4783bb2170d0
■ミュージック3、4分で終わっちまうよね(衣装:ディスコサイケデリカ)
http://gallery.styly.cc/yurumerumo/200d4221-57cb-11e8-b34d-4783bb2170d0
■NEW WAVE STAR(衣装:5周年つなぎ)
http://gallery.styly.cc/yurumerumo/30c1ace7-57cb-11e8-b34d-4783bb2170d0
■天竺(衣装:YOUTOPIA)
http://gallery.styly.cc/yurumerumo/3e3f0183-57cb-11e8-b34d-4783bb2170d0