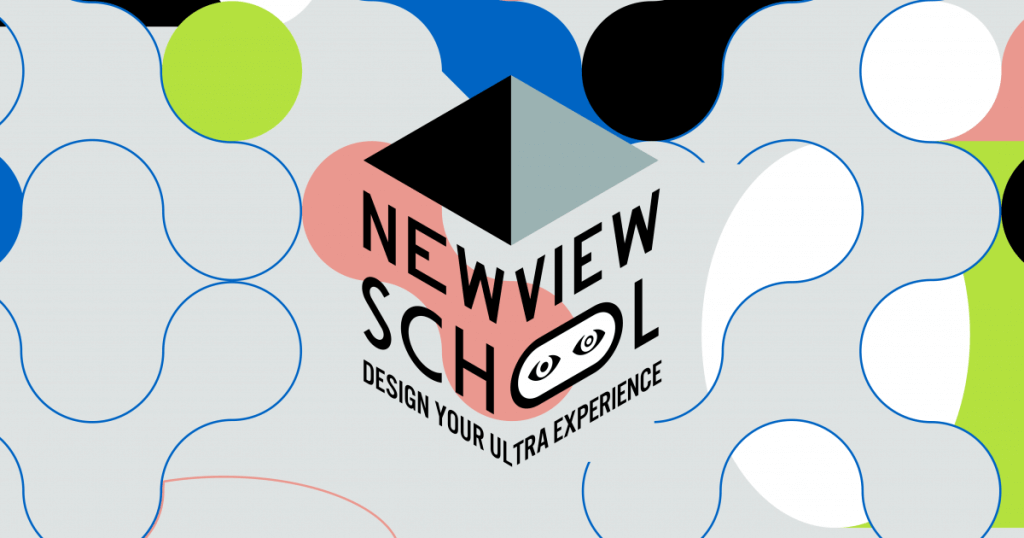 The popular XR ART school NEWVIEW returns to the UK, Japan and Taiwan in 2022, plus expands to Canada for the first time. 
London, UK, 1st March, 2022 – Psychic VR Lab Co. Ltd. is excited to announce the return of the NEWVIEW SCHOOL for 2022. From today, digital artists, fashion designers, music producers, architects and more can apply to join the school and upskill their XR creativity. 
Last year's remote learning was welcomed by participants from across the globe. However, with cities throughout the world now opening up following the pandemic, the NEWVIEW SCHOOL '22 will embrace a hybrid learning model. In-person lectures will be made available for local attendees, while those unable to travel will be granted access to remote learning.
The NEWVIEW SCHOOL, now in its fifth year in Japan, returns to Taiwan for a third year. The UK will host it's second school after a hugely successful debut in 2021. A brand new addition, held in Toronto, Canada, will join this year's agenda. Each school has a unique curriculum tailored to the culture of the local community.
"The NEWVIEW SCHOOL is an exciting opportunity for budding artists to develop their skills further," said Ryohei Watanabe, CMO Psychic VR Lab. "It's not just for experienced artists, but for anyone who's ever considered the possibility of bringing their dreams to life. Fashion designers, architects, gamers and music artists have all been a part of NEWVIEW in the past, and with this year's school we're encouraging more people from diverse backgrounds to join us!"
Each of the international NEWVIEW SCHOOLs will offer curriculums covering a wide variety of technologies supporting AR, MR and VR mediums. From learning the fundamentals of Unity, through optimsation for VR headsets or AR smartphones, and utilising techniques such as photogrammetry and shaders. The curriculum will also offer a comprehensive education in the use of STYLY, Psychic VR Lab's proprietary XR content creation and sharing platform. 
"STYLY and Psychic VR Lab have a very community-minded ethos and are all about embracing our future of mixed realities," said Miriam Arbus, Local Coordinator, NEWVIEW SCHOOL Toronto. "I'm passionate about enabling artists, and in the spirit of experimentation and pushing boundaries, NEWVIEW provides an outstanding educational platform that equips artists and designers to create whatever they dream up."
Applications for all schools begin today, and are open to all creatives worldwide. Please visit https://newview.design/london-2022 or https://newview.design/toronto-2022 for more information on your local NEWVIEW SCHOOL.
For more information on Psychic VR Lab, STYLY and NEWVIEW, please contact:
Kevin Joyce kjoyce@tinybrains.uk (English)
Kaori Yamashita kaori@psychic-vr-lab.com (English)
Ryohei Watanabe ryohei@psychic-vr-lab.com (Japanese)
About STYLY
The STYLY – XR Creative Platform is an innovative solution to virtual reality development and distribution. In 2016, Psychic VR Lab embarked on creating a simple to use VR development tool for fashion designers to express their unique style. After years of development, the STYLY platform grew to include the easy integration and importation of numerous media types and files from a variety of popular software used by creators. Since its release, STYLY has attracted global attention from artists and creators, award shows, governments, and news outlets. In 2020, STYLY won the VR Focus' – Better-Than-Reality Award in the category of 'Best AR Application.' STYLY has also gained the attention of major municipalities for its ease of use in supporting digital twin initiatives throughout Japan. 
STYLY Official Site: https://styly.cc/
STYLY GALLERY: https://gallery.styly.cc/
STYLY Mobile:
Google Play | https://play.google.com/store/apps/details?id=com.psychicvrlab.stylymr
App Store | https://itunes.apple.com/jp/app/id1477168256?mt=8
About Psychic Lab VR
Psychic VR Lab Co., Ltd. is the developer studio behind STYLY, an XR creative platform built for the creation, development, and distribution of XR content using just a web browser. The company started in Tokyo, Japan in 2016 with a core belief in the future of XR as a mainstream product and service. STYLY was launched as a creative tool specially designed for lifestyle artists passionate in the genres of fashion, art, music, culture, and more. 
For more information: https://psychic-vr-lab.com/.