Psychic VR Lab, a provider of the VR creative platform STYLY (https://styly.cc), organized a STYLY workshop at 15 universities in Pakistan for the promoting of VR.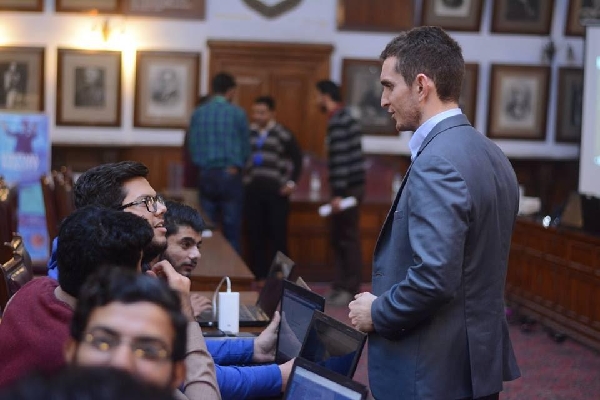 2,165 participants, including students and academic staff, joined the workshops
Students in Pakistan have a wide range of talents. They are highly motivated while VR studies and related resources are not pervasive. Aiming at the development of VR market in India and Pakistan, we offer lectures and tools of VR directly to students so they could understand more about their options to express themselves in 3D space. It is also like a training for creators of the next generation.  
Comparison between Japan and Pakistan
カテゴリー
パキスタン
日本
%
人口
211百万
127万
40%以上
人口予測
230万
124万
46%以上
面積
881,913km
377,972km
57%以上
貨幣
1 ルピー
1 円
同じ
言語
ウルドゥー語,英語, Punjabi語,
Pashto語,Sariki語, Sindhi語, Balochi語
日本語
Pakistan is the fifth most populous country in the world with a population of 2.11 million. 60% of the population is young (under the age of 30) and the IT industry has been growing in recent years. Local governments and various organizations have invested billions of dollars in the Pakistani economy. China, through the Sino-Pakistani Economic Corridor (CPEC), has also invested $6.2 billion in Pakistan's construction and transportation infrastructure. Yet, the VR industry remain new and STYLY would love to contribute. To establish the VR industry and student community in Pakistan, STYLY is planning a 2
nd
 time visit to the region in the near future to  work with the universities for  VR labs and workshops again.
Venue
The workshops were held in Punjab region of Pakistan from January 17-26, 2018. Universities we have visited- University of Central Punjab, University of Education, Punjab University of Information Technology (New and Old Campuses), Information Technology University, Virtual University, Hajvery University, Government College University, Superior University, COMSATS Institute of Information Technology, University of Management and Technology, University of Engineering and Technology, University of South Asia, National University of Emerging Sciences, and Lahore University of Management Sciences.