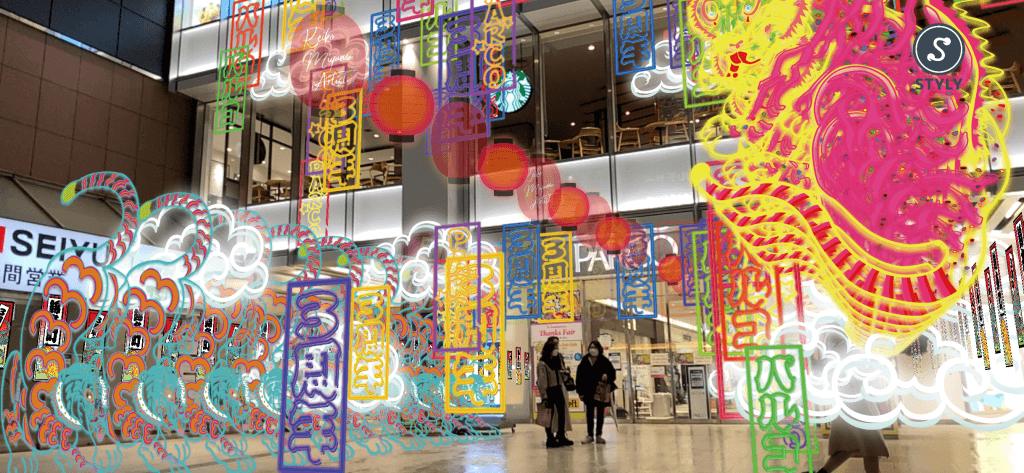 At the main entrance of Kinshicho PARCO, which celebrated its third anniversary, AR works created with STYLY Mobile for the third anniversary is now available.
The AR works are different during the day and at night, allowing visitors to enjoy different works.
The main work of the 3rd anniversary is the zodiac sign of 2022, MIZUNOETORA, drawn by artist KEIKO MIYAMA.
MIZUNOETORA means "to stand up anew" or "to grow from birth," and the wish that everyone will stand up and grow is expressed in the design.
Friday, March 18 – Sunday, April 3, 2022(Japan Time)
Daytime version: 7:00 – 16:59(Japan Time)
Night version: 17:00 – 6:59(Japan Time)
KEIKO MIYAMA(Artist)
Graduated from the Department of Printed Textiles at the Royal College of Art in England.
In 1995, she joined Kansai Yamamoto's office, where she was in charge of patterns and textile design as a member of the collection staff, and has also created patterns in collaboration with Louis Vuitton and KENZO. She has produced textile designs for TOPSHOP, etc.
In 2021, she held a solo exhibition, "This World, That World," at Hillside Terrace in Daikanyama, Tokyo.
In April of this year, she plans to launch "MONICAL," a lifestyle brand for which she will serve as director.