The business is transforming urban spaces with experiential media & XR tech thanks to investment partners.
Tokyo, Japan, 31st March 2023 – Psychic VR Lab Co, the creator of XR metaverse platform STYLY has completed a new $3.7million (Yen¥500 million) raising, bringing the company's total funding amount to $19.7 million (Yen¥2.6 billion).
The funding round featured the participation of J. CVC fund (GP) invested by Front Retailing Co., Ltd., Nippon Steel Kowa Real Estate Co., Ltd., TV Asahi Holdings Co., Ltd., JR West Japan Innovations Co., Ltd., and Tokyu Fudosan Holdings Co., Ltd.: SBI Investment Co., Ltd.
Psychic VR Lab is developing the real metaverse platform STYLY. Utilising a new function that can import 3D geomap data of cities as templates into STYLY, the platform can create and distribute XR content linked to cities worldwide. These include Shibuya, Shinjuku, Kumamoto, Niigata, Tsukuba, New York City's Times Square, the Barcelona Sagrada Familia and other urban spaces around the world.
After completing the technical verification phase that has been underway since 2019, Psychic VR Lab will develop its urban XR entertainment business. This will see the merging of music, video, and art together with commercial facilities in partnership with media and IP holders who have invested in the recent funding round.
"The successful conclusion of this recent funding round highlights the drive to expand XR into every facet of life. Making our cities smarter and more adaptable using immersive technology," said Ryohei Watanabe, CMO Psychic VR Lab. "We're extremely grateful to our investors who have shown that Psychic VR Lab and STYLY are at the forefront of this technology, merging information and entertainment into an ever-evolving user experience."
What is urban XR entertainment?
Urban XR entertainment is a new form of entertainment that extends urban spaces themselves as experiential media using XR technology.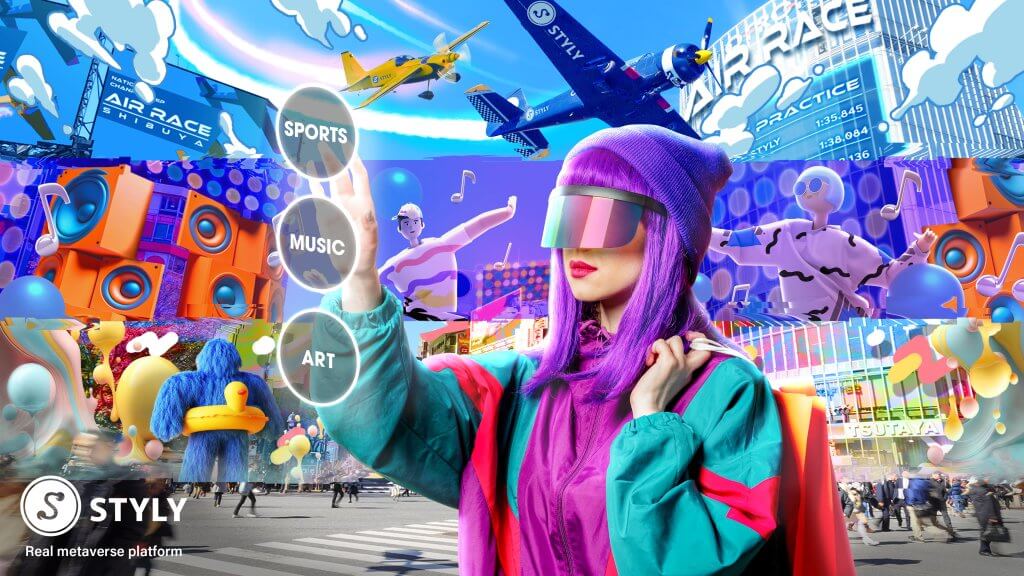 Users can experience a variety of XR content, like switching TV channels when visiting the city. In the physical world, XR technology overlays merges within our urban built environment, creating highly immersive experiences of digital entertainment, or data-driven smart city guides that place information in the hands of everyone. Enabling a hybrid experience will create a positive flow of people in the city.
Looking ahead to the coming XR era, combining AR (augmented reality) as well as MR (mixed reality), STYLY will also offer rich, immersive experiences for those who purchase paid tickets using mobile devices. In addition, Psychic VR Lab plans to package the initiatives implemented in one area and expand them globally. Together with capital and business alliance companies with real world locations, we will accelerate the development of a show-of-office business model that can provide excitement to more people.
Role of Urban XR Entertainment
In response to the outbreak of the new coronavirus, we have changed from a real-life society to a contactless online society over the past few years. While the buzzword "metaverse" became popular as an alternative to real space, many people realized the high value of experience in real life. At Psychic VR Lab, we believe that in the post-Covid era, it is important not to "replace" real space, but to open the metaverse to cities and create a new hybrid lifestyle that can increase the experience value of the city itself by "fusing" the real and the virtual.
This year, when the number of tourists is expected to increase due to the lifting of the ban on inbound tourism, Psychic VR Lab will promote urban XR entertainment that improves the attractiveness of locations and revitalizes tourism in an unprecedented way.
Investor Quotes
J. Front Retailing Co., Ltd. Executive Officer and Managing Director, Group Digital Management Department Manager, Naotaka Hayashi:
"I met Psychic VR Lab in 2016, which is said to be the first year of VR and sympathized with the company's vision of "creating an era of wearing space." Since then, we have been working together to update the experience value of commercial facilities, mainly in Shibuya PARCO, using "STYLY". Our group operates commercial facilities such as Daimaru Matsuzakaya Department Store Japan Parco, and GINZA SIX and develops real estate throughout Japan. Through this investment and business alliance, we hope to create a space full of art and entertainment that provides unprecedented experiences through synergies with the company and its stakeholders and contribute to improving the attractiveness of the city."
Nippon Steel Kowa Real Estate Co., Ltd. President and CEO Yasuhiko Imaizumi:
"Until now, the real estate business has been limited to real space, but with the rapid evolution of XR technology, a world where the real and virtual are completely integrated is just around the corner. STYLY, a real metaverse platform provided by Psychic VR Lab, by joining hands with digital artists and digital creators who have never been involved in urban development, we will be able to create added value that goes beyond preconceived concepts. It can be said that it is an innovation in urban development. Nippon Steel Kowa Real Estate will create new value in real estate together with Psychic for a future in which new lifestyles and work styles that fuse the real and virtual will become commonplace."
TV Asahi Holdings, Inc.:
"The TV Asahi Group is promoting a "360° Strategy" to maximize the value of its content based on the basic philosophy that "the source of all value lies in content. We are already producing and broadcasting programs and developing IP with a focus on the "Metaverse" as one of the new business areas utilizing our content and are creating new entertainment and lifestyle infrastructure by combining Psychic VR Lab's AR/MR technology and driving force that overlaps the real and virtual with TV Asahi's content development capabilities. and lifestyle infrastructure."
JR West Innovations Co., Ltd. President Makoto Okuno:
"This investment collaboration is part of the JR Japan West Group's efforts to realize its digital strategy and will be a rapid social transformation during the Corona disaster by expanding railway assets such as
stations with various functions and social characteristics that have been refined in the "real" to "virtual" with XR technology and organically linking spaces. We would like to take on the challenge of creating new value while responding to these issues.
"Together with Psychic VR Lab, which strongly aspires to the XR entertainment business based on "real", we will create countless XR services linked to all experiences such as entertainment, art, travel, tourism, and business in the real world, including the West Japan area, so that people can connect, We aim to realize a safe and prosperous society that brings smiles to people's faces."
Tokyu Fudosan Holdings, Group Planning Strategy Department, Group Strategy Leader, Fumiaki Sato:
"The Tokyu Fudosan HD Group has been promoting open innovation by launching a program in 2017 with the aim of co-creating value with start-up companies.
"We have been exploring the use of VR and the metaverse in our business as areas of interest, but we have not been able to find effective collaboration in the real world. We have decided to invest in the real metaverse worldview, which expands the urban space developed by Psychic VR lab with XR technology, because we believe that it has a high affinity with our business of providing customers with a real place, and that we can create new value that has never been seen before. With this investment, we hope to accelerate business collaboration at the conceptual stage and contribute to the further growth of Psychic VR lab."
About partners
About J. Front Retailing
J. Front Retailing is a group that develops a wide range of businesses, including trading companies, construction and interior decorations, and credit finance, centered on the Daimaru Matsuzakaya Department Store, which has stores in major cities nationwide, and PARCO, a shopping center.
Based on the Group Vision of "inventing a new happiness for daily life," we aim to produce spiritually rich lifestyles and create unique towns that coexist with the community.
About Nippon Steel Kowa Real Estate
Based on the mission of "facing people and creating towns," we are a comprehensive developer that develops and leases office buildings such as the "InterCity" series and high-end rental condominiums for foreigners, and condominium sales business, condominium revitalization business, urban redevelopment business, etc. represented by the "Livio" series. We respond to various real estate needs from our customers by leveraging our unique strengths in proposing real estate solution services that incorporate financial technology based on our cooperative relationship with Mizuho Financial Group, and our experience and know-how in regional revitalization cultivated through the development of large-scale idle land by the Japan Steel Group.
About TV Asahi Holdings Corporation
It is engaged in multifaceted initiatives such as the production and broadcasting of programs centered on terrestrial digital broadcasting, distribution, commercialization, and international event business. In the medium-term management plan "TV Asahi Management Plan for a New Era 2023-2025," based on the basic philosophy that "the source of all value lies in content," we will develop content in all
directions and maximize its value by "360° Strategy". We aim to contribute to the realization of a society where people can continue to have dreams and hopes.
About JR West Innovations
As a 100% subsidiary of West Japan Railway Company, it was established with the aim of contributing to regional revitalization through open innovation and growing the Group and is responsible for the operation of corporate venture capital, new business creation, and business operation in order to create new value together with various businesses and communities.
About Tokyu Fudosan Holdings
As a corporate group that continues to create value, the Tokyu Fudosan Holdings Group aims to solve social issues through its business activities and achieve sustainable society and growth together with stakeholders. Under the leadership of Tokyu Fudosan Holdings, a holding company, the Group is engaged in a variety of businesses centered on five major companies: Tokyu Land Corporation, Tokyu Community, Tokyu Livable, Tokyu Housing Lease, and Student Information Center. ASSETS: https://drive.google.com/drive/folders/1SlvR_FO2r7T-fomdodyIr9sPmPuuP7m1?usp=sharing
For more information on Psychic VR Lab please contact: Kevin Joyce kjoyce@tinybrains.uk (English) Kaori Yamashita kaori@psychic-vr-lab.com (Japanese)
About STYLY
STYLY is a VR/AR/MR creative platform for artists to express themselves. STYLY is an app used to create conceptual spaces, installations and galleries that visualise imagination freely without any constraints. With STYLY, XR spaces can be created using only a web browser, and it is compatible with both Windows and Mac, as well as other computer environments. STYLY Official Site: https://styly.cc/ STYLY GALLERY: https://gallery.styly.cc/ STYLY Mobile: Google Play | https://play.google.com/store/apps/details?id=com.psychicvrlab.stylymr App Store | https://itunes.apple.com/jp/app/id1477168256?mt=8
About Psychic Lab VR
The studio behind STYLY, a cloud service as a creative platform in this xR era to build and distribute xR spaces with just a browser. We promote the conversion of art, fashion and lifestyle interfaces to xR aiming to create xR spaces for all artists. https://psychic-vr-lab.com/