The VR/AR/MR creative platform "STYLY (https://styly.cc)" provided by Psychic VR Lab (Head Office: Shinjuku-ku, Tokyo; President: Masahiro Yamaguchi) has been adopted as a content distribution platform for "fable in sleep", a digital art exhibition held by virtual artist "somunia".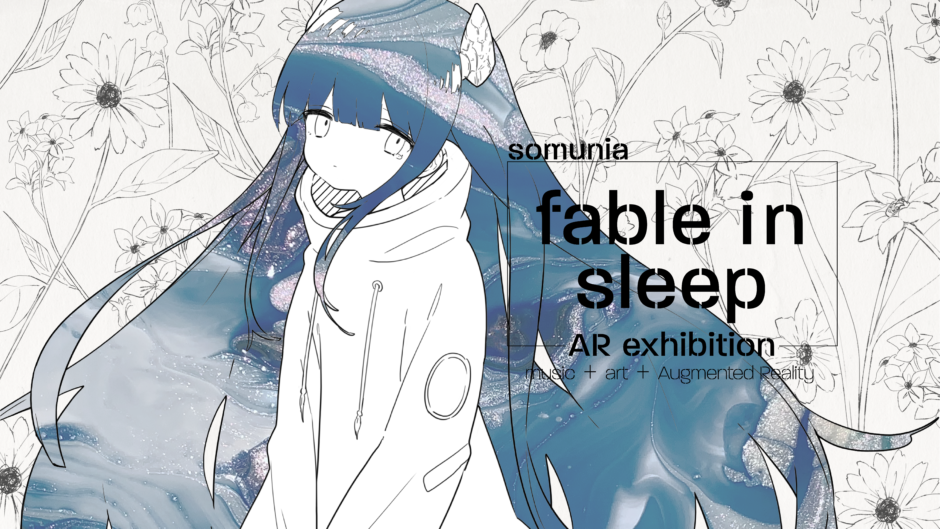 What is the exhibition "fable in sleep"?
The fable in sleep exhibition (a.k.a. fis exhibition) is an exhibition that fuses music, art and AR, allowing you to enjoy the songs on somunia's 2nd EP "fable in sleep", which was released last year.
The exhibition was originally planned to be held in the real world, but was cancelled in order to prevent the spread of the new coronavirus infection, and it was decided to hold the exhibition as an exhibition that can be enjoyed anytime, anywhere using STYLY Mobile.
Contents of the AR exhibition (Contents of the exhibition are subject to change)
Illustrations of the songs included by five illustrators
Street snap-style illustrations in the special booklet "NEAR"
Voice guidance by somunia
Limited goods sales (made-to-order mail order)
etc…
The creator of the AR contents will be released on 3/25.
Read more here: https://fict.app/somunia-ar-exhibition
Overview
Period: Friday, March 25 (12:00) – Tuesday, April 7 (21:00)
How to experience: You can use your smartphone or tablet to enjoy the art floating in the space by reading the AR exhibition's STYLY marker (QR marker), which is published on somunia's official Twitter site, with the application.
Smartphone application "STYLY".
Google Play | https://play.google.com/store/apps/details?id=com.psychicvrlab.stylymr
App Store | https://itunes.apple.com/jp/app/id1477168256?mt=8
You can also view the "Internet Venue Under Construction" content, which is now available for public viewing, here.
(*The main content of the exhibition will be available to experience from another STYLY marker that will be announced from 3/25 at 12:00- via somunia's official twitter (https://twitter.com/she_is_wired)).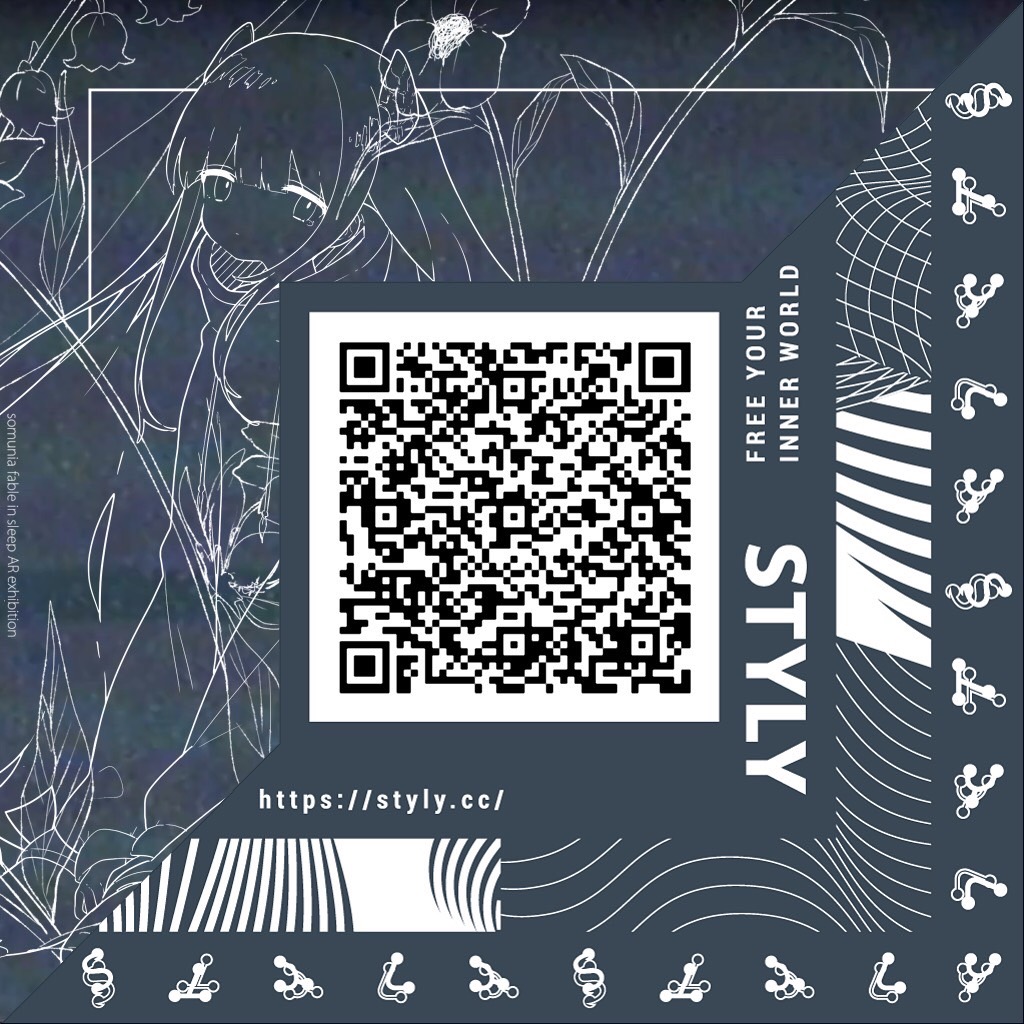 What is somunia?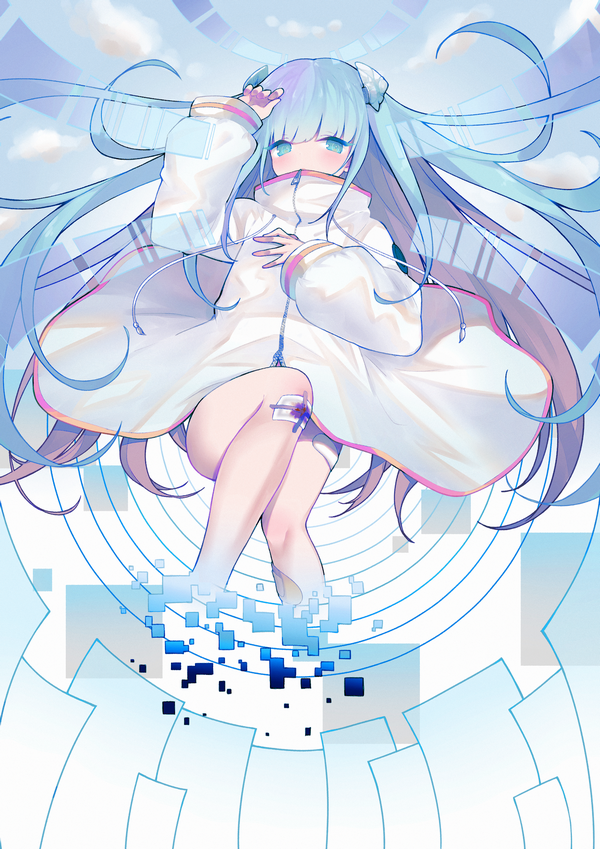 A virtual artist who is "singing in a room somewhere on the Internet.
She has a whispering voice and lyrics that form a unique worldview. The song "Twinkle Night" was released last year and has over 2 million views on Youtube.
somunia Twitter: https://twitter.com/she_is_wiredsomunia
Youtube: https://www.youtube.com/c/somuniaroom
About STYLY
STYLY is a VR/AR/MR creative platform that provides artists with a place for spatial expression.
By utilizing STYLY, you can construct a variety of spaces that express the imagination of creators without limit, such as conceptual shop spaces, installations, and galleries. Through this space, we are able to share experiences to the world of the Internet that were not possible in reality until now.
It is possible to create VR space only with a web browser, and STYLY is compatible with Mac and Windows, and can be used on popular PCs other than VR-compatible PCs. In addition, since it is linked to services such as Youtube, SoundCloud and Instagram, as well as 3D software such as MAYA and Blender, you can take in various materials without complicated operations and utilize them in the creation of space.
In the spring of 2020, it will be possible to create and distribute content for AR with STYLY Studio, a VR production tool that is currently being offered.
Even if you do not have a VR-enabled PC or programming skills, you can import your favourite creatives into STYLY Studio, which is deployed in a web browser, and deliver AR content for mobile.
STYLY Official Site: https://styly.cc/
■ Psychic VR Lab Inc. (https://psychic-vr-lab.com/)
Head office location: MORIAURA 2F, 1-34-2 Shinjuku, Shinjuku-ku, Tokyo
Representative: Masahiro Yamaguchi, Representative Director
As a creative platform in the age of virtual reality (VR), we are developing "STYLY", which is a cloud service that allows you to build and distribute VR spaces with only a browser. We are promoting VR in interfaces related to art, fashion and lifestyle with the mission of creating a world where all creators can create VR spaces.
<Inquiries regarding this matter>
Psychic VR Lab Inc.
Attn: WATANABE
E-mail address: info@psychic-vr-lab.com