~Visualize the "Sky Road" of drones with XR and promote social acceptance~
From January 19, 2023 to March 31, 2023, together with KDDI Corporation, KDDI Smart Drone Co., Ltd., and TIER IV, drones and robots will be used in Tsukuba City, Ibaraki Prefecture, which is a "super city-type national strategic special zone" of the Cabinet Office. Together, we will conduct a demonstration experiment (hereinafter referred to as "this demonstration") for the delivery of PCR samples and food.

This demonstration will be carried out on the assumption that the drone will fly in an urban area without assistance. The drone would be outside the visual line of sight (Level 4 flight) of a pilot. Drones will be used to transport PCR samples from the roof of the hospital to the laboratory, and the quality and transport efficiency will be verified.
Furthermore, by showing the drone's "sky road" with XR content and constructing a system that can visually recognize the drone, we are able to gain recognition and improve acceptance from local residents. This demonstration is the first initiative in Japan to show the drone's flight route with XR content for the purpose of notifying third parties (local residents), such as notifying pedestrians with a "red light" when the drone crosses the sidewalk. It will be a new means of risk communication between local residents and unmanned aerial vehicles.
At the same time, we will also carry out food deliveries that combines drones and delivery robots. Food will be delivered by multiple drones on the outbound and return trips, and the last mile is delivered by a delivery robot traveling on public roads to individual homes. In addition to verifying delivery efficiency, we will also gained valuable insight for potential  issues with delivery robots on public roads.
About Tsukuba city
In April 2022, Tsukuba City will realized data linkage and advanced services accompanied by bold regulatory reforms, and become a "super city-type nation". The aim is to solve regional issues in various fields such as transportation/logistics, medical/nursing care, and child-rearing. designated as a special strategic zone. Super cities are expected to lead the Digital Garden City Nation Plan, which aims to realize a sustainable economy and society by revitalizing rural areas while making the most of local individuality through digital technology. Through this demonstration, we will build a utilization model for drones and delivery robots in the urban area of ​​Tsukuba City, and work on identifying issues and formulating rules for the social implementation of mobility services.
About this demonstration
Overview
PCR sample transportation, XR visualization of the drone's "Sky Road"

Background
The amended Civil Aeronautics Act, which came into effect on December 5, 2022, enables level 4 flights, and expectations are rising for the use of drones in urban areas.
In order to realize the social implementation of drone logistics, it is necessary to organize the transportation rules for unmanned aircraft in various guidelines (Note 2), and it is necessary to increase the acceptance of local residents when flying over manned areas.

What we do
The collected PCR samples will be transported by drones to identify service and operational issues. We will conduct a comparative evaluation with specimen transportation methods such as cars, and verify the quality and transportation efficiency of PCR specimens.
In addition, the "5G XR VIEWER SATCH X powered by STYLY" (hereafter, "SATCH X") app provided by KDDI will be used to display the "Sky Road" (visualize the drone's flight route) through smartphones and digital signage. In cooperation with actual drone operation information, pedestrians are notified with a "red light" when the drone crosses the sidewalk.

Schedule
Transport of PCR samples:  January 19, 2023 to February 27, 2023
"Sky Road": January 19, 2023 to March 31, 2023
*During the period when PCR samples are not transported, the flying drone will be reproduced in AR for the Sky Road.
Delivery Route
Drone will fly about 0.3km from Tsukuba Medical Center to Tsukuba i-Laboratory.
Drone to use
・PF2-LTE (ACSL)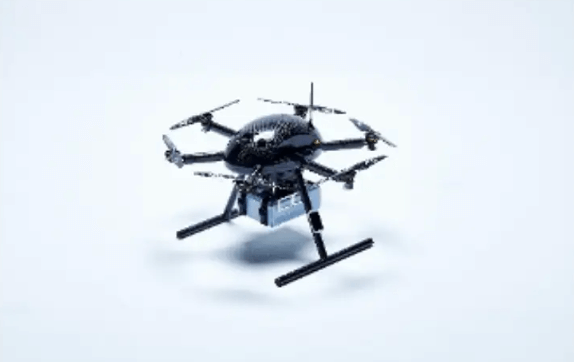 ---
2.Food delivery that combines drones and robots
Background
Delivery robots (low-speed, small size) will be able to run under the same traffic rules as pedestrians as "remotely controlled small vehicles" under the revised Road Traffic Law that came into force in April 2023. In order to realize safer driving on public roads, it is necessary to conduct demonstrations based on specific cases such as food delivery and identify issues.
What we do
Residents use the telemedicine app LEBER (https://www.leber.jp/) to order products necessary for medical treatment, and a drone that remotely and autonomously flies via mobile communication delivers them from the local supermarket to the community center. At the community center, products are transferred to a delivery robot and automatically delivered to the home of the customer who placed the order. The aim is to propose appropriate systems and regulations, such as separating pedestrians from remote-controlled compact vehicles according to the environment, such as the width of sidewalks.
In addition, a total of 3 drones, 2 drones for food delivery (outbound/return) and 1 drone for PCR sample transport, will be flown at the same time and remotely controlled by the drone operation management system to ensure safety, including operations. 
Schedule
February 20, 2023 to February 27, 2023
Delivery Route
From the supermarket "Food Square Kasumi Ushiku Kariya Store" to the Tsukuba City Community Center, the flight path is about 1.5 km, and the delivery robot runs to the home of the orderer from the community center.
Drone to use
PD6B-Type3(Prodrone)

Automatic delivery robot (Kawasaki Heavy Industries, Ltd.)
2.Role of each company
KDDI

Overall business planning and supervision, consignment business management, construction of communication environment

KDDI Smart Drone

Drone operation and verification, drones, and automatic delivery robots

Proposals for building a multi-sharing model and provision of traffic management systems

TEIR Ⅳ

Operation, technology and service verification of automatic delivery robots

Psychic VR Lab

Digital twin development and content development of major spots in Tsukuba City

Development and provision of educational programs
3.Supporters
| | |
| --- | --- |
| Tsukuba City | Advice on business, promotion of public-academic-private collaboration for social implementation, consensus building with residents |
| University of Tsukuba | Cooperation with sample analysis and transportation operations |
| University of Tsukuba Hospital | Cooperation with sample analysis and transportation operations |
| Tsukuba i-Laboratory Limited Liability Partnership | Cooperating with sample transportation operations |
| Tsukuba Medical Center | Cooperating with sample transportation operations |
| LSI Medience Co., Ltd. | Cooperating with sample transportation operations |
Reference
About SATCH X
"SATCH X" is a 5G/XR viewer that has an AR content display function by image recognition, a QR code reader function, an XR content display function by markerless spatial recognition, and a function that can display XR content created by general creators.. In addition, since "STYLY Gallery" (Note 3) can be used seamlessly from "SATCH X", it is possible to view and experience more than 70,000 unique XR contents created by artists and creators around the world. By enhancing the VPS (Note 5) function with the ARCore Geospatial API (Note 4) provided by Google, it is now possible to view XR content superimposed on the real landscape from any position without any discomfort.
How to view "Sky Road"
・It is possible to view the Sky Road between "University of Tsukuba Hospital Medical Center" and "General Medical Examination Center" via "Tsukuba Koen-dori".
・Start "SATCH X" from your smartphone and select "Super City Tsukuba" from "Current Events". By selecting the title "Drone Sky Road" and holding the smartphone over the surrounding space, the app can read information such as surrounding buildings and view experiential XR content.
・Even if you do not have a smartphone or "SATCH X", you can view the experience-based XR content through the digital signage installed on "Tsukuba Koen-dori".
About the App 'LEBER' 
An application provided by Lieber Co., Ltd. that allows you to consult with a doctor on your smartphone 24 hours a day, 365 days a year. Currently, more than 290 doctors are registered, and even those who have difficulty going to hospitals and clinics due to refraining from going out can easily consult doctors through the app. From April 9, 2020, as a joint project with Ibaraki Prefecture, we have been providing free medical consultation services to Ibaraki Prefecture residents through LEBER.
KDDI's Efforts
KDDI has set KDDI VISION 2030 (https://brand.kddi.com/managementplan/kddivision2030/), and is conducting research in technology areas from the perspective of consumers to create a business model looking ahead to 2030 in its medium-term management strategy. We are working on "Life Transformation (LX)" to promote. By combining cutting-edge technologies such as drones and Metaverse, we aim to create new businesses that bring about innovation in diversifying consumption and experience behavior.