Introducing "Loova VR", a collaborative VR work by singer/producer aint lindy and artist JACKSON kaki. This article explains the works' VR world, which combines aint lindy's worldview of pop art and JACKSON kaki's approach to Internet art.
We hope you enjoy the work even more after reading this article!
Artist Profile: aint lindy
aint lindy is a singer/producer based in Tokyo. Their works have a danceable rhythm and sound, giving the sense of a lighthearted yet solid base sound.
This time, aint lindy collaborated with JACKSON kaki who created the music video for the newly released "Loova".
"Loova VR" is based on the world presented in the original music video.
Come experience the world of "Loova" in VR!
About "Loova VR"
When you enter the VR world of "Loova", you will see a space filled with a variety of highly saturated objects and dancing people in front of you. Each distinctive object is placed randomly.
The dancers all perform the same movements, appearing almost puppet-like.
What is the significance of each object? Enjoy the music as you explore.
The world of "Loova" was created to reflect pop art and the current state of the Internet.
Pop art is an art movement that occurred in the 1960s. To be considered pop art, works should reflect the state of popular media in a society of mass consumption and mass production.
One of the most famous pop artists is Andy Warhol, known for his many paintings of actress Marilyn Monroe.
He did not paint Marilyn Monroe because he liked her, but rather because he wanted to create paintings that depicted the "situation" occurring in advertisements at the time.
This leads to how we interact with the current state of the Internet.
The Internet today allows us to create our "identity" by posting all kinds of images through social media and other means.
It is a modern situation in which we have come to wear the popular mass-produced "images of the Internet" as part of our digital identity.
"Loova VR" is a space that presents a collection of "random images" arranged to be worn and mass consumed.
It is a virtual space created in response to the modern age of wearing—consuming—popular images.
How to Experience a VR Scene
If you are accessing this page from a smartphone, please click on the "Try Now" button (*If you are experiencing the scene on a smartphone for the first time, please also refer to the following instructions).


After clicking, the following screen will be displayed.
If you have already downloaded the STYLY Mobile app, please select "Activate in STYLY app".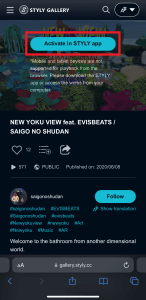 If you have a HMD device, please select "Experience in VR" from your PC (web browser).

Download the STYLY Mobile app
Download the Steam version of STYLY app
https://store.steampowered.com/app/693990/STYLYVR_PLATFORM_FOR_ULTRA_EXPERIENCE/
Download the Oculus Quest version of STYLY app
https://www.oculus.com/experiences/quest/3982198145147898/
For those who want to know more about how to experience the scene
For more information on how to experience VR scenes, please refer to the following article.

Edited by SASAnishiki
Translated by passerby1