In this article, we introduce Face, a virtual reality (VR) creation, by artist Akio Onishi. He creates two-dimensional works and installations, and he recently participated in NEWVIEW CYPHER 2021, where he displayed his first VR work. As you read this article, you will learn more about Onishi's career as an artist and some key points for viewing her work.
About Akio Onishi
Born in Okayama, Japan, in 1996, Akio Onishi graduated from Kyoto Seika University, Faculty of Design, Department of Illustration in 2019. Using techniques such as printing images of anonymous people on paper and drawing compressed versions of their faces, he attempts to represent the complex emotions within human beings and their superficial relationship with society.

(Translated quotation from NEWVIEW CYPHER official website https://newview.design/cypher)
Onishi has participated in exhibitions of various sizes at GALLERY KTO; the National Art Center, Tokyo; CALM & PUNK GALLERY, and others.
Akio Onishi CV: https://docs.google.com/document/d/1usOZf_OX-dfhMBc-G_5R5d4ZWb9woJJgV5DhsmFbEgA/edit
Akio Onishi on Twitter: https://twitter.com/chibakeru
About face
At the center of Onishi's VR work, Face, "faces" from his previous works rotate around the scene.
Each facial object is believed to have been created by pasting a PNG image of a face as a texture onto a three-dimensional computer graphic (3DCG) object, which is available by default in STYLY. While the faces in Onishi's work appear "normal" when they are painted on a canvas or other medium and displayed in a gallery, the facial objects he uses in VR are "data" objects.
The fine bumps and unevenness of the canvas are left on the "data faces," giving them a unique texture. Now that these faces, drawn on paper in reality, have been converted into 3DCG data, they can be perceived as newly constructed images. As they automatically rotate and overlap, the faces are freed from the physical laws of reality, creating a "sense of presence" as data.
What can the viewer perceive by looking at the "faces" in this virtual scene?
Onishi's 2021 solo exhibition "paper craft" described the following statement:
I create works that consider the relationship between humans, existence, self, and others, which has been changed by the contemporary environment.

In today's society, the online and offline worlds, including social networking services, have become seamless, and reality and fiction are becoming one and the same. There is also a sense that the boundary between society and the individual is becoming extremely blurred.

A society that is open and always connected to everyone can be said to be a constricted society in which each person monitors the other.

I am thinking about the sense of discomfort we have in this society that continues to rotate without a break.

(Quoted from AKIO ONISHI Solo Exhibition Paper Craft http://www.kunstarzt.com/Artist/ONISHI/akio.htm )
When Onishi uses contemporary people as a motif, he observes their "existence" on the Internet and creates works by depicting their faces where data is handled—in reality. Thus, it seems ironic that he would use VR to "remorphize" this work.
What can we imagine by looking at the data faces? Onishi's original, powerfully drawn images have been replaced by data into a simple state of 0 and 1. These images seem to speak to us, as if to say that perhaps this simple state can also be superimposed on contemporary people.
How to experience a VR scene
If you are accessing this page from a smartphone, please click on the "Experience the Scene" button (*If you are experiencing the scene on a smartphone for the first time, please also refer to the following instructions).


After clicking, the following screen will be displayed.
If you have already downloaded the STYLY Mobile app, please select "Continue on Browser".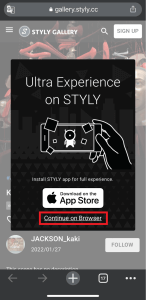 You can then select "Play on Mobile App" to experience the scene.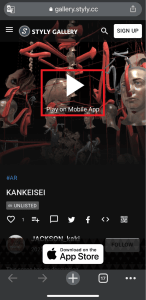 If you have an HMD device, click the "Experience the Scene" button from your PC (web browser), then click the VR icon on the scene page.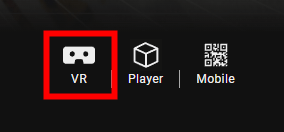 Download the STYLY Mobile app
Download the Steam version of STYLY app
https://store.steampowered.com/app/693990/STYLYVR_PLATFORM_FOR_ULTRA_EXPERIENCE/
Download the Oculus Quest version of STYLY app
https://www.oculus.com/experiences/quest/3982198145147898/
For those who want to know more about how to experience the scene
For more information on how to experience VR scenes, please refer to the following article.