This article introduces the work [gap] by designer / artist Shoronpo.
This is a work that won SILVER at the NEWVIEW AWARDS 2021.
The themes are design, observation of space, and expansion by XR, and we will discuss how to appreciate each of them.
About Shoronpo.
"I am a designer / artist.
In my work, I observe and analyze objects and phenomena and connect elements extracted from these observations. Through linguistics and semiotics, I incorporate people's perceptions of things into my observational perspective.

(Quoted from NEWVIEW official website: https://newview.design/en/works/gap/)
Twitter:https://twitter.com/yamucyaoishii
Instagram:https://www.instagram.com/yamuyamu_cya/
While creating works in graphic design and visual design, I participated in the NEWVIEW SCHOOL in 2021 and began working on VR.
2021年
今年はたくさん挫折しましたね
それから沢山遠回りしましたね
ザクッとまとめたので是非見てやってください pic.twitter.com/izEINACzQZ

— しょーろんぽー。 (@yamucyaoishii) December 31, 2021
About [gap]
This work goes through a "narrow space."
The first scene points to the space between two concrete walls.
The signs lead into this space.
Then, a large number of signs cover your view.
The signs include stop lines and stop signs. It might be a good idea to stop here and take a look around.
There is a small hole in this image. Is this hole a path?
On this road, you will find…
As such, this work conveys an experience of moving through a narrow space within everyday life.
The author explains the work as follows:
The concept of the work is 'narrow space.' It is a work that revels in the excitement of passing through narrow spaces, which are set in everyday motifs and the everyday world.
When I was little, I remember wanting to go through narrow gaps and spaces. 'Narrow' may feel oppressive and stressful. However, the 'narrow space' may give a relaxing effect and a feeling of excitement. Until now, I thought that the advantage of VR space was that I could see a wide world even in a small space. That is because even in reality, I sometimes tried to make a narrow space look wider. However, creating a limited space may also bring the potential for expression in virtual reality.
This work only goes through a narrow space. However, I tried to create an experience that would make me feel excited just by advancing through it. I think people can be thrilled without toys or epic gimmicks.

(Quoted from NEWVIEW AWARDS 2021 official home page : https://newview.design/en/works/gap/) 
This work is based on the transformation of the "viewpoint" in the XR experience and spatial design.
The point of the VR / AR space experience is to "expand the space." You can arrange various assets and objects freely to create a state that is impossible in reality.
In this work, real objects and spaces are used as motifs, but they are transformed via XR into "new designs." This gives viewers an entirely different view of the world.
To "observe" the everyday world is to observe the "part of the world" that we are missing.
The "part of the world" that Shoronpo. observes is seen in his work.
VR is a medium you can experience from a first-person perspective. Let's relive the world as it was observed by Shoronpo.
How to experience VR scenes
If you are accessing this page from a smartphone, please click on the "Experience the Scene" button (*If you are experiencing the scene on a smartphone for the first time, please also refer to the following instructions).


After clicking, the following screen will be displayed.
If you have already downloaded the STYLY Mobile app, please select "Continue on Browser".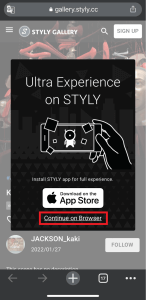 You can then select "Play on Mobile App" to experience the scene.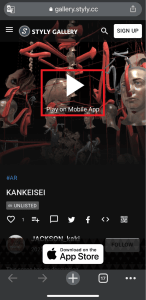 If you have an HMD device, click the "Experience the Scene" button from your PC (web browser), then click the VR icon on the scene page.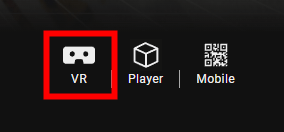 Download the STYLY Mobile app
Download the Steam version of STYLY app
https://store.steampowered.com/app/693990/STYLYVR_PLATFORM_FOR_ULTRA_EXPERIENCE/
Download the Oculus Quest version of STYLY app
https://www.oculus.com/experiences/quest/3982198145147898/
For those who want to know more about how to experience the scene
For more information on how to experience VR scenes, please refer to the following article.