Laval Virtual is an international festival dedicated to VR and AR, held annually in Laval, France. Celebrating its 25th anniversary this year, the event has served as a forum for industry, academic, entertainment professionals, and other participants active in the VR and AR fields.
Through multiple articles, I will review the event in detail. In this third article, I will introduce some of the conferences held during the three-day festival.
The Six Themes of the Conferences
Shining light to upcoming XR topics, this conference has many intriguing discussions every year. The themes for this year were below:
The Future of XR – What to expect?
Immersive Digital Learning
Metaverse Dilemmas
VR/AR: Wwhat benefits for my business?
360° Industry
XR for Good
Many professors, companies, and specialists participated in presentations and group discussions in their respective fields. I would like to introduce some of the most interesting topics among them.
Facing the Future with Digital Humans
The person on the left in this video is Dr. Mike Seymour, a speaker at the conference. This video was generated using neural rendering technology powered by AI. In the original footage, Dr. Seymour doesn't speak at all. However, by overlaying another video of him speaking, a video of him speaking can be generated. Furthermore, footage of a different person speaking can also be converted into his facial movement and voice. As shown in this video, by letting a French speaker "drive" his voice, Dr. Seymour can appear to be speaking French.
This technology was used in the production of the film The Champion directed by Maciej Barczewski. The English conversations were filmed separately from the original, and the audio was used in conjunction with a combination of old and new footage as training material to estimate the character's facial movement. This allowed for the production of a new dubbed version of the movie.
Learn more about the making of the film here.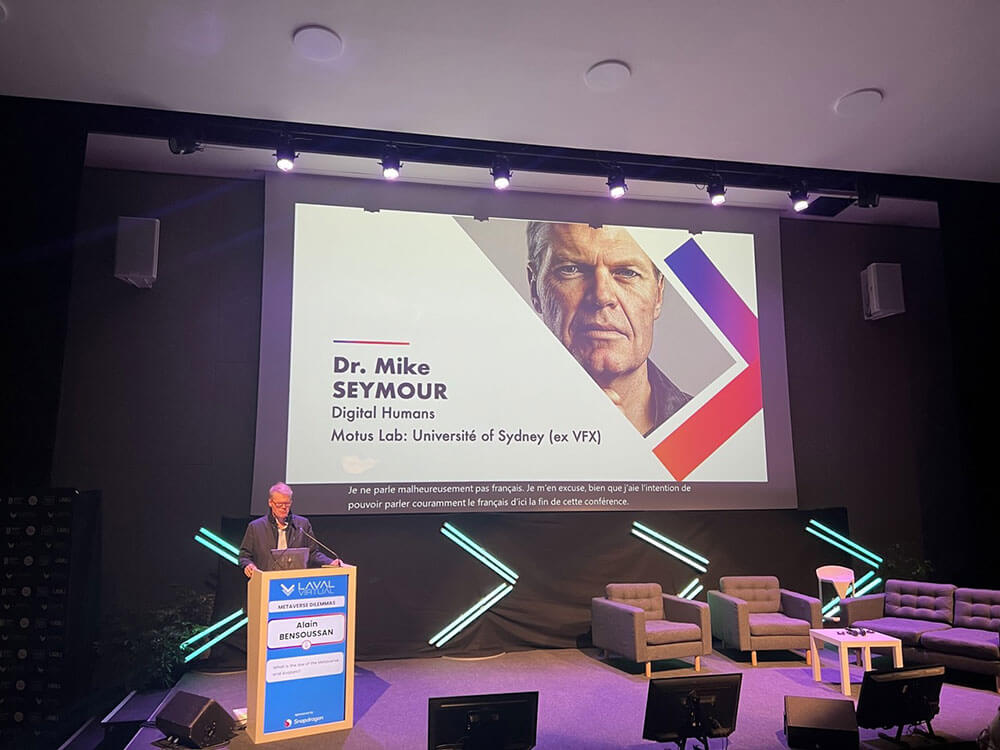 Dr. Mike Seymour is a researcher, educator, and consultant specializing in computer graphics focused on computer-generated imagery (CGI) and visual effects (VFX). He is also a co-founder of the VFX magazine fxguide and is a media tech specialist and writer, involved in many movie and TV show productions. In addition to his work in the entertainment industry, he is doing research on digital humans at the University of Sydney.
As technology in this field advances, we need to consider ethical standards. For example, if artificially created video using neural rendering becomes indistinguishable from reality, there is a higher risk of fraud and social confusion. Furthermore, if this technology can replicate human appearance and behavior, protecting personal information will become increasingly important.
Despite various ethical issues and obligations to consider, Dr. Seymour envisions a positive future using this rendering technology to create new realities with digital humans.
Is there a Law in the Metaverse?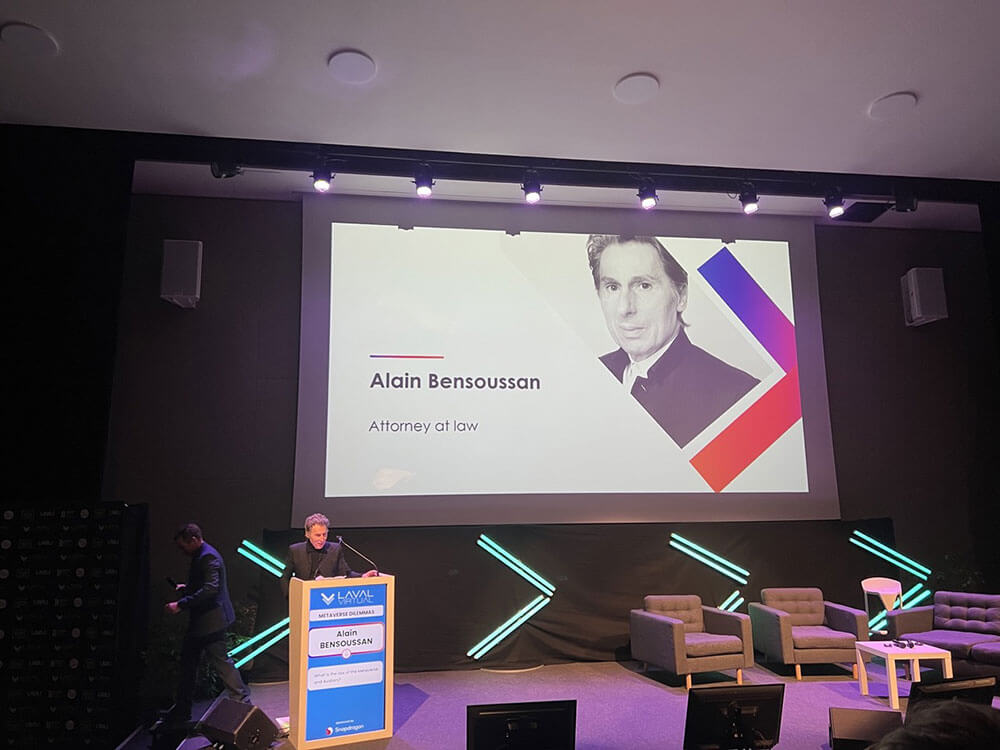 In "What is the law of the Metaverse and Avatars?" by lawyer Alain Bensoussan, he focused on the legislation of human rights, bullying, and sexual harassment surrounding avatars in the metaverse.
Alain Bensoussan is a pioneer in advanced technology law based in Paris, France. He established Lexing, the first international lawyer network on digital and emerging law over 10 years ago, and later founded a department specializing in robotics law in his own law firm. He is currently actively defining the legal and ethical frameworks for artificial intelligence and addressing challenges and regulatory issues in the metaverse. He is actively developing new concepts such as virtual homes, digital personality rights, and residual privacy, which have become one of his trademarks.
The presentation focused on the harassment and violence reported in the metaverse, also known as the dark side of the metaverse. According to Bensoussan, the current legislation is insufficient, and new legal frameworks, such as humanist virtual rights, digital asset rights, and security laws, will be needed in the future. Many laws will be required for digital twins and avatars as well, to define their responsibility and ownership. International cooperation will be required to maintain consistency with global regulations for these legal frameworks.
In the final Q&A session, a participant asked if it would be better to establish world standards in the future, as each country may have different regulations despite the lack of borders online. Bensoussan suggested that although the road may be long, we should first establish legal frameworks.
As a lawyer with a global network, Bensoussan's contribution, with his knowledge and experience in both advanced technology and law, will be essential for the regulation of international metaverse laws.
Metaverse, Technological Progress or Progressive Pollution?
The Metaverse Dilemmas conference raised challenging themes, and group discussions were held on sensitive topics about environmental issues.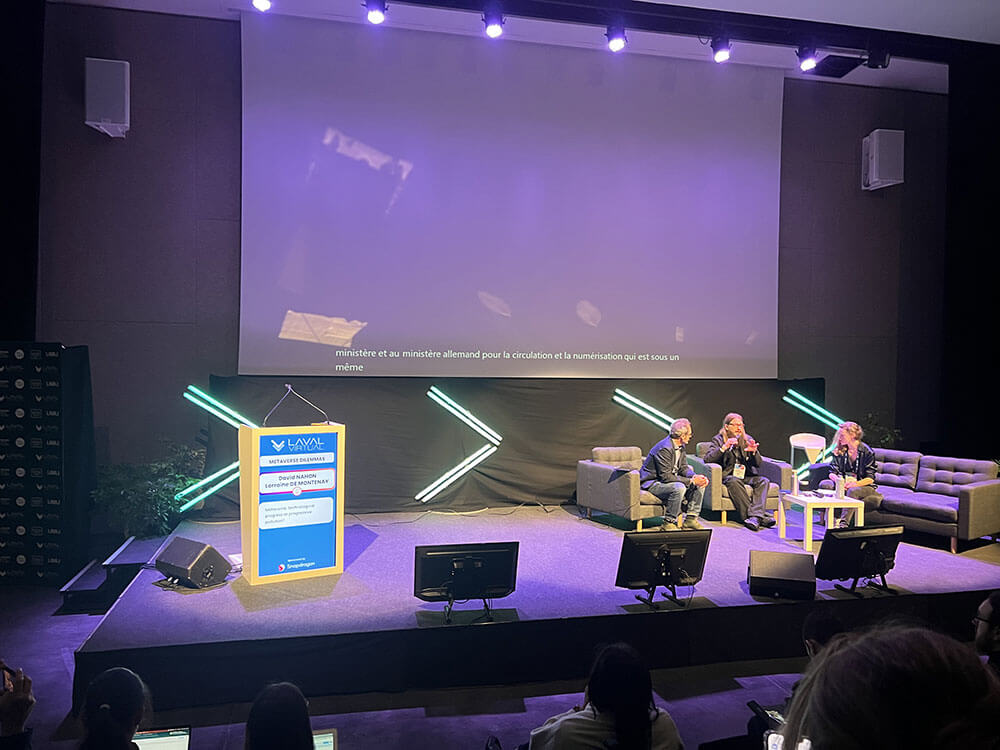 In the panel session "Metaverse, technological progress or progressive pollution?," there was heated discussion on CO2 emissions and energy usage for the metaverse.
Here, they talked about the Paris Agreement, an international treaty on climate change adopted in 2015 under the United Nations Framework Convention on Climate Change (UNFCCC). The agreement aims to mitigate the impacts of global warming and keep the rise in mean global temperature to below 2 °C.
In the future, more remote meetings may be conducted inside the metaverse, due to the advancement of headsets and XR technology. Moreover, these headsets may evolve to consume less energy and reduce CO2 emissions compared to PCs, and the metaverse could become an environmentally friendly medium.
As of now, however, many people were genuinely happy to be able to attend the Laval Virtual conference in person, which was held offline for the first time in three years. We are still in need to reproduce the feeling of a real-life meeting in the metaverse for this ideal scenario above to become a reality.
A Very Insightful Conference
In this article, I could only introduce a fraction of the many intriguing presentations and discussions in various fields. However, by participating in the Laval Virtual conference, not only can you ask questions but you can discuss your thoughts with the speakers after their presentations. This is definitely one of the highlights of attending Laval Virtual.
In the next article, I will introduce the winning works of the 25th Laval Virtual Awards.
Edited by SASAnishiki
Translated by cpnnn