NEWVIEW AWARDS, the joint project of Psychic VR Lab Co., Ltd. (headquarters in Shinjuku-ku, Tokyo. CEO Yukihiro Yamaguchi), PARCO Co., Ltd (head office in Shibuya-ku, Tokyo), and LOFTWORK Co., Ltd. (Shibuya-ku, Tokyo) have announced the 25 finalists of the NEWVIEW AWARDS 2019. Psychic VR Lab provides the VR creative platform STYLY (https://styly.cc).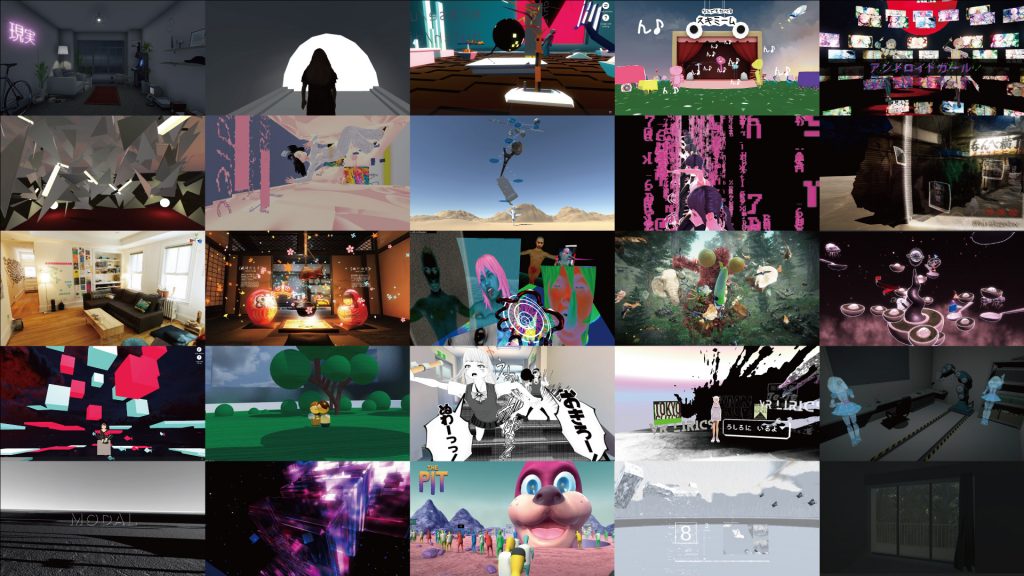 The award was selected from worldwide VR content awards in the fields of fashion, culture, and art.
The second round of awards is also themed "Design the super-experience", and from the 145 artworks that were submitted from eight countries worldwide between July 1, 2019 and September 30, 25 pieces of artwork were screened as finalists by the judge panel.
The quality of the submitted artworks improved dramatically in terms of the judging criteria of innovation/uniqueness, experience, and impact and the selected winning artworks have the potential to drive the VR scene in the fields of fashion, art, and culture.
Award winning artworks will be screened by the judge panel and an exhibition themed around them will be held in Shibuya PARCO on December 14.
Award-winning artworks will be announced during the exhibition along with the award ceremony.
Check the links below to take a look at all winning artworks.
・Announcement page with the 25 winning artworks (in Japanese)
・Announcement page with the 25 winning artworks (in English)
25 winning artworks

『Absences of life』
wakuwa / JAPAN

C'est la vie invites you to have a person-to-person experience and exchange private stories with strangers through VR.

『C'est la vie, SHOGYO-MUJO』
SAKI TAKEGAWA / JAPAN

The theme is C'est la vie, "this is life", and the Buddhist saying "the impermanence of all things".

『Piece of String』
Wyatt Roy / USA

A house where the inhabitants have vanished but the residual images remain.

『VR MANGA WORLD for STYLY』
Aki Oe / JAPAN

Piece of String attempts to create a manga-like expression in VR spaces.
You can feel the starting point of how manga can blend in with the xR era.

『The Pit』
Dave Maggio / USA/JAPAN

What kind of worlds will we create with VR?
expresses both daily and exotic expressions of the end of the world.


『ne.mui』
Natuki Ono / JAPAN

What does ne.mui mean? "ne." means "network" and "mui" means "no meaning".

『The 23-year-old confession』
WONG HOI IAN / TAIWAN

A mind in contradiction with the desire for and fear of sex.
To the world of imagination confused about sex.


『MODAL』
Ryo Takekawa / JAPAN

This virtual space will make you perceive the existence of another self through a shadow in an unreal world
and evokes unconscious memories.

『The Tower of Babel』
525600min / JAPAN

Define Float presents a modern version of the story of the Tower of Babel in which people tried to build a tower that reached heaven using state-of-the-art technology at that time.


『Define Float』
takafumi oyama / JAPAN

It focuses on zero-gravity as a new experience in VR spaces and offers a high sense of freedom without restrictions on size and direction.

『TSUKUMO』
Keisuke Ito / JAPAN

Local toys descending from various places in Japan were the motif for this god.
Kujuku, a god who lives in things, can be called with a mysterious bell.


『Takkun Museum』
Takkun / JAPAN

The creations of a child who was born an artist are displayed in a VR space.
A new method to record memories in xR.


『Merging Memories』
Kenichiro Hirai / JAPAN

Nombe Yokochou was created from various photos of people on SNSs.
It was recorded with photos of the people who were involved in the production and the shooting date.


『THE CUBE』
Nao Ito / JAPAN

A planet drifting in space is in a gigantic cube made of cubes.
This artwork challenges the scalability of VR.

『VR GLITCH』
5hamburgs Mayu / JAPAN

The world of virtual HIP-HOP girls duo KMNZ is represented a street and glitch space.

『Her Tranquil Day』
Q&A PROJECT / JAPAN

With digital time lapse as its theme, it presents a mysterious re-experience over the android girl Alice Kryum.

『CocoTsuki VRMV – Android Girl -』
CocoTsuki Project(CocoTsuki) / JAPAN

It is a new form music video
where the experience and direction characteristic of VR are scattered all over.


『ORgeL』
Mask du Video / JAPAN

This strange and beautiful and unique experimental VR uses a music box as its motif and the sound composition changes depending on the experience.

『Transparent Planet』
Mika Maruyama / JAPAN

VR visualization of original songs.
The theme is the freedom that arises from the expansion of self-expression methods using technology.


『INTERSUBJECTIVITY』
God Scorpion / JAPAN

INTERSUBJECTIVITY is the sublimation of the Umwelt experience where even the trivial boundaries between one's body and the environment become ambiguous.

『Many sides』
C / JAPAN

Artwork to free you from feeling suffocated by life.
The room, music, and you change little by little.


『Dark Room』
Yuuki Matsuoka / JAPAN

This is a reinterpretation of the camera obscura, which is considered the prehistory of photographic techniques.
The connection between the world and us is re-established through a dark box called HDM.


『(SILVER COLORED) WATET TANK』
Discont / JAPAN

A VJ approach in VR spaces.
3D visuals are manipulated by 3D interactions.


『REMINISCENCE – The Recollection of a Man』
TeamMIKAMI (from OMNIBUS JAPAN) / JAPAN

This space represents a world in which a man enters by going through a snow dome through a trapped season.

『Digital Bonsai [Ko chuu Sya] -Social in a pottery-』
Ginga Kondo / JAPAN

This innovative bonsai art experiments with a bonsai that resembles the universe and vice versa.
Exhibition Schedule
NEWVIEW EXHIBITION 2019 -DIFFUSION-
Enjoy VR experiences in Shibuya PARCO focused around the winning artworks.DIFFUSION has diffusion as its theme and represents 3D expressions that show diffusion and a new world of experience.The screening results and the award ceremony will be held during the exhibition on December 15.
Sessions: Saturday, December 14~Sunday, December 22

Time: 10:00~21:00(Starts at 13:00 on 12/14)
Entrance fee: Free
Venue: Shibuya PARCO 9F Creative Studio (15-1 Udagawa-cho, Shibuya-ku, Tokyo-to)

NEWVIEW STAND
A VR stand will be set up where you can casually enjoy VR artworks themed around the NEWVIEW project and artworks created last year.
Sessions: Friday, November 22~Sunday, December 22
Time: 10:00~21:00
Entrance fee: Free
Venue: Shibuya PARCO 5F Special Venue (15-1 Udagawa-cho, Shibuya-ku, Tokyo-to)

Discont's AR installation which won last year's PARCO AWARD will be exhibited in Shibuya PARCO.

The permanent exhibition of World's end supernova, the AR installation artwork by designer Discont who was awarded the PARCO award in NEWVIEW AWARD 2018, will be exhibited along with SHIBUYA XR SHOWCASE at Shibuya PARCO 5F on November 22.
■SHIBUYA XR SHOWCASE
Venue: Shibuya PARCO 5F Atrium next to the escalator
The final grand prix screening results will be announced on December 15, 2019 when the award ceremony will be held.
The awardee of the grand prize of 20,000 USD and the final screening results of each prize winner will be announced during the exhibition at the award ceremony on Sunday, December 15.
The final screening will be conducted by nine members of the judge panel of yumime-nemu, Mitsuru Kuramoto, Soru Otsuki, Keisuke Toyoda, and Yasuhiko Taniguchi from Japan, and Keiichi Mazda (UK), Nick Denboar (Canada), Lou Yang (China) and Mr. Kenmin Liu (Taiwan).
Award Ceremony: Sunday, December 15 2019
Time: 15:00~18:00 PM
Entrance fee: Free
Venue: Shibuya PARCO 9F Creative Studio (15-1 Udagawa-cho, Shibuya-ku, Tokyo-to)

NEWVIEW AWARDS 2019

Outline
NEWVIEW AWARDS 2019
(English) https://newview.design/awards/2019/en
(Japanese)https://newview.design/awards/2019/jp
NEWVIEW AWARDS 2019
NEWVIEW AWARDS 2019 is the second round of global awards that seeks VR content in the fields of fashion, culture, and art.
The aim of this award is to pioneer the near future where all creators will reap the harvest of 3D spatial expressions (VR) and pursue new expressions, cultures, and lifestyles, and discover new-generation creators who will cause momentum in Super Design Experience.
Prizes
・Gold (one artwork) 20,000 USD prize
・Silver (three artworks) 5,000 USD prize
・PARCO Prize (one artwork): the privilege to create a piece of 3D artwork with PARCO and exhibit it in Shibuya PARCO
・KMNZ Prize (one artwork) the privilege to debut as a collaborator
・HIDEKI MATSUTAKE PRIZE (one artwork) the privilege to create VR content in collaboration with Hideki Matsutake
・Media Ambition Tokyo PRIZE (one artwork) the privilege to exhibit a piece of artwork at Media Ambition Tokyo
Judges
Yumemi-nemu: Yumime book store owner and character producer / Keiichi Matsuda: Designer and videographer / Nick DenBoer: Videographer / Lu Yang: Artist / Keng-Ming Liu: Bito founder and creative director / Mitsuru Kuramoto: Broadcast writer / Satoshi Otsuki: Videographer / Keisuke Toyoda: Architect (noiz) / Tatsuhiko Taniguchi: Artist
 Sponsors

Partners

Media Partners
Supporters

Organizer NEWVIEW PROJECT

NEWVIEW
It conducts experiments to design next-generation culture/lifestyle experiences that transcend reality and fantasy together with creators who embody city culture such as fashion, music, movies, graphics, and illustration.It also develops, cultivates, and interacts with next-generation VR creators through lectures and meetups in Japan and overseas.Web:https://newview.design/
◉Inquiries:NEWVIEW AWARDS 2019 Office (person in charge: Watanabe)
info@newview.design
Download the press kit which includes the press release and logo from the link below.
http://bit.ly/2N0WYLP