A new collaboration between Psychic VR Lab (Headquarters located in Shinjuku, Tokyo, Representative Director: Masahiro Yamaguchi), the provider of the creative platform specialized for creating and publishing VR/AR/MR contents "STYLY (https://styly.cc)" and KDDI Corporation (Office located in Chiyoda, Tokyo, President: Makoto Takahashi; hereinafter referred to as KDDI) has been established to install a special 5G mobile base station at Shibuya Hachiko-mae Square as an initiative to celebrate the corporation's launch of the new 5th Generation Mobile Communication System "5G" which is expected to begin its service starting March 2020. The special 5G broadcasting demonstration will take place from January 24 – 25, 2020. In addition to the installation of the mobile base station, a special stage where users can freely enjoy a new set of XR artwork, a pathway for stepping back in time to 1964 Shibuya, is also installed at the square. The creative platform STYLY is chosen as the main platform for publishing and broadcasting this new VR artwork.
Event Overview
Broadcasting Period: from January 24 to January 25, 2020
Contents: In celebration of the launch of the new 5G service starting March 2020, a 5G mobile base station will be installed near Shibuya Station in Hachiko-Mae Square—the symbolic spot of the creative city "Shibuya." 
Directed and supervised by Seiichi Saito, the director of Rhizomatiks Co., Ltd. (Headquarters in Shibuya Ward, Tokyo) and the 1964 TOKYO VR General Incorporated Association (Office in Shibuya Ward, Tokyo, Representative Director: Toshi Tsuchiya) and in collaboration with Psychic VR Lab (AR content production: YORIMIYA) and KDDI, a new VR experience focused on returning to the town of Shibuya in 1964 was developed. Users can experience what 1964 Shibuya was like using their smartphones and the new 5G technology service at this exclusive XR experience booth which will be open for a limited time.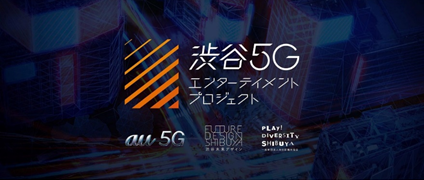 Shibuya 5G Entertainment Project is the successor of the "渋谷エンタメテック推進プロジェクト" ("Shibuya Entertainment × Technologies Promotion PROJECT"), a project established through the joint effort of KDDI, Shibuya City Tourism Association, and Future Design Shibuya Association. At present, the project has organized a total of 7 events including "INVISIBLE ART IN PUBLIC by au"—an event which turned the town of Shibuya into an art museum, and collaborations with famous artists and organizations from overseas such as "MUTEK.JP" and Coldplay to turn Shibuya into the town of music. Psychic VR Lab, the provider of the creative platform STYLY, is also a contributor to the project. Through its efforts, Shibuya 5G Entertainment Project aims to create a new culture in addition to promoting urban development through the use of XR technologies that combine music, art, and 5G technologies.
< Contact Information >
Psychic VR Lab Co., Ltd. 
Officer: Watanabe
E-mail: info@psychic-vr-lab.com