Psychic VR Lab, a provider of the VR creative platform STYLY (https://styly.cc), has announced the launch of the "Unity plugin for STYLY". This is a plugin that imports Unity content into STYLY, making it the easiest way for Unity users to interact with VR.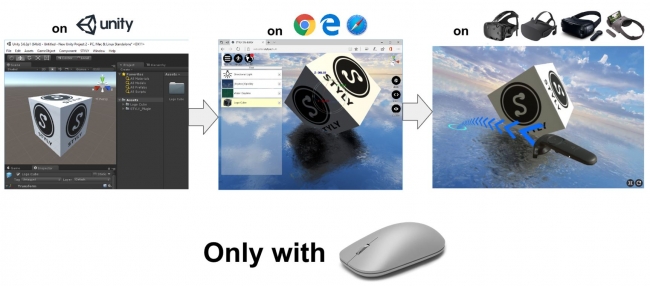 ◆ What is STYLY?
The Unity Plugin for STYLY is the easiest way to stream VR from Unity.
The Unity Plugin for STYLY is compatible with Unity 5.6.3 and above.
Unity Prefab can be exported to STYLY with a single click
You can also use Unity visual shader editors such as Amplify Shader Editor and Shader Forge, as well as custom shaders created in the ShaderLab language.
Particle system with Shuriken support
Playmaker interactive contents support
Mecanim animation support
C# scripts are not supported due to security concerns of the Unity architecture.
◆ Other STYLY features 
YouTube and SoundCloud can be imported directly from STYLY.
FBX, Blender, Sketchup, Wavefront Obj, and TiltBrush fbx can be converted and imported into STYLY using STYLY's cloud capabilities.

Our Chief Alliance Officer Mir Nausharwan and CTO Akihiro Fujii presented "Easiest way to distribute VR from Unity" on stage at Unite Austin 2017 to introduce the benefits of using STYLY to create and deliver VR spaces for Unity users. Presentation Slide :  https://goo.gl/tDYcLu