〜 Support for corporate VR/AR, such as logo replacement/removal and offline support 〜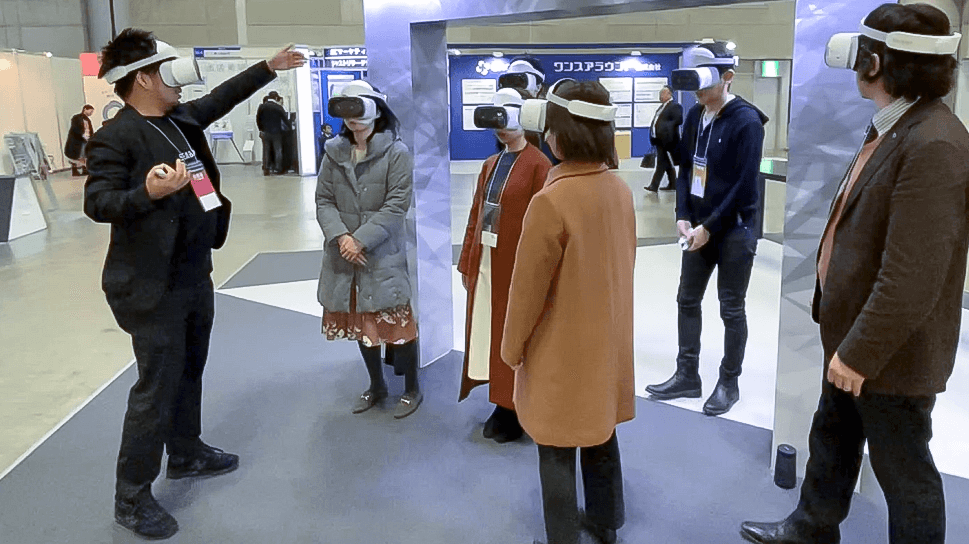 Psychic VR Lab, provider of the VR/AR/MR creative platform STYLY (https://styly.cc), announced its paid plan "STYLY Pro / Pro Unlimited (https://styly.cc/pro)", which supports the use of VR/AR in businesses is available today, Wednesday, September 2.
This service is a paid plan for companies that want to keep the service closed to the public while maintaining STYLY's basic policy of "opening all functions to artists and allowing them to enjoy the service openly".
STYLY Pro / Pro Unlimited:https://styly.cc/pro
STYLY Pro / Pro Unlimited, a pay-as-you-go plan that answers the needs of a variety of companies
If you subscribe to this plan, you can choose to publish scenes (*1) as either Unlisted (viewable only by accounts with a specific scene URL) or Private (viewable only by specified accounts), in addition to the normal publishing settings. In addition to a session function that allows multiple users to log in and experience a public scene simultaneously via VRHMD, multiple users can also log in to both unlisted and private scenes at the same time.
Other features such as logo replacement/removal (to be released in the fall), offline support for VRHMD (mobile version to be released in due course), and the issuance of location markers that enable the creation of location-based AR content will also be supported to meet the various needs of companies.
*1 A scene is a unit in STYLY for creating xR content.
Overview of STYLY Pro / Pro Unlimited
STYLY Pro / Pro Unlimited:https://styly.cc/pro
Plan Summary
STYLY Pro [Support for corporate xR content production. A plan for companies that want to develop their content in a private environment].
In addition to the basic STYLY features, the Pro plan gives you access to the following.
Creation of one Private or Unlisted scene per month in the STYLY Gallery (https://gallery.styly.cc/) (Unlisted: available to those who have the URL) / Private scene (Private: available only to those with a Pro account)
Logo replacement/removal function (to be released in the fall)
Offline support (for VR HMDs) (Mobile version to be supported in due course)
Creating sessions (*2) including Unlisted and Private
Participation in Private Scene Sessions
Create one scene per month using location markers (AR content can be created based on location, not horizontal plane detection)
Email Support
STYLY Pro Unlimited [Unlimited private scene publishing. For companies that produce xR content on an ongoing basis.]
With the Pro Unlimited plan, you get all the basic features of STYLY, plus all the Pro features, including the following.
Create an unlimited number of Unlisted/Private scenes that are private to Gallery
Create an unlimited number of location markers
In addition to email support, online/offline technical support (from 100,000 yen per day) and consulting (from 1,000,000 yen per month) are available as options.
*2 Session function: Enables multiple people to experience the tour simultaneously
Fee
STYLY Pro
Domestic: 50,000 yen / month
Overseas: $499 / month
STYLY Pro Unlimited
Domestic: 100,000 yen / month
Overseas: $999 / month
Example (1): Simultaneous Multi-Person Experience Tour for VRHMD in an Unlisted Scene [xR Solution "STYLY.biz™"]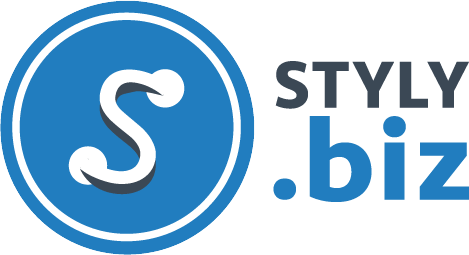 Image Video:https://www.youtube.com/watch?time_continue=3&v=xQmiPEiiY7o
NTT Data NJK Corporation plans to launch STYLY.biz, an xR total solution service, in the early spring of 2021 as a new DX (Digital Transformation) initiative. Currently, STYLY is being used in a variety of business use cases, including a multi-person experiential tour function that can be used in real estate, training, etc., as a demonstration experiment.
For more information on xR solutions, please contact NTT Data NJK
Please contact us at
http://www.njk.co.jp/latest/press/371
Example (2): Location-Based AR Contents: XR Art that Takes You Back in Time to Shibuya in 1964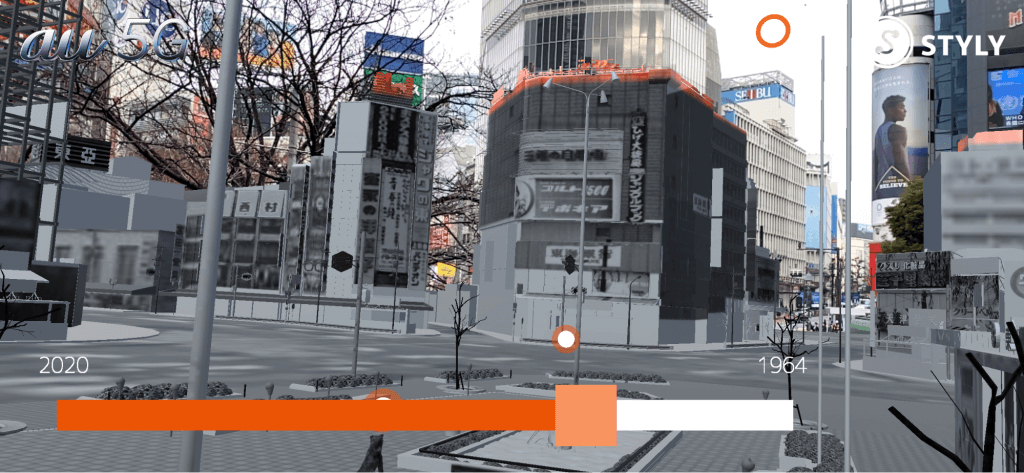 For two days from January 24 to 25, 2020, KDDI Corporation installed a 5G portable base station in front of Shibuya Station's Hachiko Square. A special stage was set up in conjunction with this installation with an XR art piece that took viewers back in time to Shibuya in 1964. This content was created using STYLY location markers.
WEB:https://styly.cc/ja/news/shibuya5g/
In addition, the following location markers were also used to develop location-specific AR content.
Example (3): An Event Exhibit Using Offline Functions [Next-generation Commercial Space Where Real and Virtual Fuse Together – VR/MR Contents in Collaboration with Semba Inc.]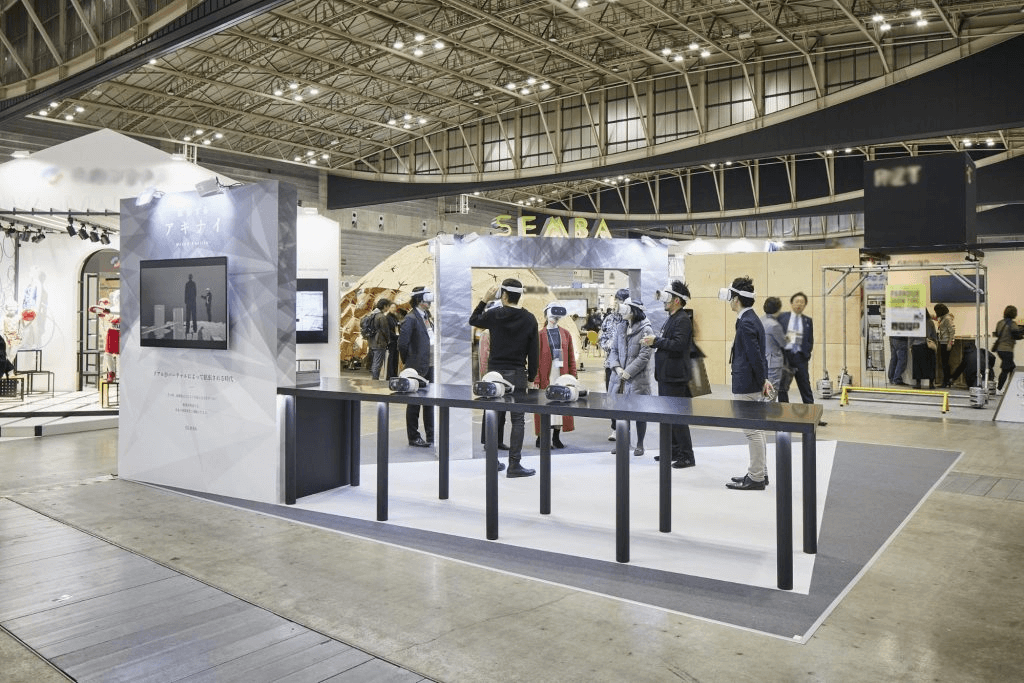 At the SC Business Fair 2020, held at Pacifico Yokohama from January 22 (Wed.) to 24 (Fri.), 2020, the company exhibited VR content in collaboration with Semba Corporation, providing a smooth VR experience even without a network environment by utilizing offline functions.
WEB:https://styly.cc/ja/news/semba-sc-business-fair/
About STYLY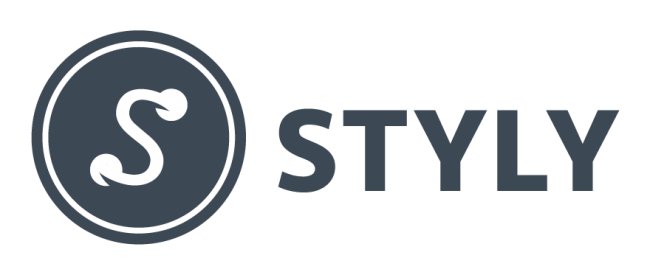 STYLY is a VR/AR/MR creative platform for artists to express themselves.
STYLY is a where to create conceptual shop spaces, installations and galleries that visualize imagination in freely without any constraints. Participants can share their experience online, which is never possible in the real world.
xR space can also be created using only a web browser, and it is compatible with Mac, Windows, as well as other computer environments other than VR-compatible PCs. In addition, as it is linked to services such as YouTube and SoundCloud, along with 3D software (such as MAYA and Blender), it is possible to import various materials and use them for space creation without complicated operations.
STYLY Official Site:https://styly.cc/
STYLY GALLERY:https://gallery.styly.cc/
STYLY Mobile:
Google Play | https://play.google.com/store/apps/details?id=com.psychicvrlab.stylymr
App Store | https://itunes.apple.com/jp/app/id1477168256?mt=8
Psychic VR Lab Inc.
Headquarters location) 2/F, MORIAURA, 1-34-2 Shinjuku, Shinjuku-ku, Tokyo, Japan
Representative: Yoshihiro YAMAGUCHI, Representative Director
We develop STYLY, a cloud service as a creative platform in this xR era to build and distribute xR spaces with just a browser.  We promote the conversion of art, fashion and lifestyle interfaces to xR aiming to create xR spaces for all artists
HP:https://psychic-vr-lab.com/
For more information, please contact us.
Psychic VR Lab, Inc.
Attn: WATANABE
E-mail address: info@psychic-vr-lab.com
https://drive.google.com/drive/folders/1EOgKJ_HCLFeFDTNmVpa-ufwENQ5-aqYr?usp=sharing